Here's our list of essential wellness recipes to master in your 30's. Things like broth and a good salad dressing that will serve as core recipes for more complex cooking and basic everyday meals like smoothie, bowls and salads. What are we missing?
8 Essential Wellness Recipes To Master in Your 30's
lemon water | Okay, our very first call out is not a recipe at all, but almost every wellness expert we know agrees that hydrating with nutrient-rich lemon water each morning is a habit that will pay off for a lifetime. Lemon water cleanses and hydrates your system to start your day right. If you ask us, learning to keep a steady supply of lemons on hand is the ultimate in adulting at home.
the green smoothie | Yes, it's green! No, it doesn't have to taste like it. There are about one million ways to make a green smoothie well and pack it with more nutrients than your entire supplement regimen. Start with honey hi co-founder, Kacie Carter's affordable green smoothie and make your way from there.

Many of our favorite smoothie recipes also come from nutritionist, Kelly Leveque. Whether you're after protein, superfood ingredients like 'shrooms or just a fun snack full of flavor, there really is a recipe for everyone out there. It's that adaptability that puts smoothies on our short list of must-learn recipes.
Smoothies are also easy to digest which makes them ideal for most morning routines. Recipes are so adaptable, which will teach you to be more flexible in the kitchen — learning to use what you have on hand.
a great salad dressing | Learning to make healthful, clean dressings and sauces will take you a long way. Simply smother your favorite leafy green in a new homemade dressing or base entire meals around superfood ingredient-spiked dressings and sauces on salads, veggies, mains and more. The key is in using whole food ingredients, herbs, spices and the right oils.
Basic stock | Bone broth, with it's nutrient-dense and easy to drink nature, has become a phenomenon in wellness over the last few years. Learning to make 'true' bone broth takes hours — literally cooking bones down to liquid, but chicken stock and vegetable-based 'miracle broth' are easier options if you're so inclined. Broths can be sipped like tea on their own for hydrating, easy-to-absorb nutrients or used as the base in hundreds of recipes.
the 'put an egg on it' bowl | Let's just go ahead and call the bowl with an egg on top a 'food group'. If you dine with any frequency at modern brunch spots in L.A or NYC, you know what we're talking about. A grain bowl, made with quinoa or black rice is often topped with veggies, ferments, seeds, dressing and — and egg!
The truth is that this concoction makes a great base recipe for affordable, healthy lunches and dinners of all kinds. No matter your ethnic food of preference, American, Chinese, Italian, Thai, Japanese (we could go on), almost every condiment and spice work in a bowl like this. Learn the basics and build up with your favorite proteins, veggies and condiments.
the protein salad | Here is your assignment: find a salad you love. Many of us love salads already — there's something nearly addictive about that refreshed and hydrated feeling we get after eating a huge bowl of chlorophyll. However, if you don't think you're the salad type, learning to make a lunch or dinner-worthy salad is all about exploration.
Which greens do you like? Some love marinated kale, others love crunchy romaine. What's your protein of choice; are you a cobb salad, chicken caesar or marinated salmon kind of guy? Again, most of this comes back to learning to make great dressing.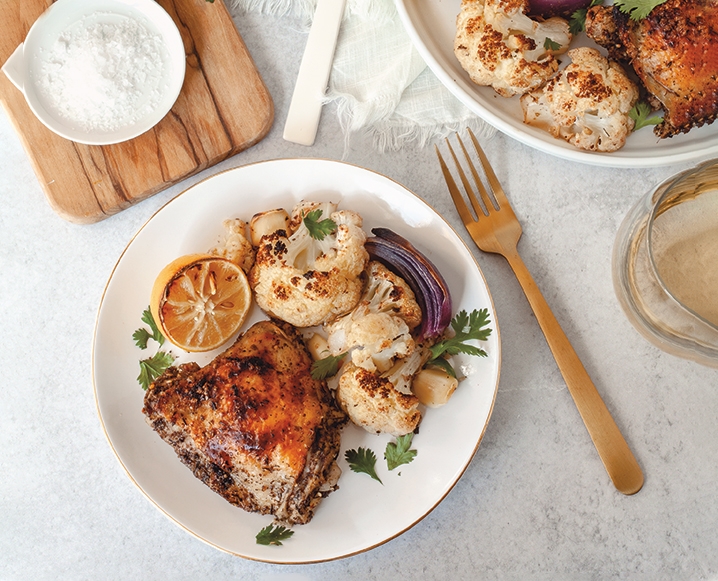 roasted chicken | Making the perfect roasted chicken will serve you well. You can make any number of recipes with shredded, sliced or whole roast chicken — and truth be told, we've even featured shameless advice for using store-bought! 
a vegan entree | Maybe you're not vegan, but you have friends who are — or you dabble for a few days at a time to give your body a break from animal protein. Either way, having a great vegan entree at your fingertips can serve you well. Some of our favorites include: all these tacos, this 'bolognese',  and this pasta dinner.
grain-free cake | Knowing how to whip up a straight-forward, but delicious cake is a life skill to be sure. When birthday parties and other special occasions arise, it's great to know you can hit the kitchen and make a tried-and-true recipe come to life.
While not everyone's cut out for baking, the key is in precise measurements. Our go-to recipes include Sweet Laurel's internet-breaking Grain-Free Chocolate Cake and Pamela Salzman's Olive Oil Cake.
Once you know how to make cake, you also know how to make cupcakes! And cookies? Incredibly easy, after you've mastered cake!
What did we miss? Which recipes have served you the most and stood the test of time?