Ah, the great outdoors: The clean air, the sprawling mountain vistas, the soul-soothing silence and unpolluted night sky … also, the four poster king-sized bed dressed with luxe linens, the footed bathtub and the freshly laundered towels. Maybe this isn't the camping experience you expected? Maybe that's the point.
Inspired by the rustic luxury of traditional African safaris, Under Canvas has set out to create the ultimate glamping experience  near some of America's most iconic National Parks. There are currently four locations: Arches and Zion in Utah, Glacier in Washington and Yellowstone in Montana. In 2018, Under Canvas will also open camps near the Grand Canyon and Great Smoky Mountains. Take a peek at the pseudo-outdoorsy perfection below…
Zion National Park | Zion is the most recent addition to the Under Canvas roster, debuting the 196-acre grounds just a few weeks ago. The stunning site has fifty fully-furnished canvas tents (with an adjacent tipi available on request), and like its sister sites, boasts every hotel amenity you secretly wished you could have out in the wild. Our favorite feature? The star-gazing 'ceiling' window offered in some of their tents.
Arches + Canyon Lands National Park | Located in Moab, Utah, this site is perfectly situated just outside two of the most spectacular parks in the state. The intimate collection of canvas tents are in the middle of nowhere, it seems, blending seamlessly into the breathtaking surroundings. Step outside and bask in the unadulterated beauty of the land, then step back inside for a perfectly cozy shower and sleep.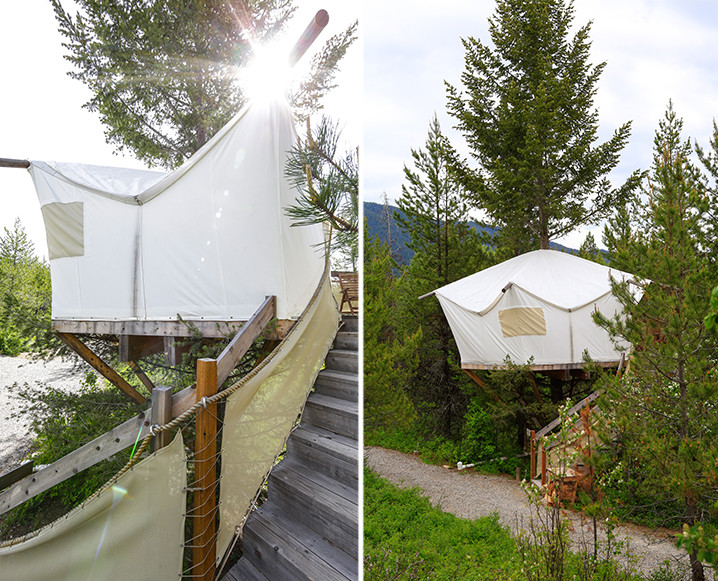 Glacier National Park | Each Under Canvas location has an on-site restaurant, so if trekking through the wild at dawn isn't your thing, a cup of perfectly brewed coffee and a locally sourced breakfast might be. But if rugged is what you wish for, there's no stopping you from driving the few miles into the gorgeous park just down the road — you'll thank us when you land on a cloud of a mattress with the sheet mask you smuggled in after a long day of adventuring.
Yellowstone National Park |  Plan an ideal itinerary of activities and exploring — or not. At Yellowstone, you can hop from homebase into the park for a day of hiking or fly fishing, hang around the tent for a massage and some remote relaxation, or wander around the site and see what stunning views you find.