We wouldn't normally recommend taking shots before traveling, but in this case, it's just what's needed. Pressed Juicery's tiny juice shots have become an essential part of our 'Uber to the airport' plan and we refuse to travel without them lately — especially with the latest round of cold and flu season madness.
Here are the shots, packs, powders and other wellness essentials we love to pack for a long flight and the journey beyond…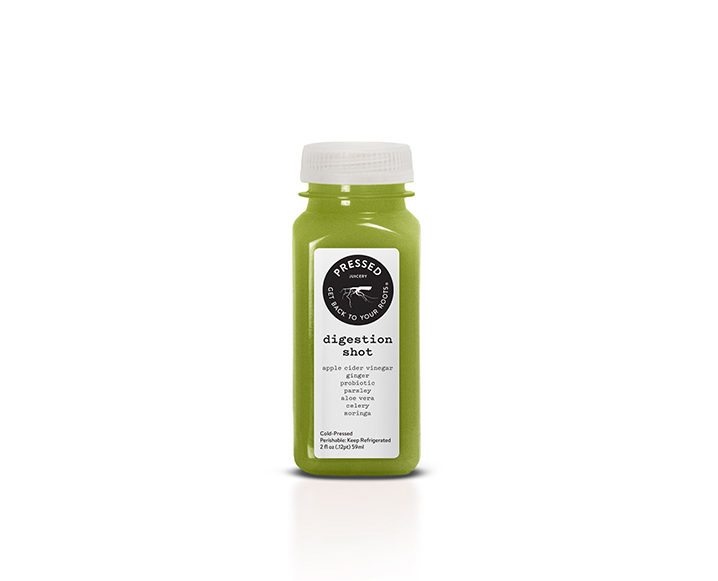 Pressed Juicery Digestion Shot | Travel and flying especially can cause digestion to go haywire – from time zone and altitude changes to the dry, unfriendly conditions in general. This mini is a master at balancing out the gut, giving it just the right amount of nutrition and stimulation. The gut healthy ingredient list includes: apple cider vinegar, ginger, parsley, celery, morninga, aloe and probiotics.  | CHECK OUT
Amazing Grass Protein chocolate pb Pack |
Our lives were changed forever when celeb nutritionist, Kelly LeVeque turned us onto
the "airport shake" travel hack
. When you're on the go, stop by a coffee shop and grab an americano or just a large cut of almond milk, pop out one of these pouches, swirl it into your bev (maybe with a sprinkle of cinnamon) and voila! A blood sugar-stabalizing, snack cravings-averting, energy-boosting best travel tip ever.
CHECK OUT
The Beauty Chef Hydration Inner Beauty Boost | 
It doesn't mater how much water you chug before security, travel tends to dry us out – a lot. Swirl some of this sweet little elixir into a cup of bubbly water for an instant wellness mocktail that's full of probiotics, prebiotics and is deep hydrating.
CHECK OUT
Host Defense MycoShield Spray |
 We're all about the power of medicinal mushrooms these days. This travel size supplement is a combination of mushys that are known to boost our defenses. Shroom up for immunity and stay vibrant from takeoff through the end of vacation. 
CHECK OUT
Pressed Juicery Ginger Shot |
 Dealing with nausea, gut issues or sinus troubles? Ginger reinvigorates your circulation and fights inflammation – perfect before a long flight. Lemon is purifying and cayenne is powerfully cleansing too. We can't say you'll crave the burn, but you'll learn to love it knowing that it's getting the job done. |
CHECK OUT
Lypo-Spheric Vitamin C |
 Everyone knows that
vitamin C is essential
for immunity, this is an easily portable way to get a mega dose when your body needs it most. Our immune systems are vulnerable in people-packed travel settings but these tiny vitamin packs offer just the protection our bodies need.  
CHECK OUT