If you want to find sustainable hacks for the kitchen, we have them in droves. But the truly beautiful pieces that thrill us to the click, aren't as common as a good beeswax wrap or rezippable bag.
These five pieces stopped us in our tracks with their thoughtful design and promises of a more sustainable kitchen…
Lomi by Pela | Most of us recycle, but only the truly devoted compost. (Here's how to start.) The Lomi is a composter that promises to finally convert you to the practice you know is good for garden and planet, but is, thus far, too much of a mess to bother with.

The Lomi may be the device that converts the average home cook to composting once and for all. The countertop unit looks good, smells good and makes the conversion of those food scraps into garden fertilizer oh-so-easy.
HAWKINS NEW YORK Lidded Bowls | We love these recycled bamboo bowls. They're chic enough to display or carry to a gathering, but practical enough to use everyday for storing salads, leftovers and kitchen projects of every shape and size. Shown above, shop here. 
JENNI KAYNE Stowe Eco Glass Bowl | Sometimes sustainability is just about utilizing more gorgeous, lasting materials. And that news is music to our ears. Who wouldn't prefer containers like these glass bowls with wooden lids and leather pulls to a stash of warped plastic tubs? Your pantry will be prettier and more eco in one fell swoop.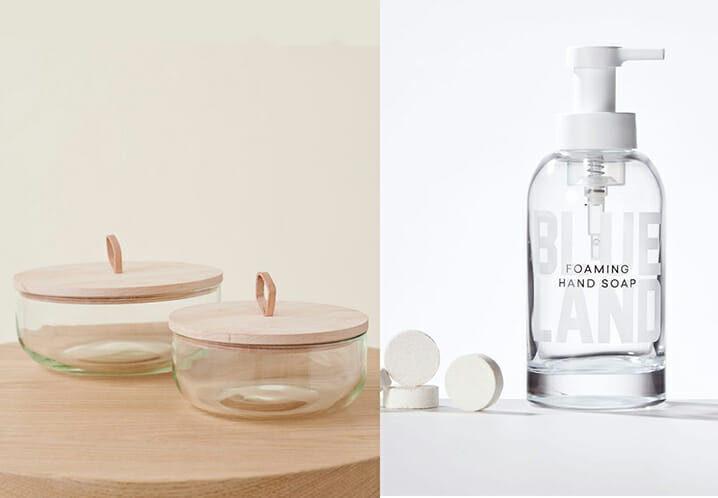 Blueland Foaming Hand Soap + Refills | Maybe you're not a bar soap person and we get that. There are a few legitimate reasons why a household may gravitate away from what is, arguably, the lowest waste option. If that's you and you're hooked on pump soap, but want to toss less plastic, try Blueland's smart hand soap starter kit. Just one glass pump bottle will last you through round after round of the brand's fizzy, scented soap tablets. Pop one in, shake it up and you have a low-waste option that'll look pretty on your countertop and save you tons of plastic bottles.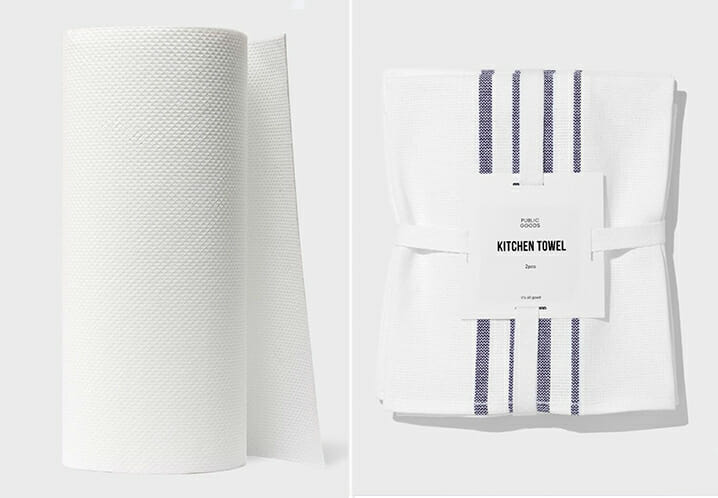 Public Goods Kitchen Towels | One of the biggest sources of waste in the kitchen is that all-too-easy to access roll of paper towels. While kitchen towels might not be a suitable replacement for everything you'd use paper towel for, lean into them as much as possible. Public Goods' plastic-free towels are a great-looking, affordable option to stock up on, while their tree-free paper towels are a better option to keep on hand and use sparingly.
Ready to clean up your fridge? We love these gorgeous, plastic-free fridges!