Hemp seeds are packed with protein that contains all the essential amino acids and essential fatty acids needed for your daily intake. Hemp seeds are an excellent source of protein for vegans and vegetarians, as no other single plant source provides a complete protein that can be assimilated and digested by the body. In addition, they contain healthy essential omega oils – such as Omega 3 – that protect the heart and keep the body functioning at its optimum. Omega 3s are responsible for brain development and reducing any inflammation in the body.
The beauty of Hemp seeds is that they are a sustainable source of Protein. They are rich in Vitamin E, which is an immune booster and key to maintaining healthy, youthful skin. Hemp seeds are perfect on the top of salads since they add texture and rich flavor. For a creamy smoothie, try adding a couple of scoops into the blend.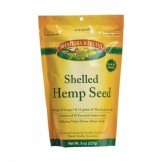 Manitoba Harvest carries high quality Hemp Seeds that are sold at most health food stores.