If you haven't tried one of these recipes yet, it's time to get down with your blender and one of the mind-blowing superfood ice creams we've been sharing from our friends at Addicitve Wellness. Each functional recipe is loaded with high-performance tonic herbs that left us energized and amazed after our kitchen shoot. They're that good. See the notes from AnnaBlanca and Sage below on why this recipe is worth the delicious trouble…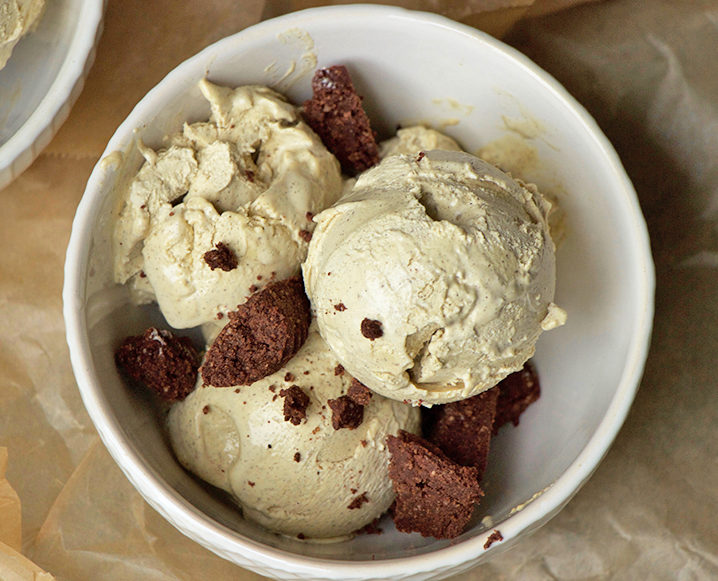 A Note From AnnaBlanca:
I love the saying, "Do not shine the light too bright into the eyes of those who are just waking up." Imagine you're discovering more and more effective and exciting ways to live a healthy, productive, happy life. These new discoveries are giving you so much energy, clarity and strength that you're as excited as a puppy on a summer beach to share it with anyone who will listen! And who will be the first in line to hear your enthusiastic advice? Your family.
More often than not, your nearest and dearest are not entirely ready to embrace the drastic changes you are asking them to make. But you love them and want them to have more vitality than they have ever imagined! It is hard to accept that you cannot force anyone, no matter how loving and pure your intentions are, to go through lifestyle shifts they're not ready for.
What can you do when you find yourself stuck in a situation like this? I would suggest doing what Sage does! Make them the healthiest, most delicious version of their favorite treats (like this sugar-free coffee ice cream) and watch them feel great about themselves. Enjoy that shared, delicious moment, and let them fully experience how wonderful they feel afterward.
A Note From Sage:
Pretty much anyone who is living a healthy lifestyle naturally wants to help their loved ones become as healthy as possible. My dad eats a really great diet for the most part, which is fantastic! But he definitely still loves his favorite indulgences! I can't really call them guilty pleasures, because I don't think he feels guilty about them at all – he just enjoys the heck out of them and happily moves on with his life, which is definitely the best way to satisfy a sweet tooth!
One of my favorite things is to create super-healthy versions of people's favorite treats that leave them with no more cravings for the unhealthy version.
Every Sunday morning at the Ojai Farmers Market, my dad's first stop is for a coffee ice-cream bar. So on a recent Sunday before we went to the market together, I made him this recipe, using the cleanest coffee possible and serious amounts of the best tonic herbs, to leave him feeling energetic, happy and euphoric!
Brainfuel Macchiato Ice Cream
Directions:
Make 12 ounces of coffee with the cleanest coffee you can get your hands on. Freeze the coffee in an ice cube tray. (Longevity Coffee is our favorite.)
Add all the ingredients, including coffee ice cubes, into a Vitamix blender.
Blend on high until smooth while aggressively using the tamper/plunger to drive the ingredients down into the blade.
Enjoy!