yOur oven may have taken a brief hiatus during the hot, sweaty season that was summer, but get ready to get back in action. These paleo raspberry crumble bars are worth cranking up the heat for – and deliver everything you may be missing on a paleo diet. (Hello, crumbling crust!)
These bars come from British ballerina and wellness blogger, Saskia Gregson-Williams of Naturally Sassy. We stumbled onto Saskia's genius recipes after trying the ballet-inspired workouts she's famous for (check them out here). We love a pro who can offer us all the things – and Sassy's recipes are as strong as her turnout…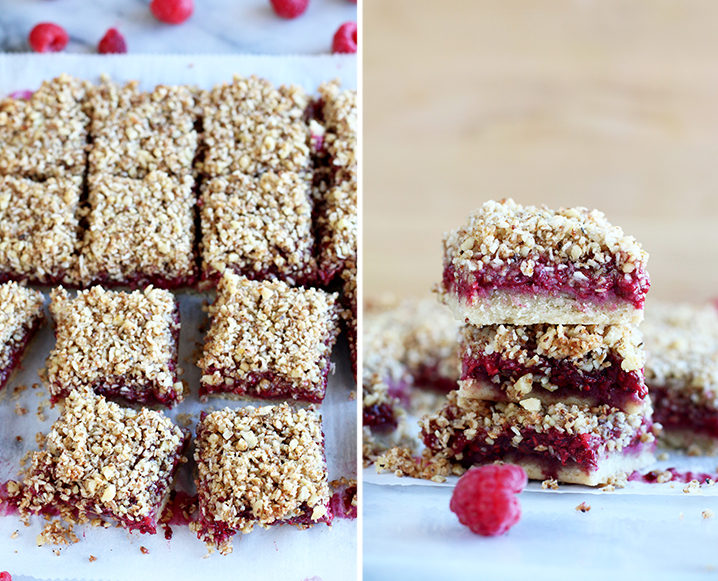 Crumbly, gooey Paleo Raspberry Crumb Bars are just like having a slice of pie, but in cookie bar form! The tangy raspberry filling, the crunchy topping and the soft cookie crust are a delightful combination that's perfect for a warm afternoon treat.
Paleo Raspberry Crumb Bars
Ingredients:
for the crust:
2 cups almond flour
2 Tbsp coconut oil
1 Tbsp vanilla extract
1 tsp almond extract
1 Tbsp water
¼ tsp salt
for the filling:
2 1/4 cups frozen raspberries
1 1/2 Tbsp lemon juice
1 1/4 Tbsp maple syrup
1 1/2 Tbsp chia seeds
for the crumb topping:
1 cup walnuts
1/2 cup unsweetened shredded coconut
3 Tbsp coconut sugar
1 Tbsp coconut oil
1/2 tsp vanilla extract
Directions:
To make the filling, combine raspberries, lemon juice, and maple syrup in a medium saucepan. Over medium-high heat, bring mixture to a bubble, letting it bubble to 1 to 2 minutes. Reduce to a simmer, mashing the berries with a spoon while you cook the mixture for another 3 to 5 minutes. Remove from heat and stir in chia seeds.
Let the sauce cool to room temperature in the refrigerator for an hour or in the freezer for 30 minutes.
To make the crust, preheat oven to 350 degrees F. Line an 8×8-inch pan with parchment paper.
Add crust ingredients to a food processor and pulse until the mixture comes together. Press the crust dough firmly into the bottom of the pan in an even layer. Bake for 13 to 15 minutes, until lightly golden brown. Remove from oven and cool to room temperature.
To make the crumb topping, add the crumb ingredients to the food processor and pulse until combined.
Spread the jam filling over the crust. Top with the crumb mixture. Bake for 15 to 18 minutes.
Remove from oven. Cool completely before serving.