Jenni Kayne knows how to host. We've shared many a special occasion at the designer's gorgeous LA home. We love her conscious and tasteful approach to styling her home by the seasons.
Jenni's best insights have been captured in a beautiful new book, Pacific Natural.
The debut book from this sharp-eyed designer is a guide to hands-on living, decorating and entertaining by mother nature's clock. Organized by season, this entertaining manual if full of incredible ideas for dinner menus, tabletops, simple crafts, and supplies to keep on hand to pull off entertaining effortlessly.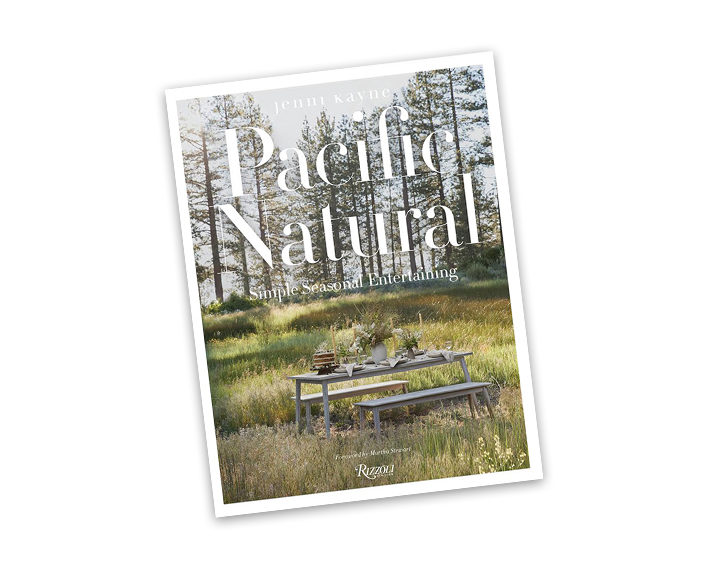 Inside Pacific Natural, we found this list from Jenni on how to stock the ultimate entertaining supply closet. With a few key, nature-inspired pieces, any gathering can quickly become an effortlessly elegant affair.
The Ultimate Entertaining Supply ClosetLinens | Layers of neutral hues sit well on any table. Consider a runner, a set of 6-12 napkins, and a tablecloth.
Candles | Candles create an ambiance with low lighting. Don't forget to protect surfaces from drips of was with candleholders or bases.
Pottery + Ceramics | Keep an eye out for those special pieces you'll love to display. Use for flowers and as centerpieces.
Wood Bowls | These rustic vessels are great for serving or for decor filled with fruit, veggies, florals, or a mixture of all three.
Wood Boards | Layer these full of appetizers like cheese and crudites.
Leather Cord + Jute Twine | Use leather cords and jute twine to wrap gifts, as a napkin holder, or to tie herb bundles and florals together.
Cardstock | Add a personal touch with handwritten or printed place cards, menus, and thank-you notes.
Glass Jars | Gather a variety of shapes and sizes to gift, craft, and store dry goods.
Linen + Burlap | Use linen and burlap to wrap gifts, as a drop cloth for craft tables, and you can even make your own tablecloth runner.
Glassware | Keep a variety of glasses on hand that are versatile enough to use for wine, water, or cocktails.
Plates, Bowls + Cutlery | Earthy neutrals let the food be the focus and work for every occasion.
Carafes | Help your guests help themselves by filling carafes with water or mixed drinks.
Folding Tables | Quickly put together a table. Thow a nice linen on top and your guests will never know the difference.
What essentials can't you live without for effortless entertaining?