Would you trade your garage for a custom home gym? It might sound like a tough call until you see what's possible with a conversion like the one below. Garage remodels have quickly become one of the most popular home projects this year — followed closely, no doubt, by the closet-to-office remodel and playroom-to-schoolroom overhaul.
This garage-to-gym conversion is just the kind of project we're seeing happen across the city thanks to designers like Amanda Gunawan of Inflexion Builds who is offering accessible design solutions for the new "at home" world.
We asked Amanda and her client, wellness influencer, Remi Ishizuka to walk us through the in's and out's of taking something like this on…
Remy, what inspired the project to start?
Remi Ishizuka: My garage space started out as a dumping ground for items that we didn't need nor rarely use and can't bear to toss. When my partner Nate moved in, it became his man-cave and it was a big improvement from what it was before, but we could only go so far with DIY.
Amanda and I were friends before this project and one days as we were hanging out in the outdoor area, she pointed out that the space on the right side of the garage was totally wasted. At that time, we used it to store random things we didn't want or rarely used. I thought about how nice it would be to, once and for all, give that space the right makeover. We had  just started our workout program, HōmeBodies, and thought it'd be great to be able to shoot there every morning as well.
Amanda,  this has to be a growing design request – the home gym conversion? 
Amanda Gunawan: Now that people are working from home they are truly getting to know their personal lifestyles and relationships with their homes — how they interact and use their spaces. This leaves room for zero wasted space.
A garage is often that pre-Covid place that simply stores things you don't need or never use. As they get to know themselves better in their homes, people are starting to envision a different use for their garages and it often corresponds to their lifestyle. If you are an active person, maybe it's a gym. If you have young children and sometimes need a break, maybe it's a detached home office. For some, it's a photography and videography studio, etc.
Walk us through the transformation! We love the warm glow of the space…
AG: We wanted a design that was timeless and clean but was able to accommodate all of the potential storage and clutter that might occur when owning a gym (eg. multiple pieces of equipment, loose weights, resistance bands, random pieces that don't exactly stack or group well together, etc.).
Initially, we had a white, light wood scheme but felt it was too feminine because the equipment is almost always black and Nate wanted it to still feel like his "man-cave," so we had to find a happy medium. We also wanted to properly utilize all of the space. The outdoor area was basically just wasted space that was a decent size and could've been used for something else.
Ventilation and natural light were things already available but not fully taken advantage of, and something we wanted to incorporate into the gym. The gym at its current state has no AC because of how open it is; the sliding and collapsible doors not only make the space feel bigger, they're also in place so you never need additional ventilation.
The final results look so effortless, but what were the biggest challenges?
AG: Trying to time the delivery of each component was a challenge because of the inevitable delays caused by COVID-19. Other than that, everything was very smooth.
you're hoping to provide people WFH with affordable solutions. Can you share some of the principles you put to work in this project?
AG:We are a design-build entity at Inflexion, meaning we handle each project from design all the way through the end of construction. This helps prevent discrepancies between the architects and the contractors.
We've seen multiple cases of architects coming up with a design that ends up being twice the budget their clients had originally planned for. In these cases, the client often isn't aware of the budget increase until the contractors bid for the project; this has become the normal trajectory of how a remodel project goes.
At the same time, you would never want to hire just a contractor to do a remodel — there are so many ins and outs to construction and design that only an architect is aware of. We are designers – and so you can trust that design is at the top of our priorities – but the first question that we ask is, "how much are you willing to spend?" From there, we make sure to design something that doesn't go over budget but still pushes the project to the max in terms of quality and aesthetic.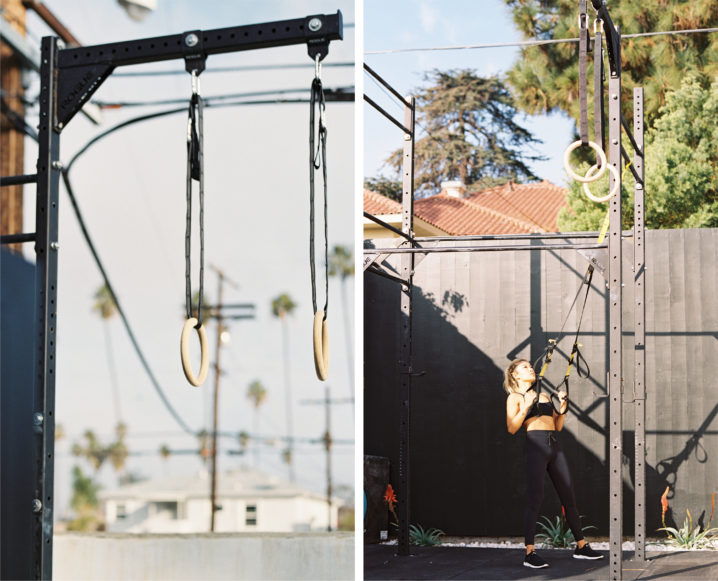 What should those considering a garage conversion consider first?
AG: Budget, how they use that space, and the look that they are going for. For example, with Remi and Nate, it was important for the gym to look masculine but warm.
3 things that make a home gym perfect?
RI: Enough floor space for circuit training, plenty of storage space so everything has a home and looks minimal and clean, and lots of natural airflow and light!
Remi, what's your favorite part of the new space?
RI: I love that the gym doubled in size and has an outdoor training space. Prior to the renovation, the outdoor area was overgrown with bamboo and vines, so having this space cleaned up with access from the inside via huge bi-folding doors is so nice, making both the inside and outside of the gym feel like one space.
Amanda what other design trends for the home are you seeing in this unique time?
AG: Definitely homes that are more customized to fit the needs of the user. Previously, the trend was toward cookie-cutter, flipped homes. People wanted to buy houses, but were spending most of their day in their offices or traveling, so it didn't need to be perfectly tailored to their needs. But now, little things about these cookie-cutter homes bother people and design trends are all moving toward customization.
Want more tips and insights from top designers? Explore all our designer features here.