Our "Apart, But Together" Instagram Live series debuted with one of our favorite cooking class hosts, Elana Horwich, whipping up grain bowls from her kitchen. We are all in need of a little kitchen inspiration right now — especially when it comes to getting creative with shelf-stable staples.
In case you missed it, we wanted to share Elana's easy-peasy delectable recipe here. You'll see how adaptable it is for all meals. All you have to do is switch out a few ingredients and this will be your new go-to for breakfast, lunch or dinner. Elana's cooking philosophy — that it's easy for anyone to make fantastic food — is just as comforting as this yummy grain bowl ahead. 
The wonderful thing about this recipe is that it can be made with what you have in the house. And you don't need to be so precious about having all the right ingredients. If you are missing one or more of the grains or legumes on the list, forgettaboutit. Just use what you do have.
These grains can also be made grain-free! Just use quinoa instead of rice and barley. They make a wonderful base to a macro bowl, so go ahead and top this with your favorite roasted or sautéed veggies. What's important: Dress the grains while still warm. That's the number one rule — so the grains can soak in the flavorful goodness you are adding.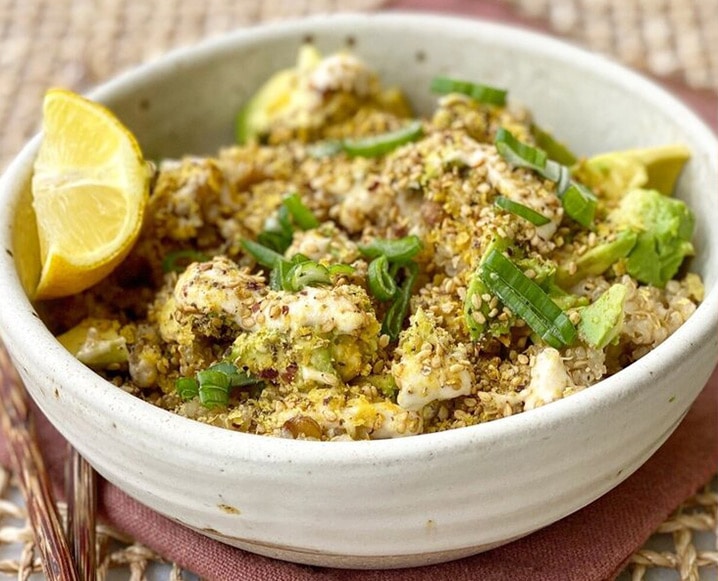 Yummy Gorgeous Grains With Tahini Lemon "Cream"
Serves 4
Ingredients:
For the dry goods:
1 ½ cups made up of the following (in order from most to least):
brown basmati rice
quinoa
lentils
barley
green split peas
(other options include: wild rice, red rice, black rice, spelt, kamut, red lentils, pumpkin or sunflower seeds)
For the seasoning/dressing:
¼ – ⅓ cup extra virgin olive oil
1 ½ tsp wheat-free Tamari or soy sauce
1 ½ tsp coconut aminos
generous ½ tsp Bragg Amino Acids
good sprinkling of sea salt
For the Tahini lemon "cream":
⅓ cup quality Tahini  (preferably organic)
4-5 Tbsp fresh lemon juice (from about 2 lemons)
½ tsp kosher salt
⅙ cup olive oil
hot water
For optional toppings:
toasted sesame seeds
nutritional yeast
cubed avocado
sliced green onion
freshly chopped cilantro, mint, basil or parsley
Directions:
For the grains:
Take out a clear drinking glass and begin to add the different grains, layer by layer, as if you were creating a desert-scape of colors. An average shorter drinking glass will measure out to be about 1 ½ cups. Don't worry if it's not exact. The only important thing is that you use double the amount of water as you do dry goods. (The reason I have you put the grains in a glass is so you can see how gorgeous they look raw.
Add the grains to a rice cooker. Add twice the amount of water as grains to the rice cooker. Turn the rice cooker on and make yourself useful somewhere else or take a catnap. (If you don't have a rice maker, place grains into a pot fitted with a cover. Add twice the amount of water. Bring to a boil, then bring heat to low and cover until cooked. Check in on it after 20 minutes or so, and every so often to make sure it doesn't need a little extra water to finish the cooking.)
Once done, uncover and let breathe a few minutes. Add olive oil and stir. Add Tamari, Bragg, coconut aminos, salt and stir. (If you don't have Bragg Amino Acids or coconut aminos, just use more Tamari or soy sauce. Don't have Tamari or soy sauce? Add more salt.) Taste and adjust to your liking. You want them a little on the oily, sweet and salty side.
For the Tahini lemon "cream":
Mix tahini, lemon, salt and olive oil in a small bowl. Add enough hot water until smooth paste forms (a few tablespoons to a ¼ cup. Amounts depend on the type of tahini.)
For assembly:
Add your Yummy Grains to individual serving bowls, top with Tahini lemon "cream" and add any of the optional toppings. Be grateful that such good food can be live in your pantry for months on end and is so easy to make!
For a limited time only, you can now order a signed copy of Elana's Meal And A Spiel.  and you'll get 20% off when you enter the code KITCHENBADASS20 at checkout!
Be sure to check our Instagram live for more from our Together, But Apart series.