Pinning — or drooling — over great design is one thing, but really understanding why a designer makes the choices they do is key to building homes to live well in ourselves.
We asked Joyce Downing Pickens of LA's JDP Interiors to share styling insights on a few snapshots from her recent portfolio. Pickens' cozy, but modern, old-meets-new style is everything we want to live in. She blends well-crafted minimalistic furniture witih one of a kind vintage pieces for the ultimate mix of masculine and feminine that we believe any household could live in comfortably. We picked our favorite shots and asked her to break them down for us here…
The Chalkboard: There are so many underwhelming headboards, even in the most meticulous homes, but this one is a real statement. Talk to us about this choice.
Joyce Downing Pickens: Well, it wasn't easy to do that's for sure! This required a ton of engineering and planning. The headboard needed to be cut out and upholstered to allow for the sconces and jboxes [electrical enclosures] behind it to match up, even before we had the sconces in hand. The electricians had to work several days to allow for the jboxes to line up, as well as allow access to outlets. This piece spans the entire wall! We had to get creative.
The decision to create this custom headboard came from an inspiration photo I had loved — or maybe several — and I had it in my mind that I wanted to create something similar. This room isn't huge, so I wanted to do something that created a focal point, but still felt luxe and modern.
TCM: We love this room. How do you keep things feeling uncluttered? How do you know when the room is 'finished'?
JDP: I think a sort of Marie Kondo-like methodology really helps here. If it doesn't bring me joy, I get rid of it! If something is feeling messy or like it isn't bringing anything to the table it's time for it to go.
I know when a room is finished when I feel like there aren't any blank spots, but I have also "edited" to only the necessary items that bring something significant to the space.
For instance, in this photo above, the back wall is filled with an oversized art piece which is the perfect size for filling in the blank white wall but also keeps that simplicity. Large scale art is great for this. I find people often go too small when it comes to art and then the room tends to look unfinished and cluttered.
TCM: A built-in nook is a big commitment! We love this, talk to us about the decision and the trends shown here, etc?
JDP: This area was right off the kitchen. Whenever there is a U-shaped area off a kitchen or a kitchen nook, sometimes just a table and chairs can feel ungrounded and lonely. In other words, just a table and chairs with nothing substantial (like a blocky upholstered banquette!) can make the space look "starter apartment" instead of high end.
This area had wrap-around windows, but those windows had bars running across them. If I would have added a four-legged table, and un-upholstered chairs, there would have been a lot of cross-hatching, spindle-like legs, and "see-through" elements going on. It would have quickly felt "messy" or busy.
This big banquette created a ton of extra seating for the homeowners and added substantiality and a focal point. A lot of times decisions like this one come from a gut instant. When I first walked through this space, I saw the crossbar that divided the window exactly at banquette height and it just felt like it was screaming for this treatment. Even though you lose a bit of the view, you gain a massive amount of "intention" in the final completed look.
TCM: Many of your rooms use large pieces to blend into the floor and wall color for a monochromatic and seamless look. Talk to us about that?
JDP: Whenever I am designing a space, I am always inspired first and foremost by the home's bones and architecture. This house is a grey shingled Cape Cod style house with original pine floors. I wanted to keep the colors used throughout simple and classic like the house itself, but also add more Mid-Century elements to tie in the chiminea.
Pine floors can be quite orange, but so can a lot of wood used commonly in vintage/Mid-Century furniture, so I just went with it! I continued the theme throughout. The soft greys and creams were a tribute to the Cape Cod style, and the leathers and rich woods tied in the original pine flooring and brought a sense of contrast and depth that was necessary to prevent the space from falling flat. Yes to monochrome, but no to lack of contrast!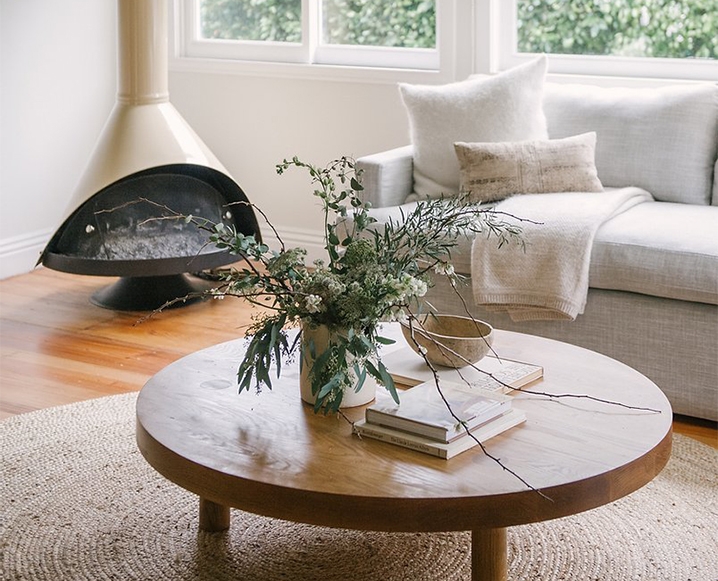 TCM: You used lots of circular shapes in this space — to match the stove? Give us some tips for identifying elements like that to echo throughout a room…
JDP: The reason I went with a round coffee table and a round rug here is actually less about the Mid-Century chiminea and more about the dimensions of the room. This space is very abnormal. There are two support beam columns in the middle of the room that create an almost square-like space. Whenever a room is square, for instance, a dining room, I recommend a round table. I just applied this concept to the living room in this case. A rectangular rug never would have worked here, as it would have been too long to fit within the two columns horizontally or vertically.
The round coffee table also felt like the only solution, especially after determining a round rug was my only viable option.