We've long admired health and wellness expert Sophie Jaffe's holistic approach to wellness. She's a bad-ass babe who founded her company and wellness brand, Philosophie Superfoods, with the goal of making it easier, more inspiring, and more delicious to attain optimal health and radiant wellness. Done.
The holistic mama and co-host IGNTD podcast shares her ultimate clean skincare routine below (and we want everything, superfoods and all)…
My skincare philosophy: Beauty begins within, 100%. I keep my routine simple and pay attention to the ingredients in the products I use, but the most important part isn't actually about what I'm putting on my face, but rather making sure that I'm getting enough vital nutrients into my body so that I'm glowing from the inside out.
Favorite daily products:
Chrysalis Water + Chrysalis Healing Face and/or body oils
Tammy Fender Body Lotion
True Botanicals Cleanser + Face Masks
Eminence Lavender Night Eye Cream
Osea Vita Sea Serum
CocoKind My-Matcha Moisture Stick
Naturopathica Cleansing Balm
Liquid Sunshine chlorophyll drops (heals skin from the inside out)
Fré Protect Me SPF 30
Protocol retinol + vitamin C serums
My daily Clean skincare routine:
AM routine: Huge glass of alkaline water with liquid sunshine and fresh lemon to start my day! This is key for hydrated skin. I also walk to the mirror and while holding my baby daughter, we point to ourselves and smile and say how much we love ourselves and kiss the mirror. This is also key. Self-love is what creates confidence, and confidence equals beauty. Period. I then wash my face by just splashing water to wake up and hydrate, spray Chrysalis Water on it to lock in the moisture, and then put Fré SPF on (it's for active peeps so it doesn't sting eyes when you sweat or clog pores).
PM routine: My PM routine is a bit longer because I can take my time and because I know all night long it will be absorbing the magical ingredients.
First, I cleanse with True Botanicals cleanser, then spray with Chrysalis Water to lock in moisture. Then I put on my favorite retinol cream (from Protocol) on which has been helping me lessen the pregnancy/malasma spots from my face. Then Osea Malibu yummy Sea Serum, which feels like a drink of water slathered on my face. Then I use Chrysalis Healing Face Oil and my rose quartz roller to absorb the face oil, followed by eye cream from Eminence. Once a week I'll do a face mask from True Botanicals or I'll mix my Philosophie Superfood Honey with Philosophie Green Dream Powder and slather it on while in the bathtub.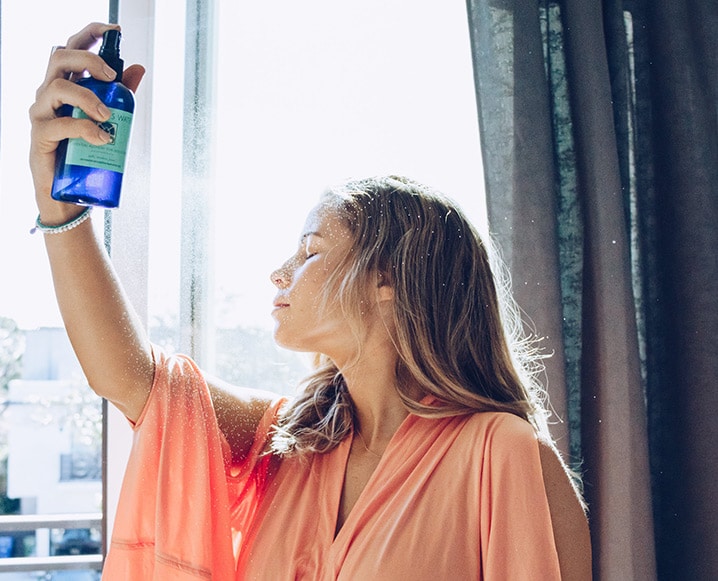 Why clean beauty matters to me: You may have heard me say this before, but what you put on your skin is just as just as important as what you put in your mouth. Your skin is your body's biggest organ, so it's important to take care of what you're "feeding" it. Wellness is a combination of all of the thoughts that you think, the foods that you eat, and how you treat your body. There have been so many times when someone has walked up to me when doing a demo in a store or a workshop and asked what I use on my skin. I always say, what I use on my skin is less important, it's how I nourish myself with superfoods, water and sleep I am most focused on.
Beauty treatment or tool I'm obsessed with now: I love micro-current tools like NuFace and I'm currently obsessing over lymphatic facials and massage.
Health habit for beauty I swear by: Simplify. Unless you've been prescribed by a dermatologist, then you have no reason to slather on a ton of creams, masks, gels, oils, etc. Keeping your skin fresh and clean will allow it to breathe and generate its own oils, which is the best medicine than any prescription for your skin.
Hydration is also super important. When you're dehydrated your skin gets dry, and you're more prone to blemishes. I used chlorophyll in my water (currently loving Philosophie Liquid Sunshine), which not only boosts hydration but also hydrates and heals the skin.