LA has become the capital of plant-forward eating. With a seemingly endless array of healthy-leaning hotspots, the challenge isn't so much where to go for plant-based food, but what to order when we get there. One of our favorite LA-based food and travel writers, Hillary Eaton curated this list of the best vegan food in LA for us and we think she nailed it. Bookmark this drool-worthy list and thank us later…
Remember when eating vegan at a restaurant used to mean you were basically stuck to the salad section of the menu? Those days are firmly a thing of the past thanks to a slew of young talented chefs redefining vegan cuisine in Los Angeles. From the best vegan burger in the city (any guesses?) to a Middle Eastern-inspired kebab at Bavel or a secret off-menu vegan stunner at LA's hottest new restaurant, Nightshade (shh) there's never been a better time to eat vegan in Los Angeles. In fact, these vegan dishes are reasons to eat out all on their own.
The Best Vegan Food To Know + Eat in LA
Oyster Mushroom Kebab | Bavel
A mecca for modern Middle Eastern food with a Los Angeles twist, this Arts District hot spot by Ori Menashe and Genevieve Gergis is not short of nationwide accolades. But a dish that deserves an award all its own is the duo's vegan take on the traditional Middle Eastern kabob. Instead of meat, expect succulent wood-fire grilled oyster mushrooms. Your server will pull down the metal kebab skewer upon serving and display a bright green sauce of lovage, cardamom and sumac. If you find yourself wanting to make a next reservation on your way out, you're definitely not alone.
Green Curry | E.P. & L.P.
This Asian eating house and rooftop bar in West Hollywood is perpetually buzzing — and for good reason. While a large part of the menu created by Aussie chef Louis Tikaram is vegan, the star of the show for both vegans and meat-eaters alike is the vegan Thai green curry. Painstakingly grinding out fresh curry paste by hand each day, Tikaram's fragrant green curry is hands down the best in the city. Not a curry fan? E.P. is also home to one of LA's best vegan tasting menus, boasting five courses from a sweet and sour mushroom salad to a vegan take on dole whip to finish things off.
Carrot Tartine | Yarrow Cafe
Chef Royce Burke knows his way to your vegan heart is through your stomach. Instead of the classic avo take though, vegan breakfast (or lunch or dinner) at Yarrow is not complete without Burke's bright orange carrot tartine. This deeply satisfying carrot puree sits atop a thick slice of crusty bread piled high with beets and crispy vegetables for the perfect toasty bite.
Blooming Onion | Nightshade
Recently named one of the best new restaurants in the nation by GQ, Top Chef winner Mei Lin's triumphant return to the LA restaurant scene has made Nightshade one of the most coveted reservations in the city. While diners pour in for everything from Nashville-style hot quail or Lin's take on congee, the best item on the menu might actually be an elevated reimagining of an unlikely chain favorite — enter the Tom Yum Onion. An inventive vegan take (upon request) on Outback Steakhouse's signature Blooming Onion, Lin subs the traditional batter for a vibrant tom yum crust and pairs it with a sweet and tangy coconut dip to create an umami-packed beauty that's equal part comfort food and culinary genius.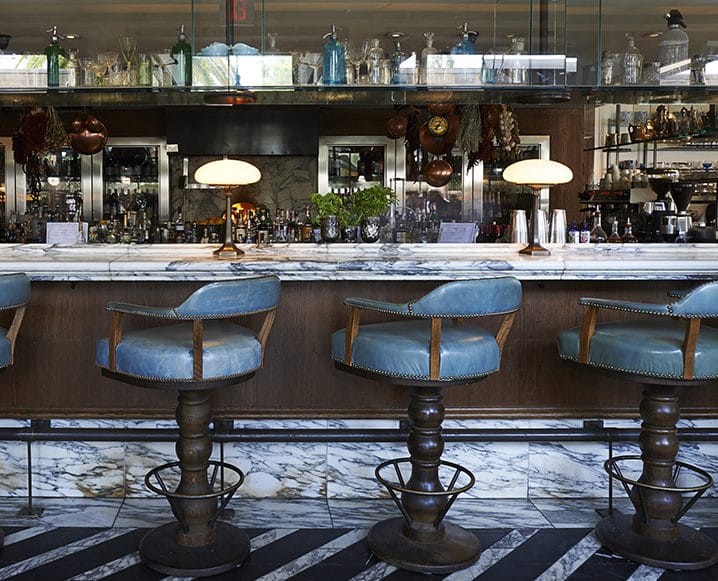 Sausage Pizza | Cecconi's
Not all vegan pizza is created equal. From subpar vegan cheese to tasteless meat substitutes, vegan pizzas of the past have had us going for simple and safe pizzas studded with veggies. Then Cecconi's came along, winning us over with a vegan sausage pie that makes us weak in the knees. Beyond Meat sausage and mushrooms make for the perfect combo upon Cecconi's beautifully blistered crust. It's safe to say we're in love.
ScalLopini Parmesan | Crossroads Kitchen
Tal Ronnen has made a name for himself cooking plant-based cuisine for everyone from Oprah Winfrey to Ariana Huffington. To partake of this plant-based genius and his best offerings, head to this stylish outpost in West Hollywood. Our go-to? While you can't go wrong with on the menu, one of the stunners is the vegan Scallopini Parmesan or Milanese. It's the perfect dish for when you want Italian but don't want pasta. Swoon.
Vegan Cheeseburger | Burgerlords
This cult burger shack with locations in Chinatown and Highland Park has quickly become a favorite for their In-n-Out style take on the vegan cheeseburger. Complete with melty vegan cheese and a Thousand Island style dressing atop a whole foods-based house-made patty, there's no better way to enjoy a vegan burger in LA. Well, that is unless you top it off with one of their vegan Oreo tahini milkshakes.
Smoked Tofu "Eggs" Florentine | Plant Food + Wine
If there is one item that is synonymous with brunch it's eggs Benedict. And for the ultimate vegan take on the classic, head to Matthew Kenney's Venice outpost of Plant Food + Wine. This stylish spot is perfect for a plant-based brunch with a huge selection spanning from vegan breakfast burritos, frittatas and pancakes. The star, however, is the smoked tofu eggs Florentine. It's a winning combo of smoked hodo over spinach and focaccia drenched in a deliciously silky cashew hollandaise.
Cauliflower Wings | Sage Organic Vegan Bistro
While we love a bowl of fresh leafy greens, if you want vegan comfort food at its finest, look no further than a plate of cauliflower wings, jalapeno poppers or a hearty "pulled pork" sandwich of spiced jackfruit at Sage Organic Vegan Bistro. A longtime favorite of the LA vegan dining scene, Sage has locations scattered across Los Angeles so you can pull up a chair to some solid vegan food throughout the city. While it's hard to pick just one dish, we love their perfect spiced cauliflower wings alongside one of the house-brewed vegan sour beers. Proving, once again, you really can have it all as a vegan.
Vegan Reuben | Locali
There's nothing quite like the first bite of a truly terrific sandwich. Just ask those who have tried Locali's famous vegan reuben. Made with marinated vegan deli slices, tangy sauerkraut, vegan Swiss cheese and homemade vegan Russian dressing between slices of perfectly toasty rye bread, it's no wonder than Locali has won over the masses (and critics) with their vegan take on the Jewish deli favorite.
Lump "crab" cakes | The Butcher's Daughter
When it comes to vegan dishes that mimic their animal-protein based counterparts, vegan takes on seafood are often some of the worst. Thankfully, you can get your vegan "seafood" fix and leave smiling with a visit to The Butcher's Daughter on Abbot Kinney. When needing a vegan seafood hit, go for the warm quinoa sweet potato cakes with cucumber slaw and a spiced harissa tartar sauce for a faux-crab cake fix.
Raw Oatmeal | Destroyer
Acclaimed chef Jordan Kahn's minimalist take on Scandinavian daytime fare comes in all delicious shapes and sizes. But there is none so simple and satisfying as Kahn's take on oatmeal. This nearly too-pretty-to-eat dish of raw oatmeal, house-made almond milk, red currants and vanilla is the perfect oatmeal (and Instagram post) to start off any morning.
Garnet Yams | Rustic Canyon
Helmed by vegetable whisperer Jeremy Fox, Rustic Canyon has long been a Westside favorite for bright and inventive vegetable-centric dishes. While the menu is constantly rotating what's in season at the Santa Monica farmers market, one of Fox's more constant dishes is also one of our favorites in the city: the garnet yams. Crispy roasted yams drizzled in cashew "aioli" dusted with celery and pickled onion before its finished with a sprinkling of nutty dukkah. Pro tip: Pair it with Fox's signature salad of berries and beets and you'll have yourself the simple-yet-sophisticated vegetable-centered dinner of your dreams.
Jackfruit Carnitas Tacos | Gracias Madre
This celebrity-frequented hot spot serves plant-based Mexican food at its finest. The star of the show? The vegan tacos. Barbecued jackfruit carnitas come to life with a rich cashew crema, tart pickled cabbage, crispy onions and savory slathering of black beans for the sort of tacos you'll quickly find yourself becoming a regular over. Pair these babies with a Damiana-infused mezcal margarita and you basically have the perfect meal.
Soft serve | Honeybee Burger
Los Feliz's newest plant-based burger spot may draw in customers with their unparalleled vegan burger offerings but those in the know are saving room for dessert. Creamy, organic soft-serve made with coconuts and live probiotic cultures, Honeybee's perfectly silky soft-serve gets a unique yellowy color from the addition of natural vanilla bean. Available in cup, cone or coconut-based magic shell. Hands up if you're getting that cone dipped!
Check out our LA Bite Of The Month series for more healthy haunts we love.