When it comes to living well, a pantry stocked with potent wellness tools is a non-negotiable. We know that, you know that — but what about your budget?
Our readers have been asking for more affordable solutions, but up until now, we haven't been confident to recommend many products that meet our quality standards at this price point.
One thing the wellness industry gets slammed for is the high price of some of it's most popular brands. If you've just added a child to your tribe, are mid-college or mid-college debt, you know that the struggle to balance both physical and financial health is very real.
Nearly everyone can benefit from consuming turmeric and collagen each day, but not everyone can make room for the daily turmeric coffee shop potions and luxe collagen bars we love to treat ourselves with each week.
We recently received a package containing the full line of products from Further Food, an all women-owned and run wellness company. Their turmeric tonic and matcha powder are packed with symbiotic adaptogens, their collagen peptides are grass-fed and finished, but what impressed us most was the price point.
When it comes to finding affordable solutions, quality ingredient sourcing is crucial. With this in mind, the female founders of Further Food created these products as a solution that they themselves needed most. All of Further Food's products are formulated by holistic health experts such as master herbalists, and ayurvedic chefs, and their ingredients are sourced sustainably from around the world.
Here's the breakdown of our favorite Further Food products…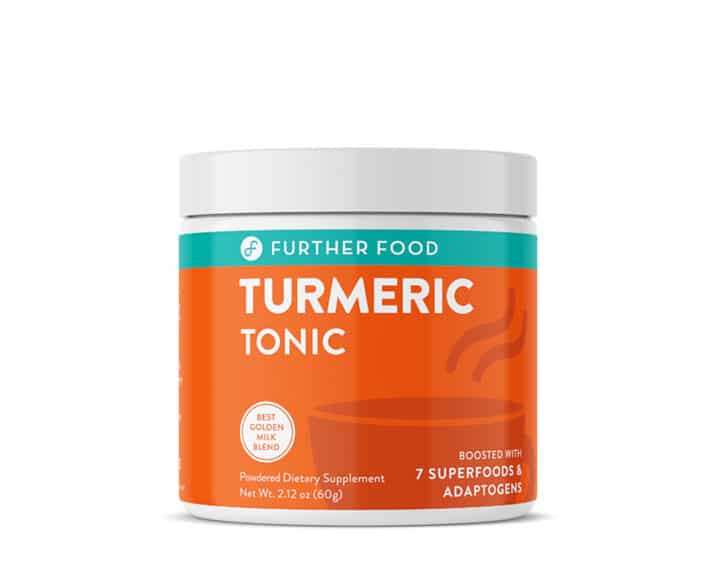 Turmeric Tonic
$14.50 | $.48 Daily
CHECK OUT
Further Food's proprietary powdered blend absorbs faster than pills or capsules and includes black pepper to help enhance the absorption of turmeric and adaptogens. Turmeric is a potent source of anti-inflammatory curcumin. Delicious added to nearly all food, it's especially great as an addition to matcha lattes or on it's own in a little frothed almond milk.
POWERFUL HEALING BLEND: Formulated by master herbalists and nutritionists, Turmeric Tonic combines organic turmeric, adaptogenic herbs (boswellia and schisandra berry) and organic superfoods (ginger, cinnamon, cardamom, cloves and black pepper) into one perfectly crafted chai-spiced blend.
DAILY ANTI-INFLAMMATORY SUPPORT: Benefit from 2000mg of natural anti-inflammatory ingredients in each serving. The combination of turmeric, boswellia, cinnamon, clove, ginger, and cardamom can help reduce joint pain, accelerate wound healing, and relieve inflammation in the gut.
NATURAL IMMUNITY BOOSTER: Turmeric Tonic provides the perfect dose of turmeric, cinnamon, and schisandra berry to help support the immune system and protect against cellular damage.
BEST TASTING + EASY TO USE: Simply add one scoop of Turmeric Tonic to hot water or milk to make the best tasting Golden Milk Latte and Turmeric Tea with hints of cinnamon, ginger & cardamom. Or mix into soups, sauces, or smoothies for an added nutritional boost. You'll fall in love with this rich, flavorful and nourishing blend.
Collagen Peptides Protein Powder

$19.95 | $0.66 Daily
CHECK OUT
This collagen-based protein powder is created with the highest quality grass-fed, pasture-raised hydrolyzed collagen peptides — and still wildly affordable for daily use.
Use as a daily protein powder and you may notice reduced wrinkles, more youthful radiant skin, stronger hair, nails, bones & joints. It also supports gut health.
This collagen protein powder quickly dissolves with little to no flavor or gelling Add to any beverage or meal to experience its benefits. 
Mindful Matcha

$19.95 | $0.66 Daily
CHECK OUT
Call us crazy, but we'd be hard pressed to find a cup of matcha anywhere in LA at this price, especially at this quality.
MINDFUL INGREDIENTS: Formulated by herbalists and nutritionists, Mindful Matcha combines the highest quality organic matcha powder from Japan with brain-boosting superfoods, cordyceps and ashwagandha. Matcha green tea contains 137x the amount of antioxidants as other teas. Combined with wheatgrass, this powder packs in the antioxidants.

REVS METABOLISM: Mindful Matcha provides the perfect dose of matcha and cordyceps mushrooms to give you energy and alertness without the jitters. Matcha green tea is known to power up metabolism, burn calories, and torch fat.
STRESS LESS: The powerful combination of matcha and ashwagandha calms the mind and reduces stress.
Marine Collagen Peptides
 $23.95 | $0.79
CHECK OUT
If you have yet to try collagen for the first time, this product is the perfect thing to try. Sourced from the highest quality wild-caught non-GMO North Atlantic cod, Further Food Premium Marine Collagen can help reduce wrinkles, promote youthful radiant skin, strengthen hair, nails, bones & joints, and support gut health.
Did you know that Marine Collagen is the most bioavailable of all collagen types? It absorbs super efficiently in the body for maximum benefits. This collagen is not vegan, but it is pescatarian. Blend Premium Marine Collagen into your favorite beverages or meals anytime of day.