Finding your signature scent is one thing, but are you layering on a daily fragrance that's not so great for your health? Ever since our Editor-In-Chief spotted her signature scent at the top of the EWG's toxic perfume list years back, we've been on the hunt for the best non-toxic scents we can find.
The great news is, the clean fragrances category is booming. Over the years our list of favorite brands has grown to include some of these elegantly designed scents using non-toxic ingredients we're not creeped out by.
From an adaptive fragrance formulated to reduce stress to a beautifully bottled line that stands up to the classics we miss most, these are top picks for non-toxic fragrances this season…
The Nue Co. Functional fragrance | This unisex non-toxic fragrance is specifically designed to reduce stress using principals of aromatherapy. The adaptive scent blends wood, spice and smoke — including notes of palo santo, green cardamom, cedar wood and violet. An instant obsession in the office and we've noticed it out at LA parties too. CHECK OUT
Ellis brooklyn Rrose | Ellis Brooklyn is a brand made by and for true beauty addicts — check out our interview with the founder here. The beautiful bottles look impossibly elegant on our vanities, and the scents are a spot-on replacement for classic perfumes with toxic ingredients. CHECK OUT
Hermetica Cedarise Parfum
 | Hermetica is a collection of molecular fragrances inspired by the ancient practice of alchemy. This one embodies the beautifully fresh aroma of trees after the rain.
CHECK OUT
Heretic Dirty ginger
 | Heretic is a clean beauty lover's dream come true. Non-toxic doesn't have to mean non-sexy. Dirty Ginger is a spicy-clean scent that mixes notes of ginger, lime, pepper and palo santo for a non-toxic fragrance that is airy and complex in all the right ways. 
CHECK OUT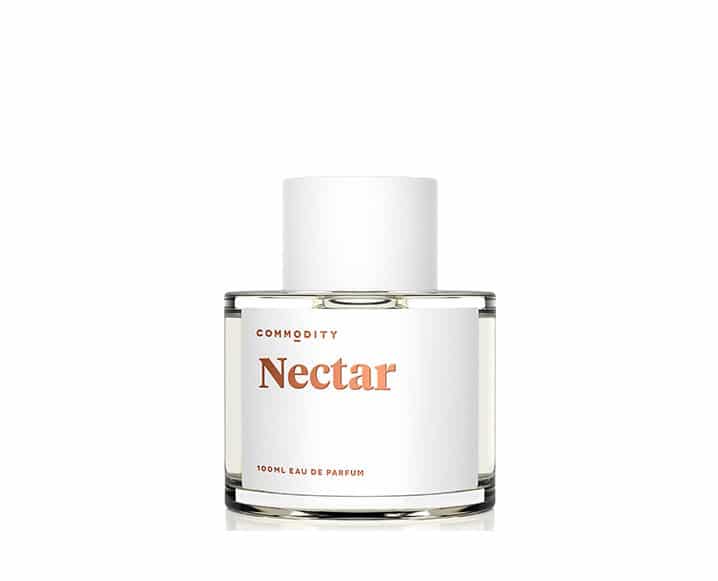 Commodity Nectar | Commodity is one of our go-to brands for non-toxic fragrance, from candles to clean perfumes like this one. Sweet but not sugary, Nectar is a light and lovely perfume that's perfect for the summer. CHECK OUT  
Hanami by PHLUR | We featured this elegant non-toxic scent in our holiday gift guide and couldn't believe how quickly it sold out. The scent is unisex — figs and florals, subtle and warm. Hanami smells amazing in the bottle and even better on the skin. CHECK OUT
Clean Reserve white fig & Bourbon Parfum | This unisex perfume has just the right amount of sweetness from notes of fig and an overarching breeze of spice. The contrasting personalities of the predominant scents create a complex and intoxicating non-toxic fragrance worth wearing every day. CHECK OUT
G. edition 4 by goop Beauty | Goop has curated a wonderful line of perfumes that hit the mark in terms of non-toxic ingredients and smell absolutely delicious to boot. This most recent drop is a fave for us, with notes of apricot, hay, dry earth and grass. Herby, woody and beautifully balanced, it smells the way a spring day feels. CHECK OUT