You can probably have a happy fulfilling life without a mortar and pestle, but once you start using them you'll never look back. Whether you're crushing herbs or making guac, using a mortar and pestle is a beautifully hands-on way to connect with your food, have it taste amazing, and make you look a little cooler in the kitchen.
A mortar (the bowl part) and pestle (the club part) are tools used since ancient times to prepare ingredients by crushing and grinding them into a fine paste or powder for use in the kitchen, laboratory, and pharmacy. They're typically made with natural materials like wood, lava stone or marble, and can be used for pretty much anything you'd use a food processor for. While a blender or food processor can bruise and rip the same ingredients, a mortar and pestle will gently expel oils to fully release the aroma and flavor. This process might take a few seconds longer than a machine, but it engages all of your senses and results in a product that simply tastes better.
Not sure how to use a mortar and pestle? There isn't exactly a wrong way, but please don't slam your pestle down and wind it all around. Instead, rock and smash your ingredients. Roll the mortar around the pestle with the mortar to gather any ingredients that have climbed up the sides, then push them into the middle. Basically, this combo of tools is as fool-proof as can be.
These tools work faster than a knife to crush herbs or garlic into a paste, break down a fresh knob of ginger, or grind whole spices into powders. It lets you experience the full flavor of fresh herbs and might even encourage you to use more of these healing plants in your cooking. Ready to get started? Here are a few cute sets we love, no matter your budget…
Marble Mortar & Pestle | $19 | This simple marble set is perfect for keeping out on your kitchen counter for casual everyday use. Grab it to quickly prep herbs and spices, garlic and even guacamole. CHECK OUT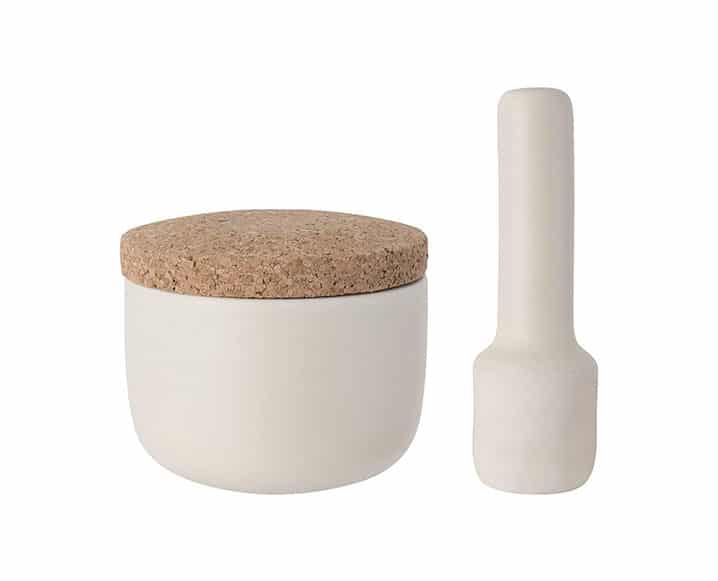 Stoneware Leo Mortar & Pestle | $28 | This from Berghoff brings playful colors, pure shapes and soft textures to the kitchen. The pretty mortar is perfect for serving the freshly ground accompaniment at the table. The small version comes with a contrasting cork cover which helps to preserve flavor and aroma. CHECK OUT
River Stone Mortar & Pestle | $40 | This traditional set is made of raw stone gathered from the eruptions of volcanic mountains. The heavy stone makes it easy to crush and grind ingredients with minimal physical effort. CHECK OUT 
Williams Sonoma Mortar & Pestle | $50 | Cute, simple and perfect for grinding up small portions of fresh herbs and dried spices. Made in England, the heavy porcelain mortar stays steady while you grind. The unglazed surface provides resistance for efficient grinding. CHECK OUT
Marble & Metal Mortar & Pestle | $120 | The hefty marble keeps this mortar from slipping around while you make your guac or grind your spices. The pestle has a ridged tip, which makes grinding and crushing effortless. The pretty metallic details make this is as much a piece of art as it is a piece of essential kitchen tool. CHECK OUT
Tondo Mortar & Pestle | $149 | This modern mortar and pestle is a work of art. More than just a tool for grinding herbs and spices, this sculptural piece can serve as a centerpiece for the kitchen. CHECK OUT