This spring, the jumpsuit really represents our overall mood; we're ready to get out there, but still need to feel comfortable and cocooned head-to-toe, you know?
An easy-to-wear, timeless jumpsuit is just the thing to reconnect in person with a bestie or hop onto the couch in instead of last winter's sweats. For the uninitiated, jumpsuits are a total revelation of comfort and cuteness; for the one-piece devotees, there's no such thing as 'too many jumpsuits'!
From a structured jumpsuit with ideal pocket placement to something that's a little breezier, these timeless jumpsuits will knock out half your summer wardrobe needs…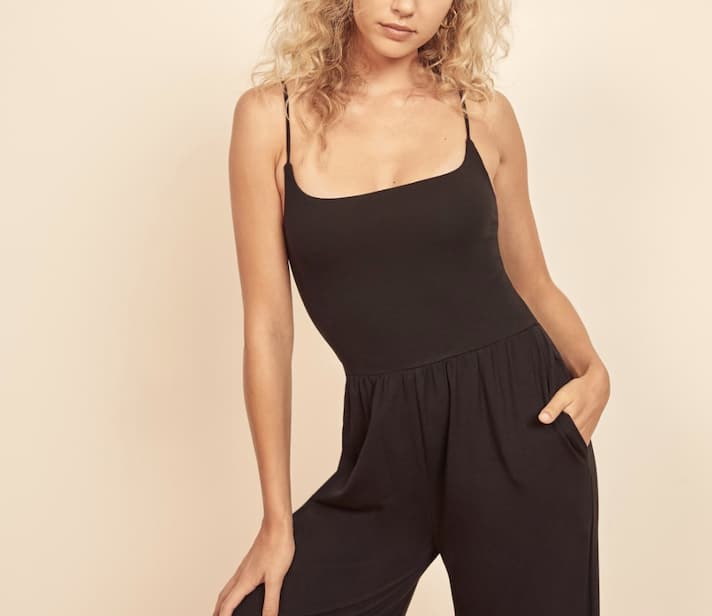 Reformation chandler jumpuit | Looking for some lighter and more dress-like than a full-on coverall? Naturally, Reformation makes something a bit lighter  with a flattering stretchy, ribbed bodice that's still incredibly comfortable. CHECK OUT
Everlane The Modern Utility Jumpsuit
| This timeless jumpsuit from
impressively sustainable brand
, Everlane, is made of a lightweight stretch cotton twill that's sturdy, breathable and ultra-comfortable. It features patch pockets, a belt for definition, and a button situation that emanates classic coveralls vibes.
CHECK OUT
Apiece Apart Azore Jumpsuit
| Made of 50% cotton and 50% linen, this flattering, short-sleeve jumpsuit is ideal for the running errands or meeting friends for coffee catch-ups. Soft yet structured, the fitted waist and well-placed pockets make this timeless jumpsuit a keeper.
CHECK OUT
Sanctuary Renewal Jumpsuit
| This super-soft jumpsuit has a flattering cut and buttons that stand out just enough. Pair it with flats for meetings or heels for a quick shift to evening mode.
CHECK OUT
Christy Dawn The Painter jumpsuit
| Based on the timeless body of a painter's jumpsuit, this design has a few extra little details that really make the it something special. The Painter Jumper features a button up front with three quarter sleeves. It's also impressively eco-friendly; the jumpsuit, like Christy Dawn's other pieces, is made out of sustainable deadstock fabric.
CHECK OUT