Hangovers are so last decade, but cocktails aren't going out of style ever. Just the idea of an after-work cocktail with friends can add major spark to that midweek grind.
There's a new school of no-to-low-alcohol brands that are taking on the growing trend of sober social hangs. Think: All the fun with none of the aftermath. No-to-low ABV (alcohol by volume) beverages are the perfect antidote for those of us who want to feel better by drinking less. The best part? All of these brands have crazy cool cocktail swagger. Move over snoozy club soda on the rocks. We're sharing selects from the ABV brands currently on our radar…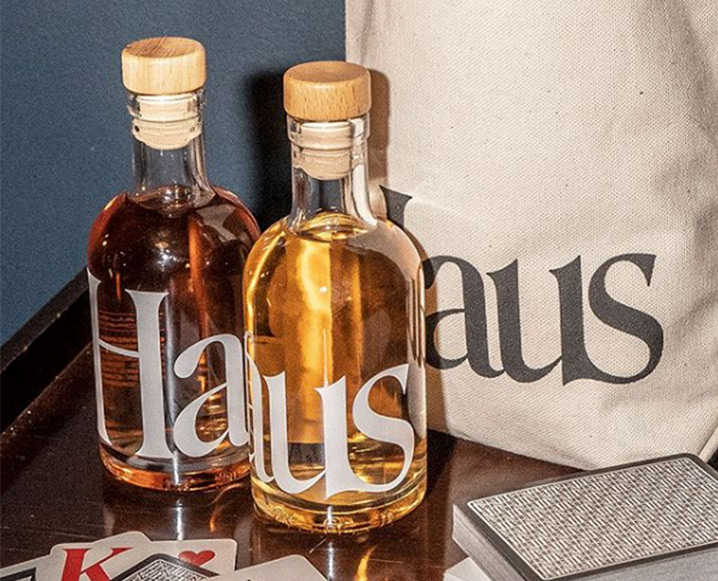 HAUS CITRUS FLOWER | shop now
When: You're looking for a low-alcohol drink for a friendly hang.
What's in it: Haus contains a third of the alcohol of gin or tequila based on an un-oaked chardonnay base. Designed to be enjoyed throughout the evening—on the rocks, with club soda or even with a little prosecco, Citrus Flower also makes is the perfect cocktail base, so get creative. If you're a whiskey lover, try their Bitter Clove — it's deeper and darker, with warm spices like clove and ginger. Haus is made in Sonoma by a super cool couple on a mission to take the liquor biz into the new decade with cleaner ingredients and zero "sketchy" additives.
TÖST NON-ALCOHOLIC sparkling beverage | shop now
When: You want the full foodie experience without alcohol.
What's in it: Töst is an elegant dry blend of white tea, white cranberry and ginger, designed with the help of top chefs to pair beautifully with meals. It's also perfect for guests who need alcohol-free alternatives but still want to join in on the festivities and toasts! Genius beverage.
SEEDLIP GARDEN 108 DISTILLED NON-ALCOHOLIC SPIRIT | SHOP NOW
When: You want to shake up beautiful drinks for friends, only with zero buzz or alcohol.
What's in it: May we present the botanical spirit, so rich in complex flavors and sophisticated layers, you just may forget this one is totally nonalcoholic. Seedlip's Garden 108 resonates with high notes of hand-picked sweet peas and hay, leveled with an aromatic herbal base highlighted by spearmint, rosemary, thyme and hops. You'll want to sip this all during brunch or over a long afternoon with friends. Simply serve with tonic water or other mixers to create an elegant nonalcoholic cocktail. Zero calories, sugar and sweetener free with no artificial flavors has never been sexier.
kin euphorics high rHode | shop now
When: You need to unwind but don't want any alcohol.
What's in it: Kin's High Rhode is a blend of adaptogens, replenishing nootropics, and nourishing botanicals designed to help keep you calm. If you normally turn to alcohol to help you calm down before social evenings out, this could be a great alternative. It's earthy, spicy flavor is perfect for blending into a number of mocktail recipes. Photo credit: Heidi's Bridge.