Being a mommy and the author of a go-to guide on green parenting, we knew Paige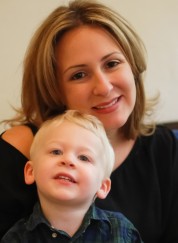 Wolf would have a few invaluable tricks up her sleeve to share with us!  As a new mother to son, Sam, Paige noticed how many other mothers were, like her, on the verge of a "green mom nervous breakdown". Her struggles in search of the most reliable information – from cloth-diapering to deciphering labels – led her to write her sweet and good-natured guide, 'Spit That Out!: The Overly Informed Parent's Guide to Raising Children in the Age of Environmental Guilt
'.  Overwhelmed parents everywhere will relate to Paige's stories, guidance and advice for navigating the often complicated green living landscape.
We're giving away one of Paige's green go-to guide's below, but before you enter, check out the author's list of 10 favorite resources to make the green mama journey a breeze.  Bookmark away!
Healthy Child Healthy World
Healthy Child Healthy World is the leading movement empowering parents to protect children from harmful chemicals. Healthy Child translates the science and inspires parents and caregivers to create healthy environments. Find out more.
Practically Green
Practically Green provides simple and useful interactive tools for people to live healthier and greener lives. Interactive tools help you track your progress and keep you motivated to go greener through awards. Find out more.
EcoMom Alliance
EcoMom® Alliance is a non-profit organization nurturing, connecting, and empowering mothers to create a healthy and sustainable world. By sharing connection, information, and resources, they support mothers in making healthier choices in their homes and communities. Find out more.
Recycle Bank
Earn coupons, discounts, and freebies just for recycling with your own curbside program. Even if your town isn't part of the Recycle Bank program, you can still earn points for other simple green actions.
Mighty Nest
Shop for toys, bottles, dishware, and other kid and baby gear from the site that only sells products free from known toxic ingredients.
Safe Mama
Safe Mama does all the research on product safety and compiles cheat sheets with the most non toxic, eco-friendly shopping options for parents. Find out more.
Holistic Moms
Connect with other natural-minded moms both online and in person in local meet-up groups. For out more.
Spirit Beauty Lounge
Find the safest, purest beauty products without sacrificing style and glamour.
Kiwi Magazine
Kiwi Magazine provides information for raising greener, healthier families. Great information, recipes, craft ideas, and simple green actions. Find out more.
Organic Deals
Coupon aggregator for organic grocery shopping deals online and in stores.
To win your very own copy of "Spit That Out" leave your comments below and tell us your favorite green on-line resource. We'll pick our favorite and select a winner!