Paralzyed by inspiration –this beach shot from our girl, Erica Chan Coffman of Honestly WTF stopped us from scrolling and had us asking all the questions. Like, where can we get our hands on this umbrella?
Apparently, Erica's beach umbrella was a very special travel purchase we're not able to source, but, inspired by her epic set-up in the sand, we've rounded up other timeless options for you we know you're going to love!
Timeless Beach Accessories 101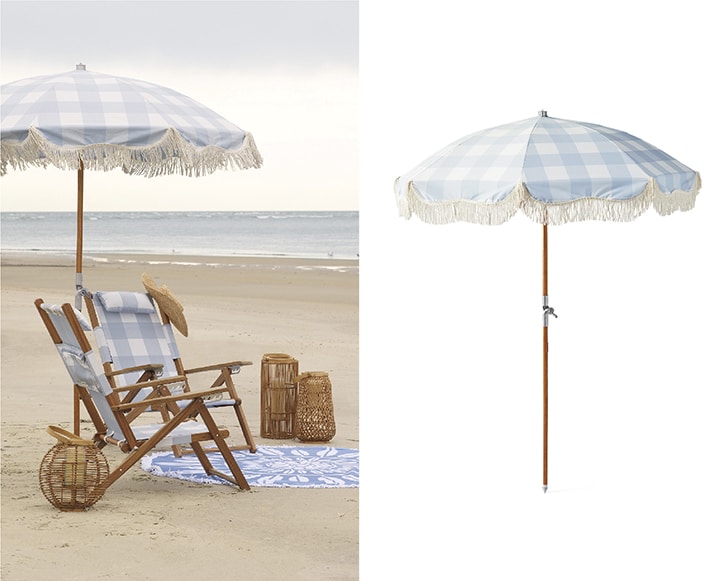 Serena & Lily Beach Umbrella | In white or this sweet blue gingham, this fringed umbrella is all that's needed for a vintage-inspired beach day. Toss down a towel, break out that frozen water bottle and lounge in style. SHOP NOW
Rattan lounge chair | Why downgrade that well-designed swimwear with a not-so-well-designed beach chair? This rattan lounger is just what we're dreaming of to create the beach day of our dreams SHOP NOW  
Sunny days patio umbrella | Another fringed piece, and we won't apologize. This lemony number takes some skill — and maybe a bit of ocean water — to get into the sand, but we know you'll commit if you really want to live out your '60's California dreams. Pair with some vintage swim and a picnic basket. SHOP NOW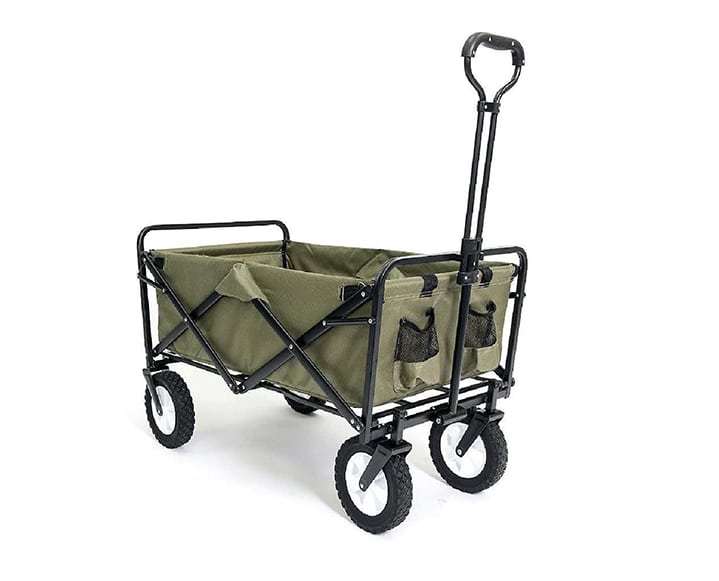 FOLDING UTILITY WAGON | Who will be dragging all this beautiful gear —  plus the snacks and hydration needed — to the water's edge? Keep a folding wagon like this one in your trunk and make your beach set up as easy as planned. (It's never quite.) Extra points for the low-key army green shade. SHOP NOW 
Business & Pleasure Premium Beach Tent | Umbrella are divine for one to beach rats, but if you're gathering a small family or group of friends, go with a beach tent! They don't have to kill your style. In fact, this version (Fringed! Again!) from Business & Pleasure is cute as can be. Use it in addition to umbrellas, if you want to lay out in the breeze, then gather for a meal. SHOP NOW 
Vintage Picnic Basket | Chairish has a great collection of vintage picnic baskets ready to pack for the beach. We love this mid-century wicker version, but shop around for one that is the size and price you're looking for! SHOP NOW 
Beach days aren't made of umbrellas and great chairs alone. Want our best carry-along recipes? Find a few here. Looking for the best suncare? We've got you covered. Once you get back from the beach, have these green tea ice cubes ready for the ultimate recovery facial.