A great protein powder is an essential part of any wellness toolkit. Protein is necessary for every vital function in our body, and stocking up on a couple of delicious, clean protein powders is an easy way to make sure you're getting enough of the good stuff daily.
Like finding the ultimate workout so you actually want to commit, finding your perfect protein powder requires a lot of personal research, trial and error. An excellent recommendation or two doesn't hurt either. We took to Instagram and asked you to tell us all about your favorite clean protein powders, and we're sharing our favorite responses below. Discover the cleanest and most crave-worthy protein powders you, our lovely readers, are scooping and sipping daily…
What Is The Best Clean Protein Powder?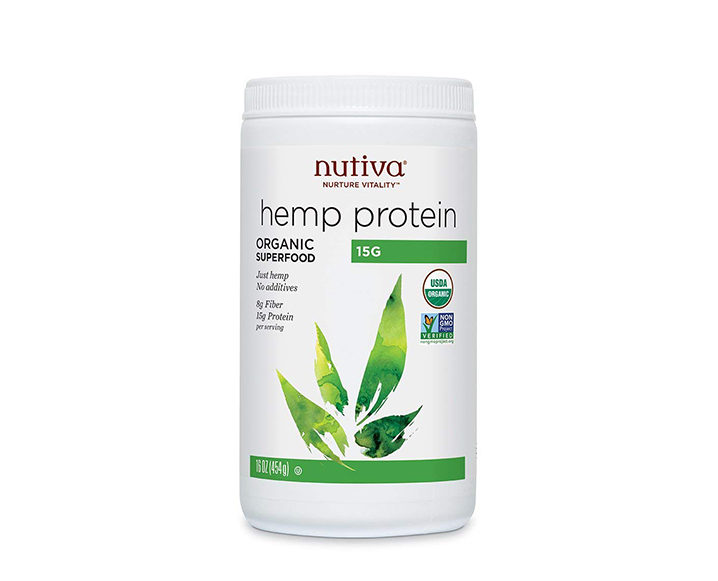 Nutiva Organic Hemp Protein  |
"I really love plain Nutiva hemp powder because it is simple and clean but still packed with protein! It makes my smoothies frothy, creamy, and so yummy." 
Check Out
100% Pure Cricket Powder | "100% cricket protein powder! It's actually the cleanest, most sustainable protein on the planet… with just one ingredient. You don't have to worry about extra ingredients, incomplete proteins and isolates, contamination from pesticides or polluted oceans. It's THE BEST. And it has a mild nutty flavor so you can use it in a smoothie or to bake/cook with. Plus it contains b12, potassium, calcium and iron." Check Out
Sprout Living Epic Protein | "Reading through the comments I see that most of the powders mentioned aren't clean at all and have very very long ingredient lists and are highly processed. The cleanest protein powder I've ever come across also happens to taste amazing, it blends great with just water and is all whole food ingredients you can pronounce. It's from @sproutliving. All the powders are organic, nongmo, raw, vegan, kosher and specially created for optimal bioavailability." Check Out
Arbonne Essentials Protein Shake Mix |
"
Arbonne !!!!! Hands down! Best taste and only a few pure ingredients! And it's pea-based! Win!! I love Arbonne's chocolate protein powder!! Vegan and packed with 20g of protein per serving." Check Out 
Naked Rice Protein Powder |
"I'm loving brown rice protein for baking!" 
Check Out
WelleCo Vanilla Nourishing Protein Powder |
"
@wellecodefinitely my 
favorite
 protein powder. It's life changing!!" Check Out
The Beauty Chef Inner Beauty Powder | "@thebeautychef is my go-to holy grail cleam protein powder. Can't go a day without it, not interested in any others and have been obsessed with for YEARS… super high quality, amazingly delicious and everything I look for in a protein powder." Check Out
Moon Juice Adaptogenic Protein Powder | "Moon Juice adaptogenic protein is one of the best plant-based powders that doesn't taste like grass, it actually tastes good and has amazing balancing adaptogenic ingredients." Check Out
Sakara Life Life Source Super Powder | "@sakaralife Life Source Super Powder is the best. Clean, plant-based and not chalky. Has ingredients for skin and gut health in addition to protein for energy." Check Out
Philosophie Superfood Plant-Based Protein Powder | "@philosophielove Every DAY!!! Skin and body have never looked or felt better." Check Out
Learn more about the different types of clean protein powders with this pro guide.