We're just going to assume you brush your teeth every day. If you're advanced, you floss. But did you know that there is a whole world of (pretty cool) wellness tools made for your mouth?
In this recent story with Dr. Gottfried, she shares "If you don't floss, your risk of mortality is 30 percent higher and if you see the dentist only once per year, you raise mortality by 30 to 50 percent. Flossing can prevent periodontal disease after as little as one month of regular use."
Made us think.
While tooth floss may be the most boring wellness staple out there, we've actually got a few oral care products that have us excited about flossing, brushing and beyond…
9 Oral Care Products We Actually Enjoy Using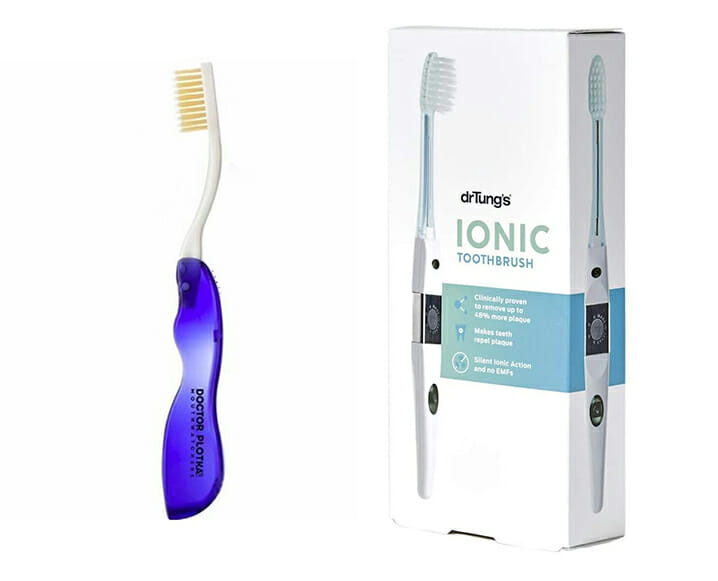 Dr Plotka's MOUTHWATCHERS Toothbrush | We've tried all the toothbrushes, from electric on down, but this is a team fave! Dr. Plotka's toothbrush can nearly floss for you while you brush with a grid of long, fine bristles embedded into the brushhead that work like magic. Also infused with silver which works to reduce bacteria.
Dr. Tung's ionic toothbrush | This ionic toothbrush is both more powerful and more sustainable than your average brush. Instead of trying to force plaque off the teeth by friction alone, the ionic vibrations of this electric brush makes the teeth let go of plaque, like turning off a magnet!
Take Vitamin C | Vitamin C is needed for healthy gums, reducing the incidence of bleeding gums, gingivitis, and even periodontitis. We love New Chapter's fermented Vitamin C complex that includes a host of immune boosting and stress fighting herbs.
HUPPY Toothpaste tablets | Huppy toothpaste tablets come in a small tin that can be refilled by the bagful. The goal here is to reduce waste, but we also love how convenient the tablets are for travel or even afternoons out. Classic peppermint is good, but the charcoal mint is even better.
LIVING LIBATIONS 
OZONATED HAPPY GUM GEL
| This unique gel is made with organic and wild natural ingredients and acts like a super-charged, botanical toothpaste-slash-massage gel for your gums. Add an oxygen-rich drop to gums after a meal out for a blast of healing freshness or use it to
oil floss
. 
CHECK OUT

living libations gum drops oil
| When flossing, add a dab of mouth-friendly, bacteria-killing essential oils to the floss. The oils seep into the tiny places that floss cannot reach and packs a punch of anti-bacterial, anti-viral and anti-fungal power to your daily routine. We love the 
Happy Gum Drops
 for this.
CHECK OUT
try bamboo or horsetail tea
 | Silica (this
herbal formula
is our fave) helps the body to build collagen and strengthen connective tissue like fascia, cartilage and bones; as well as teeth, skin, and hair. You can get herbal teas with horsetail (silica) in them or buy a daily supplement
like this one
.
Bamboo tea
is also rich in silica and has a ton of collagen-building benefits.
sunstar gum stimulator
| Some people are crazy about flossing. Those people should check out this old school tool ideal for clearing out whatever gets stuck between your teeth and gently massaging gums to stimulate blood flow and promote solid oral health. You can use this low-tech tool to check the tenderness and health of your gums. 
CHECK OUT
Salt Water Swish
| Another thing we learned from
Nadine Artemis' book on the topic
 was to keep a jar of salt water by the sink to swish like mouthwash. The salt helps to clean and rebalance the pH of your mouth after coffee, snacks or before brushing itself. Add about half a teaspoon of good grey or pink salt to your jar, cover in boiling water and let cool. Once the salt is dissolved, top with water and leave in the bathroom counter where you can use it.