Today begins Sleep Awareness Week. The most 'aware'? Those not getting any.
We'v partnered with evn CBD to help… 
Sophie Jaffe is getting enough sleep – and it shows. They say a well-rested mom is something of a unicorn. But business owner and mama of three, Sophie Jaffe definitely seems to be getting enough. Our proof? A resilient attitude, a lifestyle that we know is super-nourishing, and those abs — did you know that cortisol, the hormone causing fat storage around the belly, is raised when you don't have enough good quality sleep? Facts.
There are a million good reasons for young, working moms to be tired and we can't solve for all of them. But if you have trouble relaxing at night or if falling asleep itself is the issue, we might be able help.
We recently quizzed Sophie, a yogi and superfood freak, about her family' sleep habits and wind-down routines. Her responses are full of simple takeaways — and exclusive offers; this story is brought to you by evn CBD Sleep Powder, a sleep-enhancing blend of vitamins, minerals, and full spectrum CBD in a hot chocolate base for a cozy cup that'll send you into deep, restful sleep. Try a cup for 20% off below. Here's Sophie…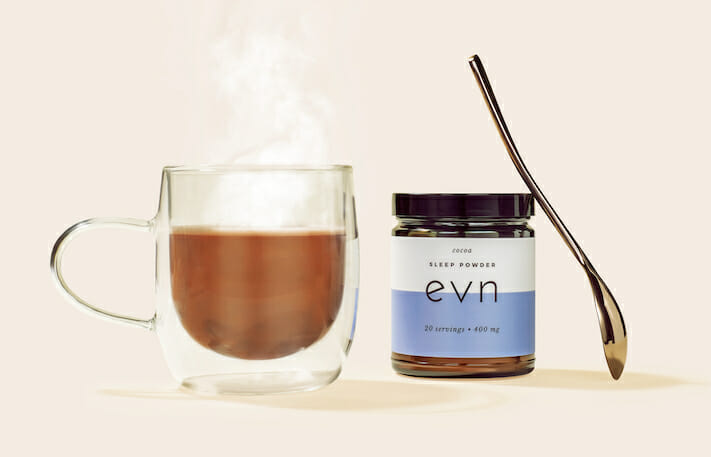 My day is currently filled with…So much in all the best ways; kid activities and mama duties, running my superfood company and working with an incredible team that support me day in and day out. Every single day I have time outside whether it's working outside by my pool or taking a walk around my neighborhood with our kids or heading to the beach to watch the sunset — an absolute non-negotiable.
I'm also scheduling more date nights and mini weekend getaways with my husband lately. We've learned that those are the moments where we return to each other.
That's a full life. Do you make time for naps or no? Yep. Obsessed with power naps — instant refresher. If I can't actually settle into sleep, I'll still rest and do a yoga nidra or meditation.
Which Daytime habits do you feel give you better sleep at night: Moving my body throughout the day to work off some energy. Making sure I nourish my body with whole, nutrient-dense foods. which often looks like starting my days with superfood coffee, sipping on chlorophyll water throughout my day, eating lots of colors, and treating myself when I feel in alignment.
I think one major thing that has also helped my sleep is my relationship to technology. I've turned off all my notifications (crazy, I know!). Now, I'm not always reacting to an alert and have more control over when I want to tap into high energy or slow down, soften, and relax.
Evenings around our house are… surprisingly calm. The days start early with 3 children so we wind down early. Kids are all in their beds no later than 8:30 on school nights and asleep soon after. That gives us some solid time to connect as adults after they are asleep. Non-negotiable over here!
Fave family ritual to unwind? We love to get in our salt water hot tub together after dinner and chat about life, laugh and connect. By the end, we are all super sleepy and cozy and ready for bed!
Wind-down non-negotiables: Unplugging for at least an hour before sleep and a sleepytime drink.
Some of my favorites are chamomile with honey or Sleep Powder by evn CBD which is a CBD-infused hot chocolate with L-Theanine, Magnesium, and Melatonin — all things cozy. Journaling with a cup of warmed Sleep Powder in coconut milk is the ultimate wind-down moment for me. These classic sleep-enhancing ingredients actually work in synergy to make me feel really relaxed.
I also like to practice breathwork before I go to sleep. Those few moments before you drift off to sleep can be deeply healing. By using breathwork or pranayama practices you have the ability to drop whatever is weighing you down to completely reset as you sleep and wake up ready to show up in the world as your best, most vibrant self!
Instead of a glass of wine to wind down… I use CBD, melatonin and herbal teas or superfood lattes.
What's your take on CBD overall? CBD helps me to balance the overwhelming stress and anxiety I often experience. This year especially, I realized that I am in charge of my own body, being and experiences. I get to decide what energy and perspective I bring to every situation – even during a pandemic!
CBD also helps me transition between all the different hats I wear with more ease and grace. On an average day that could mean hopping from mama mode to podcast recording to managing the business or posting to my influencer account without a problem. But, on challenging days, I take an evn CBD gummy or a few drops of oil and it helps me so much. Currently obsessed with Sleep Powder by evn CBD because it combines my love for sweets and lattes with everything I love in a sleepytime drink — vitamins, minerals, and full spectrum CBD.
When I can't sleep, I.. like to take a soothing bath. When I really need to RELAX, I enjoy sipping on Sleep Powder in the bath, saying 3 things I'm grateful for, and taking deep breaths to fill my belly with calming, restorative prana. I've been conscious of putting more high vibe tonics in my body that help support my immunity and wellness, the Sleep Powder helps me do just that.
When I'm fried out, I adjust these things: My caffeine and sugar intake! I'll also go on a mini detox/cleanse to reset my body and allow my nervous system to balance out.
When I know I didn't get enough sleep the night before, I… I'll often catch up on sleep where I can or sleep in and if I need to, I'll reschedule meetings or cancel events. My well-being comes first and if I can't show up the best I can be then it's not serving my highest self.
Favorite nighttime reads lately… How to Break Up with Friends, Rituals of the Soul, and Call of the Wild.
Pre-sleep rituals that feel like luxuries: The salt water hot tub or bath, sauna, CBD, dry brushing, watching a show in my cozy bed — and our red light bulbs in the bedroom for ultimate relaxation.
Getting cozy and inspired just reading this? Try evn CBD Sleep Powder for 20% off with code CHALKBOARD20. While you're there shop all of evn's full-spectrum CBD offerings from gummies to tinctures, and even dog treats (yes, really).
This story is brought to you in partnership with evn CBD. From time to time, TCM editors choose to partner with brands we believe in to bring our readers special offers.
These statements have not been evaluated by the Food and Drug Administration. The Chalkboard Mag and its materials are not intended to treat, diagnose, cure or prevent any disease. All material on The Chalkboard Mag is provided for educational purposes only. Always seek the advice of your physician or another qualified healthcare provider for any questions you have regarding a medical condition, and before undertaking any diet, exercise or other health-related programs.