For a young family, mornings at home can be the ultimate sanctuary. And it's a rarely disputed fact that the best mornings start with pancakes. That is, unless one or more of your family members is sensitive to gluten (some of us) or sugar (all of us!).
Don't cancel one of the most comforting and luxurious family breakfasts of all time: just swap to a smarter pancake mix that won't drain everyone's energy or send any family members (we see you, toddlers!) into a sugar tailspin.
Purely Elizabeth, one of the best-tasting and most loved gluten-free brands out there, now makes Pancake & Waffle Mixes with zero added sugar in them, plus a blend of nutrient-rich superfoods and flours that still nails that fluffy, delicious texture we're craving. We'll stop and let that sink in….
Thanks to a unique blend of nutrient dense flours and superfood ingredients, all three Pancake & Waffle Mixes manage to achieve that classic pancake flavor without all the gluten and sugar — just short of a miracle in our book. The three Mixes accommodate three dietary preferences; Ancient Grain is gluten-free (7 grams of protein + 5 grams of fiber), Grain-Free is, well, grain free and made with almond flour (6 grams of protein + 7 grams of fiber) and, our personal fave, Protein contains grass-fed collagen for a whopping 11 grams of protein — these are pancakes, people!
To celebrate Purely Elizabeth's delicious new launch, we asked L.A. native, wellness entrepreneur and friend of TCM, Geri Hirsch to share a glimpse inside her mornings at home lately and here's what she had to share. Grab all three Pancake & Waffle Mixes for 25% off with our exclusive code CHALKBOARD! 
Mornings at Home with Mama +
Wellness Entrepreneur, Geri Hirsch
life roles: Mom of two girls (ages 2 & 1), Creative Director at Saie Beauty and Neighborhood coffee shop owner.
OUR FAMILY MORNINGS IN 3 WORDS: Joyous, sweet and slow.
Our favorite morning rituals together… lately, include setting our intentions together and a dance party to "Ain't No Mountain High Enough."
The best mornings begin by…Waking up before everyone to have a few moments to myself, enjoying Leo before she's off to her pod then going for a walk with Adeline where I clock steps and do a few calls.
I usually take my coffee… with a bit of steamed almond milk
Our go-to breakfast: Gluten-free pancakes with either Purely Elizabeth's Ancient Grain which is gluten-free and high in fiber or Protein Pancake Mix with collagen. Just SO good! Plus, a good amount of protein and no added sugar.
Best pancake hack?I like to pour the batter out of something with a lip. It gets the perfect pour each time.
Getting kids to eat healthfully is all about…The give and take. I'm down to add maple syrup to a spinach filled smoothie or serve sweeter than I'd like oatmeal if it includes a whole grated zucchini. My kids like what they like, and all I care about is filling them up with healthy goodness, so I try to strike a balance.
We keep our mornings calm by… Breastfeeding my youngest when she wakes up then waking up my oldest with a little back scratch. Starting their days off quietly and calmly sets the tone for a smooth day.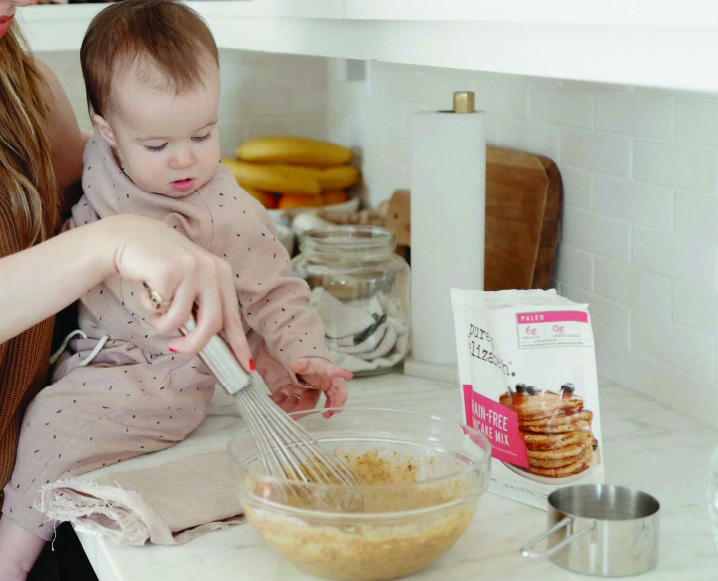 When I want to make breakfast special at home…I love to set it up on the breakfast table outside. We live in the hills and have a beautiful view so when we want to make a meal feel a bit more special, we eat outside. It feels like vacation…until it's time to clean!

This story is brought to you in partnership with Purely Elizabeth. From time to time, TCM editors choose to partner with brands we believe in to bring our readers special offers. The Chalkboard Mag and its materials are not intended to treat, diagnose, cure or prevent any disease. All material on The Chalkboard Mag is provided for educational purposes only. Always seek the advice of your physician or another qualified healthcare provider for any questions you have regarding a medical condition, and before undertaking any diet, exercise or other health-related programs.