At the start of the year, our shopping habits were headed in a sustainable direction, but then came quarantine and the way we shopped totally changed. Over the months, we've tried to find a compromise between convenience and sustainability with all that's happening and we've finally stumbled on to an ideal solution we plan on sticking with well beyond 2020…
We Don't Grocery Shop Anymore. Here's How.
Like so many of our readers, we love shopping at the farmer's market and maybe a specialty organic grocery store for farm eggs, seasonal veggies, and meats from nearby ranches. The experience can be damn near idyllic and helps us focus on eating healthy and local while sticking to our sustainable values. Inevitably, however, we often end up making a second haul, either online or in real life, to a more basic store for toilet paper, dish soap and all the other essentials you can't find inside a charming farm stall. And it's that second order where our sustainable values usually wobble for the sake of a good price cut and our joy at having shopped local or direct from farmers feels all but deflated.
What if we told you we finally found a hack that let's us skip that boring grocery run or questionable Amazon order and stick strictly to the farmer's market?
The Sustainable Service That's Changed the Way We Shop For Good
One of our all-time best discoveries during 2020 thus far has been Public Goods. Public Goods makes just one very simple, high-quality version of every shelf-stable essential we need from a grocer. The toilet paper is eco-friendly, the body wash is free of parabens, phthalates, fragrance and all the other bad stuff, and even their tuna is responsibly-caught and packaged in BPA-free cans.
We were floored when we first shopped through the vast array of basic products that Public Goods offers (they're all so well packaged!) and were even more impressed to learn how deep their commitment to sustainable, high-quality health products really goes. Our first hunch was that the brand was 'basically' healthy, but not up to par with our (or our reader's) standards. However, we were stumped after exploring every category — from household cleaners to pantry staples to personal care products and even supplements –to find that the standards of health and sustainability were well thought out from A to Z.
For example, Public Goods offers dry-packed and jarred soups, including a best-selling packaged ramen. "Aha!" we thought, drilling down into the ingredients on the label, expecting to find hidden MSG or poor-quality oils. Instead, we found only six whole food ingredients, nothing artificial and no MSG. While that might be more than you need to know about a single Public Goods product, we use this example to show that from category to category, we found all the offerings to be as clean and high-quality as anything we'd buy at a healthy grocery store.
Thanks to Public Goods, we've all but cancelled that 'second grocery trip' altogether. Every shelf-stable essential we need like paper goods and cleaners, basic personal care products (organic cotton tampons, their natural toothpaste), and pantry staples like granola, mustard, canned salmon and the like, all come to our door every month through our membership. Then we shop for the fresh and local stuff on our own.
How To Convert Your Entire Home To Sustainable Goods with Just One Brand
Totally sustainable, non-toxic products delivered in simple, modern, design-friendly packaging. A dream? Exactly.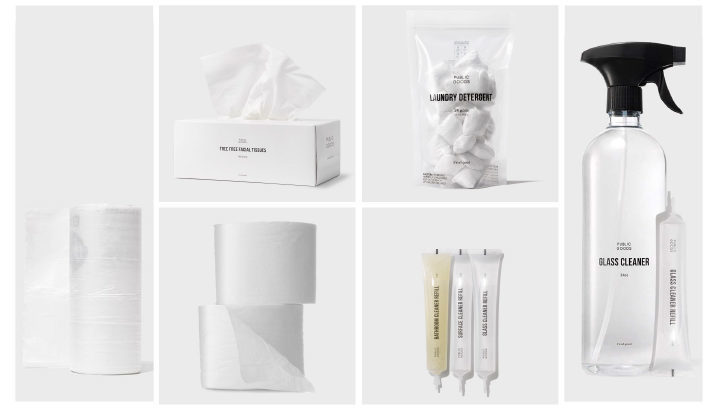 After committing to the Public Goods membership ($59 a year after a two week free trial), we've never had to second guess whether a quick store run or online order is "sustainable" or not. All the guesswork is bypassed and the the regular deliveries remove a huge section of our to-do list each month.
Here are 2 major keys that made the membership worth it for us: 
+ It's Affordable: Because they are not a traditional retailer, Public Goods' prices are well-below retail which makes the one-stop-shop experience that much more of a no-brainer. A can of organic Italian tomatoes? $2.00. Paraben and sodium lauryl sulfate-free body wash? $4.50.
+ Sustainable Packaging: All Public Goods bottles are made of sugar cane instead of petroleum. According to the brand, "plastic made from fast-growing sugar cane is highly renewable. The process of converting sugar cane into plastic actually absorbs carbon dioxide from the air while releasing oxygen, making it carbon neutral."
Here are a few of our top Public Goods' product picks per category..
This story is brought to you in partnership with Public Goods. From time to time, TCM editors choose to partner with brands we believe in to bring our readers special offers.