With my first pregnancy, I was determined to eat nutrient-dense foods and stay fit: raw green juice, step aerobics and a CSA subscription. But during my second pregnancy, prenatal depression, physical exhaustion and morning sickness into the 18th week left me too worn out to cook or exercise, and I began using comfort food as a coping mechanism.
Pregnancy is a strange time nutritionally, especially in the United States. We're told not to drink wine, eat raw dairy, sushi or cold cuts. But then we're also told that unbridled cravings for fast food and ice cream are normal. On the one hand we seem obsessed with protecting our unborn children, while on the other we seem to put the wisdom of healthful eating on hiatus.
For me, once I was well down the road of self-indulgence, I felt trapped. I knew I couldn't go on a cleanse or risk harming my baby and putting greater strain on my taxed body. But without the ability to push a nutritional reset button, I couldn't seem to rein in my cravings or the impulse to eat whatever I wanted. And soon that became whatever I wanted, whenever I wanted.  On the day I went into labor, I had gained nearly 50 pounds.
Soon after delivery, I found the inner resolve to return to healthful living. I embraced a vegan – plus eggs and fish – approach. I eschewed all those well-intended casseroles in the days after we came home from the hospital. I started back to the gym the moment my doctor and I agreed I was well enough (4 weeks after delivery). I was on-track, but I was also dealing with crippling postpartum depression and facing the decision to begin antidepressant medication for the first time in my life.
Enter Dr. Holly, whom I had the great privilege to speak with at this pivotal moment. She took stock of my history with auto-immune and thyroid issues and my current struggle with depression and encouraged me to give attention to my gut, where serotonin is received and the source of many auto-immune disorders. I knew I'd been doing my gut no favors lately, but I also didn't want to detox too quickly and compromise my breast-milk. She made some long-term suggestions (like the blood type diet, adrenal support and seeing a local Naturopathic Doctor) and I investigated how to heal my gut slowly.
I knew I needed something simple and not overly limiting, but drastic enough to make an impact. I have type O blood, for which an essentially paleo diet is recommended. That felt like too much restriction for right now, so I decided to target the three biggest paleo/ type O culprits (which also happen to be hugely inflammatory foods anyway): wheat, dairy and sugar.
My simple regimen is no wheat, dairy or sugar. I take pro-biotics and B vitamins in addition to my prenatals and engage in hard exercise three times a week for an hour. I'm not a meat person, so I eat beef rarely and no pork. I allow myself spelt, wine and corn, and honey on occasion – though these will be the first to go when I'm ready to up the ante. As someone who does not have celiac disease, I find spelt, which is less genetically modified and has less gluten than conventional wheat, to be tolerable and a nice substitute for baking and bread. I also try to drink 13 cups of water a day. I eat as much as I want whenever I'm hungry to keep up my milk supply.
A typical day looks like this:
Breakfast: Eggs scrambled in olive or grapeseed
oil, spelt bread toast with mashed avocado and sea salt, fruit and coffee with almond or coconut milk.
My new morning indulgence is a cheater's mocha:
– 2 tbsp unsweetened cocoa powder
– 1 tsp honey
– 12 oz hot coffee
– 2 oz unsweetened coconut or almond milk
Whisk cocoa and honey into 2 oz hot coffee. Add the rest of the coffee and stir in the almond or coconut milk.
After work-out snack: A banana and a slice of spelt bread with almond butter
Lunch: Turkey sandwich on spelt bread with fruit or a big salad.
My favorite salad right now is a knock-off of Trader Joe's Super Spinach salad: raw spinach, cherry tomatoes, edamame, quinoa, pepitas, dried cranberries and garbanzo beans topped with the carrot ginger dressing from the mini Clean detox on Goop.
Dinner: Salmon, sauteed spinach and homemade sweet potato fries. I've made spelt noodles from scratch to go with a homemade tomato and chicken stock. We do stir-fried veggies and brown rice once a week and marinara with brown rice pasta when we need something easy. For summer, we've been grilling chicken and vegetable kebobs.
When I want something snackish for a social event, I make pico de gallo and guac with organic blue corn chips.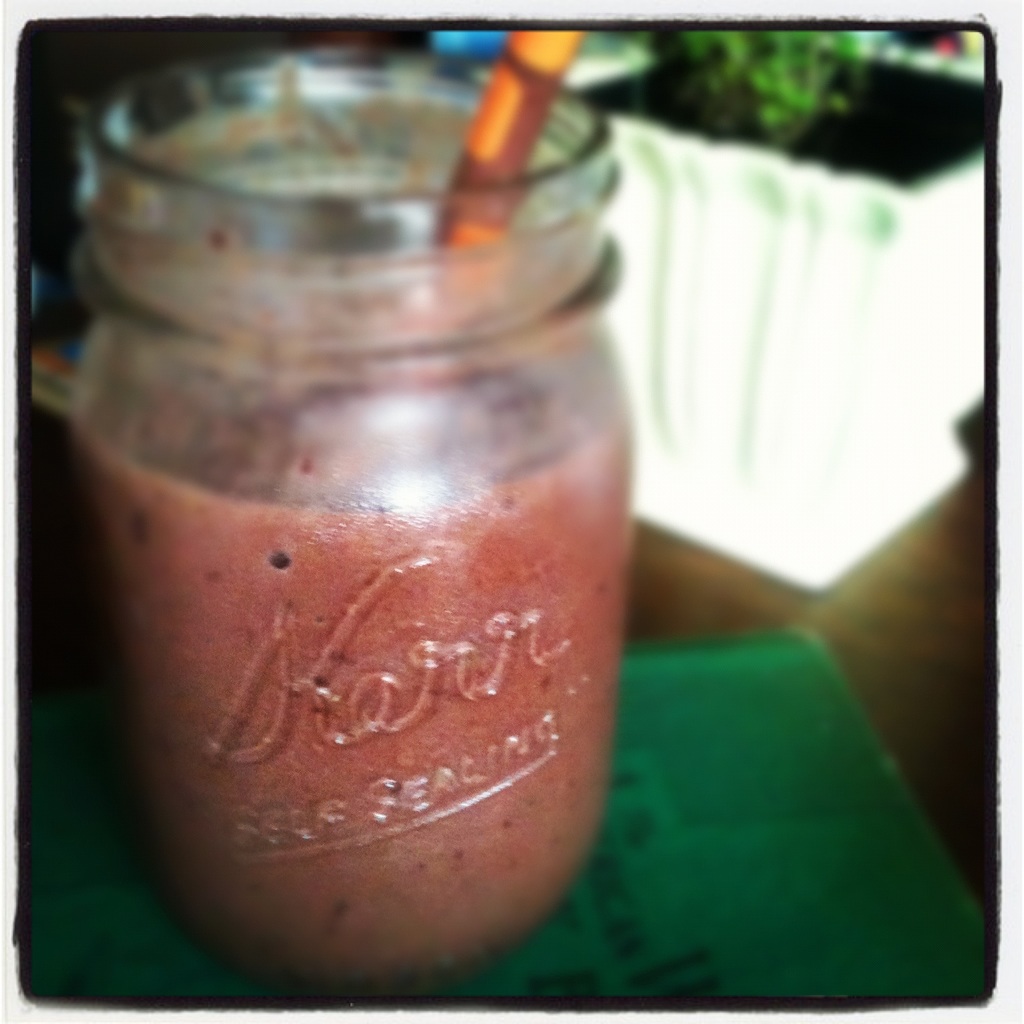 One of the hardest things for me to give up is ice cream in the summertime. But Alisha's Chocolate Cherry Bomb smoothie helps me not to feel deprived. My simplified version with frozen blended banana, frozen cherries, cocoa powder, almond extract and coconut milk somehow translates just as deliciously as Ben and Jerry's Cherry Garcia ice cream  – my all-time favorite.
The other major sacrifice is that delicious free-pour 2% latte and bakery treat I love to get from time to time (Seattle girl through-and-through). My cheater's mocha as a decaf Americano with a pump of chocolate and an inch of rice or soy
milk will suffice for now. And my local shop carries a vegan, gluten-free energy bar made with peanut butter, dates, oats and chocolate chips. It has a little sugar, but the occasional treat is warranted, in my opinion.
It's empowering to go from not being able to deny myself anything to feeling completely satisfied within the frame of health I've chosen for this season. The best (and worst) thing about avoiding wheat, dairy and sugar is that it's nearly impossible to eat convenience and restaurant foods, forcing me to be intentional (and not impulsive) with what goes into my body.
My son just turned 3 months old and I have only 6 pounds left to my pre-baby weight. I feel healthier and stronger, and I have an exit strategy for my postpartum depression treatment. I feel like a better version of myself, and that makes any sacrifice worth it for me and for my kids.