Yogi, mama and Philosophie founder, Sophie Jaffe, has loaded up this hydrating smoothie recipe with superfood ingredients that will keep you energized and feeling your best. Win a home delivery of all our favorite Philosophie superfoods and guides below! 
Times are absolutely crazy right now and becoming familiar with the "new normal" with a family of six in our home has been an adjustment. (My double Taurus sun and moon are thriving though!) I also know I have so much to be grateful for: a healthy family, food in our fridge, and the extra time with my littles to make new memories. Using this period of softness as a time to enjoy the small joys that pop up in life and feel immense gratitude for all I'm able to do and experience right now.
This is the perfect time to care for and tend to your body in all ways. In our home, we're supporting and building immunity through alkalizing foods and superfood boosts. This is a great time to try combinations you've never tried before. Introduce new ingredients and foods into your daily routine that support your energy levels, ease your anxiety and support your immune functions.
I created my superfood company Philosophie out of a desire to make a healthy, vibrant and abundant life accessible to EVERYONE and this is important now, more than ever. Your health matters. Your happiness matters. What can you do during this gift of sacred pause to care for yourself and your loved ones? I'm so glad I can continue to provide our community with potent, nutrient-dense superfood blends to help flood and restore your body with whole, nutrient-dense foods. People often ask us which one of our Superfood + Protein Blends is right for them. We may be a little biased, but we can't imagine not having a dose of each one every day! That's because each of our blends is a unique combination of some of the world's most potently nourishing foods and each ingredient has a host of health benefits.
Check out the three unique and fun ways you can use each of the three blends to help you achieve a glowing state of optimal health.
Berry Bliss | Beautifying Immunity Blend for Your Daily Source of Vitamin-C This blend was inspired by a trip to Thailand and my love for the exotic fruits and berries that I ate during my travels. This blend uses exotic and potent berries from mangosteen, goji, and acai bringing above and beyond a boost of antioxidants. It also features camu camu – one of the world's most abundant forms of vitamin C and perfect for fighting cold and flu season!
How to use:
+ USE AS A TOPPING TO A BOWL OF YOGURT OR OATMEAL | Mix with yogurt for a quick & easy brekkie that adds a subtle tar flavor and a blast of antioxidants
+ MAKE A GLOWY BERRY BEAUTY SMOOTHIE | One of our favorite smoothies in the Jaffe home is a Berry Bliss Immunity Smoothie. All you need is your favorite berries, milk of your choice, nut butter or coconut butter and the Berry Bliss Superfood + Protein Blend! Get the recipe here.
+ MAKE YOUR OWN SALAD DRESSING | Mix with lemon juice and olive oil for a fresh, tangy, and antioxidant-rich salad dressing.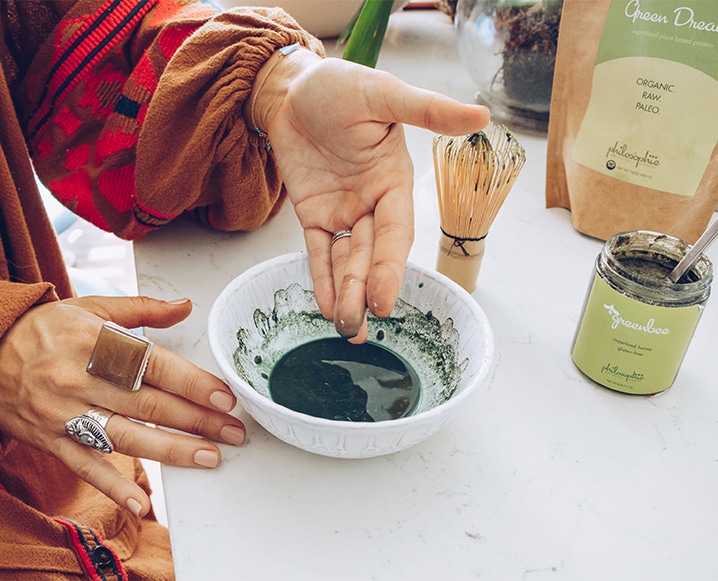 Green Dream | Detoxifying Blend For Your Daily Dose of Greens
This was the first blend I created and felt a demand for it even in my own life. Every vegan protein powder at the time was loaded with sugar and I craved a superfood + protein blend that tastes good raw and would simply enhance the flavor of whatever I was making and Green Dream was born!
How to use:
+ USE AS A NUTRIENT-DENSE SEASONING | Add to soups, curries, salads, and eggs for an energizing, nutrient-dense meal.
+ MAKE A DELICIOUS VEGGIE DIP | Mix with garlic and tahini for a yummy veggie dip and favorite for any appetizer dish!
+ A DIY FACE MASK | The star ingredient, spirulina brightens skin, combats free radicals, and helps reduce the appearance of lines and wrinkles! All you need is Green Dream Superfood + Protein Blend and water.
Cacao Magic | Energizing Medicinal Blend for Your Chocolate Fix Anyone who knows me knows I have a HUGE sweet tooth and I wanted a superfood + protein blend that tastes like chocolate. Cacao Magic was inspired by my love for chocolate through the use of raw cacao and also my mom's journey with stage 4 breast cancer and the use of medicinal herbs like reishi mushroom to help heal and restore the body.
How to use:
+ MAKE A SUPERFOOD COFFEE | Every. Single. Morning. I can't start my day without a superfood coffee using this magical superfood blend. Find my go-to recipe here.
+ BAKED GOODS AND TREATS | I use an equal swap of chocolate for Cacao Magic in baked goods like cookies, breads and cakes!
+ A SUPERFOOD SPREAD | Mix with nut or seed butter for a protein-packed topping for apples or toast.
Win the ultimate at-home bundle from Philosophie!
Running out of delicious ideas to stay healthy at home right now?
We're giving away one bundle of Philosophie superfoods – along with a little education around healthy eating too.
One winner will receive: (3) 8oz bags of all three Philosophie Superfood + Protein Blends,
(1) Jar of Berry Bee Honey, Sophie's Intuitive Eating E-Book and the 5 Day Reset E-Book
— a total value of over $125! Enter by sharing your email address below
– good luck, readers!
This giveaway is closed! Congratulations to our winner!
This giveaway closes May 1, 2020. Contest will be announced via email to 1 winner. Open to residents of the continental US only. By sharing your email you agree to receive email communication from the Chalkboard and Philosophie.