Remember parties? Last week, we shed our favorite sweatshirt – bike shorts combo and climbed into an ALTO for a winding trip into the canyon and one of our first official gatherings since spring of 2020.
To be specific, our last official working lunch was with Lauren Conrad, Hannah Skvarla and about 200 other incredible women for The Little Market's Intl' Women's Day lunch at The Fairmont in Santa Monica. Just a few days later, we were all working from home and rearranging every shoot and gathering we had planned.
Fast-forward to this safely-planned and outdoors-only dinner at the home of Marshell's, Betsy Simon and we were feeling about as grateful to gather as most of you have been as you've gathered in gardens, newly-built outdoor dining areas and other al fresco nooks across the globe this summer. 
To celebrate, and supply you with just one more excuse to do so yourselves, we're sharing this apple crostata recipe from the evening's chef, Olivia Muniak of  La Cura. 
This rustic little dessert is made with Apeel apples, a new clean tech that helps produce to last longer naturally, reducing waste and extending the life of our farmer's market hauls.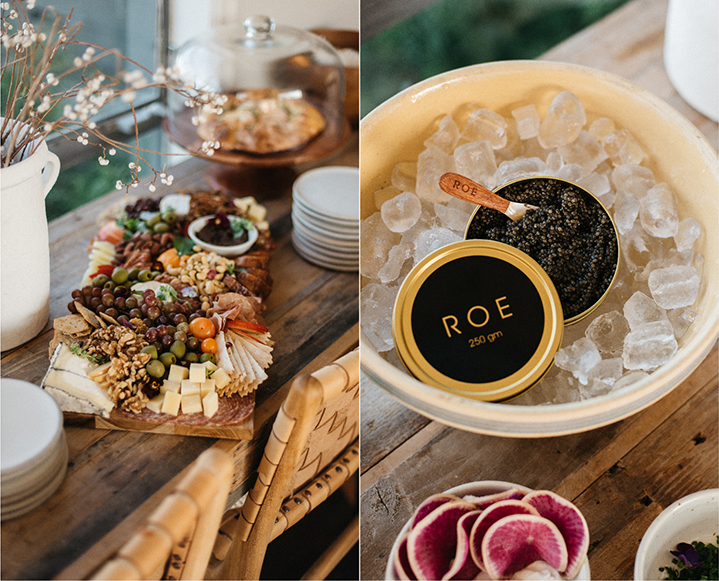 As part of Betsy's Canyon Gatherings, guests from our own EIC, Suzanne Hall to Cat Chen of Amber Interiors and Tara Lehrer of How You Glow enjoyed the night's beautiful tablescapes complete with fruit and floral centerpieces by beloved Venice florist, Pigsty Studio and denim-colored throw by One Wednesday.
The gathered sipped on Flying Embers Guava Jalapeno hard seltzer cocktails and baking savants, Loria Stern (features here), Valerie Gordon of Valerie Confections (features here) and Alana Jones-Mann all stayed for dessert (which says something, yes?).
Making a rustic apple dessert like this one helps to enhance that sense of intimacy and slowness for small gatherings that we have come to savor!
Sustainable Apple Thyme Crostata
with Creme Fraiche + Olive Oil

Ingredients
FOR THE CRUST
1 ¼ cups all-purpose flour
1 tablespoon sugar (or coconut sugar)
½ teaspoon salt
½ cup (1 stick) unsalted butter, chilled and cut into small pieces
⅓ cup ice cold water, more as needed
1 tablespoon apple cider vinegar
1 egg, beaten
Raw sugar, for garnish
FOR THE FILLING
6 to 8 Apeel Honey Crisp (or other tart apples) peeled and cut into 16 slices each (about 6 cups total)
¼ cup sugar
1 lemon zested
5 leaves lemon verbena or stems of thyme
OPTIONAL TOPPINGS
3 cups creme fraiche
sprinkle of flaky sea salt
Brightland 'Alive' Olive Oil
Method
Make the crust: Combine flour, sugar, and salt in a food processor and blend for 5 seconds. Add butter, pulsing, until mixture resembles small peas. Add ice water, vinegar and continue to pulse until mixture comes together in moist clumps; if mixture is too dry add a bit more water a tablespoon at a time. Gather dough into a ball, flatten into a disc, wrap in plastic and chill for at least 1 hour or freeze for up to a month. 
Make the filling: In a small bowl add the sugar, grate the lemon zest and add the lemon verbena leaves into the mixture. Rub the mixture between your fingers to release the oils from leaves and zest. Set aside.
Heat oven to 375 degrees and line a baking sheet with parchment paper. Remove dough from refrigerator and let sit at room temperature for 5 minutes. On a lightly floured surface, roll the dough into a circle. 
Arrange the apples evenly in the center of the dough, leaving a 4-inch border all around, sprinkle with the zested sugar mixture. Brush exposed dough border with beaten egg and fold edge in up over fruit, no need to be perfect, the look is rustic. 
Brush the folded outer edge with beaten egg, and sprinkle with raw sugar. Cover exposed fruit with about 1 cup crumble. Bake crostata until crust is golden brown about 35-40 minutes.
Serve with a scoop of creme fraiche, sprinkle of flaky sea salt and a drizzle of Brightland 'Alive' Olive Oil.