It usually starts on that first crisp September day (sweater weather) — the urge to light a deeply fragrant candle at home that will completely solidify our sense that the season has indeed changed.
This year, in L.A., that fall feeling never truly landed, between the unseasonably hot weather and the wild U.S. elections, we're just now slipping into that magically cozy phase at home when great smelling candles are absolutely mandatory.
We love a November candle round-up: these stunning candle selections will keep you burning if you lit up in September, get you in the mood for the holidays if you've not yet lit that match, and provide great ideas for holiday gifting too…

The ultimate luxury | Trudon's Gloria Candle French legacy brand, Cire Trudon (now, simply Trudon) was Marie Antoniette's candlemaker of choice at Versailles. Ever since, it's been a gold standard in luxe candles with its signature harp-shaped gold label and absolutely insane scents. Gloria is part of their holiday collection and we love it. If you want to elevate a stylish friend or significant other's experience at home from far away, one of these candles would be a prized gift. 
sleeper hit | DEHV's Woodland Candle We never hear about the brand DEHV, yet it's one of the best candle brands we've tried this year! Our favorite product is a little collection of tea lights available on their site, one for every scent in the collection — really fun. Woodland is our scent of choice to take us from fall straight into holiday season!
hits different | Otherland's Old Fashioned (Aged Bourbon • Tobacco Leaves • Dried Fruit) This female-owned candle brand is also hard to come by, but incredibly special. All the clean-burning scents are as strong as you'd like to set the tone in a room and Old Fashioned will give you the perfect November scent. We're currently burning another favorite, the sweet, but dry Rattan candle as we write this!
traditional fir | Carrière Frères' Siberian Fir Candle Carrière Frères uses perfumes unveiled by 18th Century botanists and explorers, made with raw botanical ingredients to ensure a truly natural fragrance. This deliciously fir-scented candle will give you all the winter holiday feels if you're itching to put up that fresh tree.
Spruce + Spice |  P.F. CANDLE's Smoky Cinnamon Special P.F. Candle has a devoted cult following — and with good reason. We find P.F.'s little brass lidded jars in just about every home we enter and their new fall and holiday scents give us every reason to swipe a few up for ourselves. We're partial to their deeply spiced Smoky Cinnamon Special, a candle we don't think any candle lover should go without this year, but other holiday scents include the Spruce candle with scent notes, "Dense forest floor, sunshine and snow, corner tree lots. Snow powder, blue spruce, cedarwood, and citrus." Compelling!
Don't burn, diffuse! | The Harmonist Golden Wood Candle Under the radar clean fragrance brand, The Harmonist, makes incrediblly sexy perfumes we love, but a few of their candles are must-try's too. Light up 'Golden Wood' for golden hour and sink into scented bliss.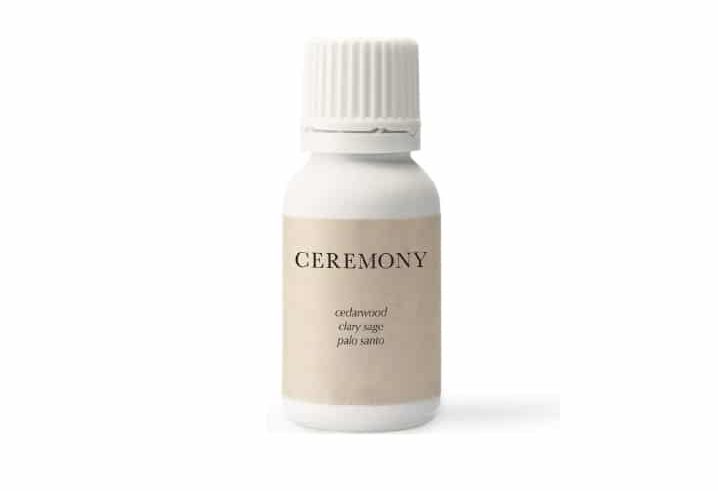 Don't burn, diffuse! | Vitruvi Ceremony Essential Oil If you're not a candle person, but still want uplifting, cozy scents at home, try Vitruvi's Ceremony oil in your diffuser, a spicy, woodsy blend of Cedar, Sage and Palo Santo that gets us calm, but focused. The perfect oil for a fall working from home.