Safe beauty products are the future of personal care — there's no doubt about it. I'm so proud that we've covered clean, natural or green brands only from the very start — and love to watch the clean beauty industry absolutely boom.
This fall, our team has received more clean beauty products to our home addresses than you can imagine. Here are the most note-worthy…
ILIA Liquid Powder Chromatic Eye Tint
| 
$28.00 We're obsessed with ILIA, the OG of clean makeup brands. You can't lose with anything the brand makes from lipstick to foundation serum, but their new line of liquid powder eyeshadows is everything clean beauty devotees is waiting for. Think sheer coverage, easy blending and a stunning range of wearable colors. 
Herbivore
Pink Cloud Cleanser

|
$24.00 Herbivore is another safe skincare brand we live by. Their very first cleanser, Pink Cloud, is a creamy "jelly" cleanser packed with  tremella mushroom and squalane designed to fight redness and irritation without stripping.
Nucifera Multi-Purpose Body Oil
 | $40.00 The multi-use beauty balm brand with a cult following has now launched a body oil with instant appeal. Nucifera lovers include those who struggle with tough to treat skincare issues like eczema that are soothed with the brand's organic blend of incredibly great-smelling oils.
Prima Afterglow Facial Cream
 |
$96.00 
We expected to love Prima's CBD capsules and topicals, but it's their skincare line that really surprised us. Read our full review of the CBD brand's serum, cream and oil designed to be layered for the most luxe skincare experience we've tried in a long time.
Anima Mundi Collagen Booster Oil
 | 
$56.00 We were lucky enough to get our hands on a bottle of Anima Mundi's Collagen Booster before it sold out (which it's done multiple times this fall!). The popular herbal brand launched it's first skincare product this fall and the expert blend of herbs and oils does not disappoint.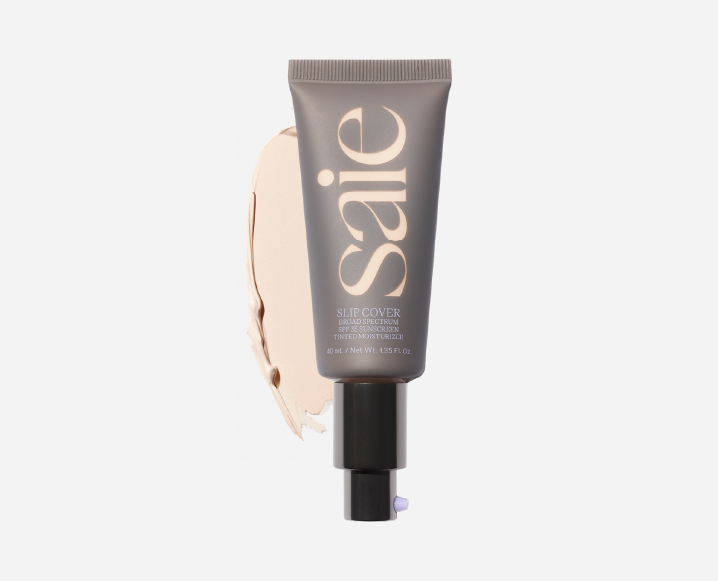 SAIE Slipcover SPF Tinted Moisturizer
| $32 Sometimes you wonder if there is room left in the market for new beauty brands, then a brand like SAIE launches proving that
yes, there is
. Saie's tinted moisturizer is the ultimate WFH beauty product giving a beautiful sheen of coverage along with SPF without any sticky, heavy feel. We're honestly obsessed with this one.
Saint Jane CBD Lipgloss

|
$28.00 Saint Jane is another beauty line centered on the benefits of hemp. Possibly the sexiest CBD-infused brand, Saint Jane's new line of lipglosses is full of stunning, wearable colors, all with a hint of CBD benefits. There's probably never been a better first date beauty product — here's hoping we'll get back to in-person dating soon!
Aether Beauty Crystal Charged Cheek Palette

|
$44.00 Aether keeps sustainability as a lead value with their fully recyclable packaging and their palettes are some of the best. Pro beauty artists like Katey Denno rely on brands like Aether to get top tier results and this new blusher palette is perfect for that gradient of color we're all looking to blend best. 
Pai Hyaluronic Face Serum

|
$74.00 Pai is the clean skincare brand for sensitive and acne-prone skin types. After recently undergoing a light re-brand pai launched this hyaluronic acid-based serum designed to lay perfectly under oils and creams alike. Hyaluronic serums have become the smart girl's go-to skin saver over the last few years and this new formula is one of the best.
Femmue Rose Softener Toner | $35.00 Do you use a toner? The jury is still out on fitting this step into our skincare routine, but the pros argue that it's essential. In the famously multi-step Korean beauty routine, toners are essential and this new version from Femmue is the one we've become hooked on and love to use on the neck as a refresher after a long dream-filled night.