Avoiding a sunburn is never as simple as it sounds. A little vigilance is required, since shopping the right sunscreen has become more complex (especially in Hawaii) and applying the stuff takes a little organization throughout the day. Beach adulting is a whole other level of adulting.
Here are a few of our most treasured natural summer sun care products, as well as a few notes from the ladies behind NYC's CAP Beauty on smart sun care from the inside out…
6 Life-Changing Summer Sun Care Picks 
SW Basics Aloe Vera Powder | There are few more genius products for summer travel than S.W. Basics powdered aloe vera. Flying with a giant tub of that neon green aloe vera gel is actually impossible and access to a live plant is pretty difficult to plan. Pack this salt shaker-sized aloe powder along with you everywhere this summer and simply mix into a gel with a little water in your palm for instant relief. Makes a great post-sun face and body mask.  CHECK OUT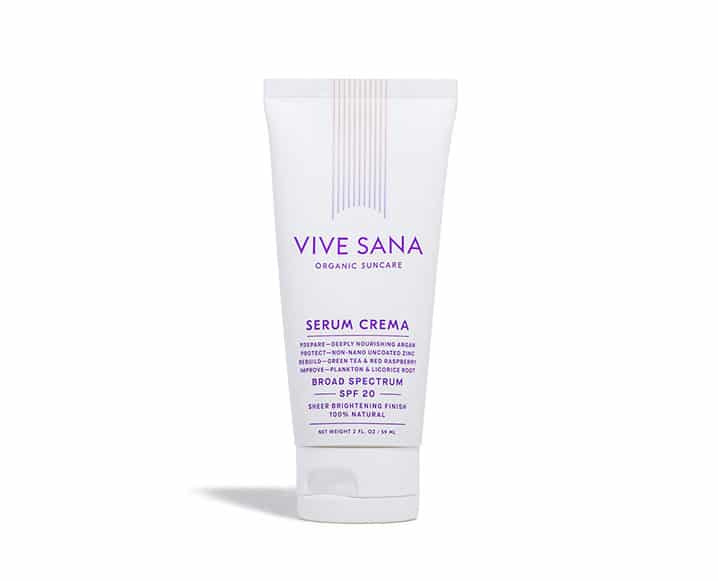 Vive Sana Serum Crema SPF 20 | Vive Sana means "healthy living" in Italian. For Vive Sana, sun care is skincare. Vive Sana's nourishing facial sunblock serum with SPF 20 uses non-nano zinc oxide, raspberry seed oil, licorice root, green tea and argan oil to protect skin and feed it with omega fatty acids and antioxidants on high.. This brilliant serum shields skin from environmental damage while repairing past damage. Even skin tone and lightly hydrate. The serum may be used before, during and after sun exposure to heal and protect skin. CHECK OUT 
Kypris Beauty Elixir I | Who knew a rose could be so powerful? Okay, there are one thousand roses in this Kypris product, but we were still taken aback at the potency of this floral elixir. Last year, after our EIC visited this tropical aisle, she quickly healed sunburnt skin with twice daily applications of this skin-soothing oil. CHECK OUT
Kypris Pot of Shade Heliotropic | A translucent veil of Zinc Oxide guards skin from damaging UVA/UVB rays while probiotics and sweet iris stem cells plump skin for a perfectly primed canvas. Beautiful under makeup, this delicate sunscreen imparts radiance and glow for skin that appears supernaturally surreal. CHECK OUT
Raw Elements Eco Formula 30+ | Developed by an Ocean Lifeguard Captain, this UVA-UVB broad-spectrum sunscreen offers serious summer sun care that's free of all the bad stuff. Safe for kids and water resistant beyond 80 minutes this performance -driven sunscreen is a top-rated and environmentally friendly way to protect your whole family from the dangers of too much sun. Packed with biologically active antioxidants, vitamins and minerals, it continues to protect and nourish the skin long after environmental exposure. CHECK OUT
In Fiore Soleil Fleur Before Sun Treatment | This silky serum is your skin's shield against the sun's rays. Red raspberry seed oil, pomegranate seed oil and wheatgerm oil are all powerful natural sources of SPF. Aloe, jojoba oil and avocado oil lightly moisturize the skin, protecting against dryness resulting from sun exposure. We love to smooth this lightweight treatment over our skin after cleansing for the perfect amount of protection as we go about our day in the concrete jungle. It's also perfect as a base under a heavier SPF for days at the beach. CHECK OUT
How To Keep Your Skin Safe This Summer 
According to the women of CAP Beauty, here are the keys to avoiding a burn from the inside out…
Follow The Sun Worshippers Diet | The antioxidants found in the most vibrant fruits and vegetables fortify your skin from the inside out. We've said it before: Begin within. By adding in these superior foods, we help our skin create a stronger defense against sun damage. A sunburn is essentially inflammation of your largest organ, and so, by eating an abundance of anti-inflammatory foods, we help to heal this state. And, just as important, avoid foods that cause inflammation. So, steer clear of the fry shack, and hit the mango hut instead. Color is your clue — the magic's in the lycopene. Think watermelon, red peppers and berries, not coincidentally the foods of summer. Gazpacho, anyone?
Choose plant-powered sunscreen | A natural sunscreen generally refers to a mineral-based product with zinc or titanium dioxide as the key active ingredients. These work by coating the skin with a physical barrier that the sun's rays can't penetrate — they literally block the sun. Chemical sunscreens rely on synthetics which absorb and filter the sun's energy, creating a dangerous heat in the body. In short, natural sunscreens simply shade us, while their synthetic counterparts work by creating a chemical process in the body, one that may cause hormone disruption. Non-nano zinc sunscreens are also better for the environment. For this reason, we choose UVA-UVB broad-spectrum sunscreens that offer serious sun protection and are free of the bad stuff.
Avoid Overexposure | Find out what works and stick with it. This can be a process of trial and error, but we encourage you to play it safe. One of the benefits of natural sunscreens is that you can feel them on your skin. While this is often considered a detriment, when you're in the ocean or on a long run it's incredibly reassuring to know that protection is intact. When it comes to a zinc-based product, if you can feel it on your skin, it's working.