Avoiding sun damage is never quite as simple as it seems. Some vigilance is required to buy non-toxic sunscreen that still looks great, apply it multiple times at the right intervals and keep your skin from getting overly congested at the same time.
These are a few of our top picks for clean sunscreens lately — a clean beauty category we're happy to say is progressing quickly! Don't miss the notes from the ladies behind CAP Beauty on sun safety too.
Our 6 Top Picks For Natural Summer Sun Care
Supergoop Unseen Sunscreen SPF 40 | This product gets wildly positive reviews across the internet and we get it. Supergoop offers tons of sunscreen options (we love the aerosol spray!), but Unseen is so light and invisible it's one of the easiest options for daily use. SHOP NOW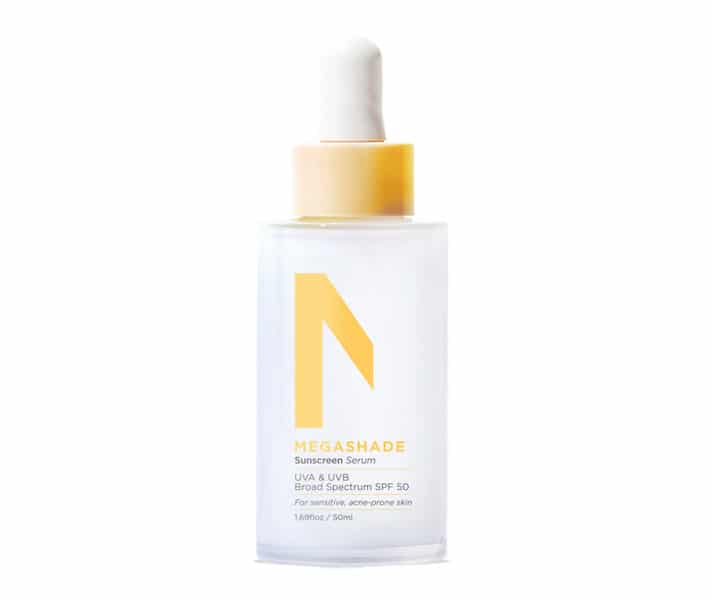 ZitSticka Megashade Sunscreen Serum | We're obsessed with ZitSticka's incredible skin healing patches. If only we'd had them in middle school! Now, the brand makes sunscreen with acne-prone skin in mind and we think it's important. Heavy sunscreen formulas can irritate skin types that break out easily, leaving many with the choice of either clear skin or sun protection. This lightweight serum is calming, gentle and contains SPF 50 SHOP NOW
Saie Slip tint dewy tinted moisturizer spf 35 | We've talked about the new product a lot this year! We're in love with how quickly and easily we can smooth on a good, clean SPF with a bit of flattering coverage and moisture. Instant gratification for running out the door beautifully and responsibly. SHOP NOW 
ILIA Super Serum Skin Tint spf 40 SHOP NOW
SW Basics Aloe Vera Powder | There are few more genius products for summer travel than S.W. Basics powdered aloe vera. Traveling with an aloe plant is nearly impossible — and so is packing a giant tub of aloe vera gel. Instead, tote along this powdered aloe and simply mix into a gel whenever you need it.
Makes a great post-sun face and body mask to sleep in overnight. We can't find the bottles anymore, but these travel-worthy packets linked below are still available to order.  CHECK OUT
Kypris Beauty Elixir I | There are one thousand roses in this Kypris product, but we were still taken aback at the potency of this floral elixir. Last year, after our EIC visited this tropical isle, she quickly healed a sunburn with twice daily applications of this skin-soothing oil. CHECK OUT
How To Keep Your Skin Safe This Summer 
According to the women of CAP Beauty, here are the keys to avoiding a burn from the inside out…
Follow The Sun Worshippers Diet | The antioxidants found in the most vibrant fruits and vegetables fortify your skin from the inside out. We've said it before: Begin within. By adding in these superior foods, we help our skin create a stronger defense against sun damage. A sunburn is essentially inflammation of your largest organ, and so, by eating an abundance of anti-inflammatory foods, we help to heal this state. And, just as important, avoid foods that cause inflammation. So, steer clear of the fry shack, and hit the mango hut instead. Color is your clue — the magic's in the lycopene. Think watermelon, red peppers and berries, not coincidentally the foods of summer. Gazpacho, anyone?
Choose plant-powered sunscreen | A natural sunscreen generally refers to a mineral-based product with zinc or titanium dioxide as the key active ingredients. These work by coating the skin with a physical barrier that the sun's rays can't penetrate — they literally block the sun. Chemical sunscreens rely on synthetics which absorb and filter the sun's energy, creating a dangerous heat in the body. In short, natural sunscreens simply shade us, while their synthetic counterparts work by creating a chemical process in the body, one that may cause hormone disruption. Non-nano zinc sunscreens are also better for the environment. For this reason, we choose UVA-UVB broad-spectrum sunscreens that offer serious sun protection and are free of the bad stuff.
Avoid Overexposure | Find out what works and stick with it. This can be a process of trial and error, but we encourage you to play it safe. One of the benefits of natural sunscreens is that you can feel them on your skin. While this is often considered a detriment, when you're in the ocean or on a long run it's incredibly reassuring to know that protection is intact. When it comes to a zinc-based product, if you can feel it on your skin, it's working.