If any shop
captures a snapshot of LA's mood over the last five years, it's General Store in Venice. Mason St Peter, the
residential and retail designer
behind the almost genre-defining, modern minimal shop and it's original location in San Fran has inspired many the redesign in home across California. He's also one of our favorite design follows on Insta.
The designer at Home |
Light-washed, deconstructed, artful and cozy. We love the look of St Peter's Topanga home, a '20's lodge that's been transformed by an open floor plan and pitch perfect objects.
Topanga Cabin |
The designer built this unique tiny cabin with help from collaborator and wife Serena Mitnik-Miller (also a general store co-owner). The ultimate artist's playroom. Could there be a more perfect structure for Topanga Canyon? 
General Store San Francisco | 
The first location of the now legendary shop, General Store SF's layout is as gorgeous as the merch within. General Store describes themselves as "an arbiter of beautifully well-imagined works from the creative minds of many inspiring craftsmen, bringing thoughtful, functional design to our local community and abroad". The shop's outdoor space (pictured below) is one of the city's best workshop locales too.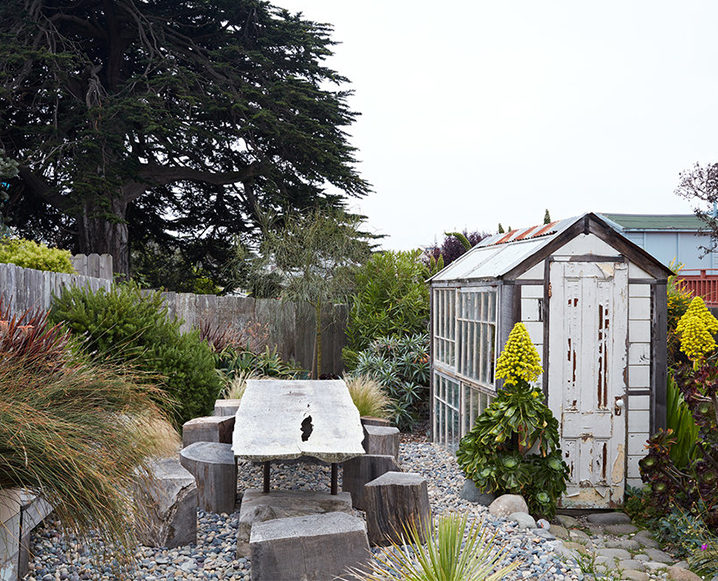 General Store Venice |
 General Store's casual, but oh so artful
shop in Venice
practically defined the 20-teens in LA. We're always delighted to stop in for a treasure hunt of lifestyle and decor inspiration and the shops white-washed, raw wood and plant festooned design is so fresh, we could move on in.