as crowded as the beauty industry is these days, we sometimes wonder why anyone would bother to launch a new makeup brand…and then we try a product like Saie's new Glowy Super Gel.
Saie is one of a strong handful of new brands sweeping in to fill any missing pieces in the booming world of clean beauty. From Kosas lip gloss to Merit Flush Balm,  we're thrilled when a good new clean product lands in our laps and — as evidenced by a strong handful of Saie mentions in the short time since launch — we can't keep ourselves from gushing to you about them.
When a product in beauty or fashion hits cult status fast, it can be difficult to describe the little details that make it so compelling. Saie Glowy Super Gel is not even close to the first gel-weight highlighter out there, but something about the texture, weight and subtle glow have earned it a daily place in our routines from the first day we tried it.
Laney Crowell is the founder and CEO of Saie, launching the brand just months before the pandemic hit. A difficult challenge to be sure, made just slightly more bearable by one factor: suddenly women were at home, wearing less makeup, and perfectly poised to try their hero products; a subtle, moisture-inducing highlighter and a dual-purpose SPF.
We thought we'd hit Laney up to hear about the pits and peaks of her inaugural year as a beauty founder and to learn more about how she uses our glowy obsessions…
Name: Laney Crowell of Saie
In my former life I… Was a fashion editor at some of my favorite publications like Lucky and Elle. As an editor, I covered the American markets, namely accessories, and it was truly a dream job.
Product that first established my beauty junkie status: St. Ives Apricot Scrub. I remember making a memorable trip to CVS to get it after reading about it in Allure when I was in high school.
The best moment building the brand so far: Receiving the call from Sephora letting me know that Saie would launch in all 500 doors across the US and Canada. I remember the exact moment. It was surreal.
The toughest, to be transparent: Finding out that our factories were shutting down because of Covid, just three months after we had launched.
Which Saie product are your personal friends liking best? Slip Tint has already become a holy grail product for all of my friends and family, and just about everyone on Instagram! It's of course, tied with Glowy Super Gel.
What are you most proud of thus far? Our commitment to creating clean products that are good for you and the planet.
Describe your daily routine with the products lately… Here's my 2-minute makeup routine! I start with Glowy Super Gel in Starglow and put it all over my face. It gives the most gorgeous lit-from-within glow. Then I apply Slip Tint or Sunvisor as my skincare. Both are packed with superhero ingredients and are incredibly hydrating. It's my face serum, face oil, moisturizer, and SPF all in one! Then I use our Lash Curler and swipe on Mascara 101. I comb and groom my brows with Brow Butter in Medium Brown. Next, I'll usually use some products we're testing and developing (I can't share those yet, but they're so good!), and then I'll swipe on Really Great Gloss in Chill or Easy. I just don't feel complete without it!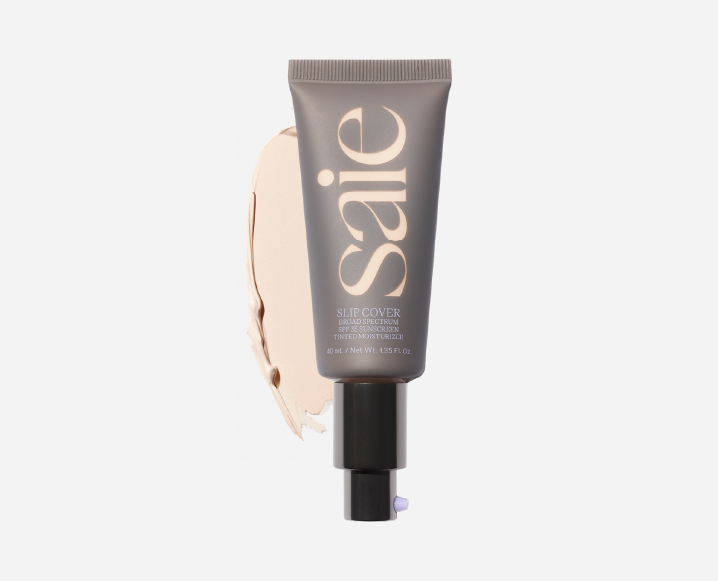 Secrets to great skin in your opinion? Water! I increased my water intake significantly when I was pregnant last year, and my skin changed so dramatically I've kept it up. I drink 8-10 24-oz mason jars of water a day.
Other brands or founders inspiring me right now: I started Saie with the mission to make beauty better and to help people feel good, on every level inside and out. I love to follow founders that inspire me to further and push that mission. Trinity Mouzon, the founder of Golde, shares great recipes and a passion for feeling good as well. Lauren Singer, the Package Free Shop founder, inspires me daily with tips for living with less waste and composting. I also can't get enough of our Creative Director Geri Hirsch's wellness hacks.
Other beauty or wellness-beauty products I'm loving currently: I love Ren's AHA Steady Glow Toner that I swipe over my face with the organic cotton balls that we pack in all our boxes from Saie. I apply it a few days a week before bed and then follow it with Le Prunier's face oil.
Current biz mantra: Bring joy to everything you do.