If there has been one major pivot in wellness in the past five years, we'd say it's the focus on emotional health. At least here at The Chalkboard.
The topic has unexpected champions, like Emmy Award-winning choreographer, Julianne Hough. As Julianne reveals below, it was her own struggles with anxiety and depression that helped her realize just how powerful a role dance played on her emotional well-being.
Through her platform, KINRGY, Julianne is asking fitness lovers to open their hearts and minds to a more emotional form of physical expression that is rarely seen outside traditions like kundalini yoga and trail-blazing studios like Taryn Toomey's The Class.
We're thrilled to see the expansion of these kinds of class offerings and think our readers will deeply resonate with this kind of work. Julianne's unique take on dance, breathwork, visualization and meditation is a major value add to what's happening in fitness — and the world — now…
The Chalkboard: For those who aren't familiar, how would you describe KINRGY in your own words?

Julianne Hough: KINRGY is a dance-driven method designed for what I call a "whole-self experience". Everything centers around our Signature Method, KINRGY X, which uses movement, breathwork and expression to strengthen the body, clear the mind and unlock the freedom that lies within.
It's a movement, a lifestyle, and a global community. Our platform promotes daily, whole-self wellness through innovative dance, fitness and meditation classes, along with our energetically conscious line.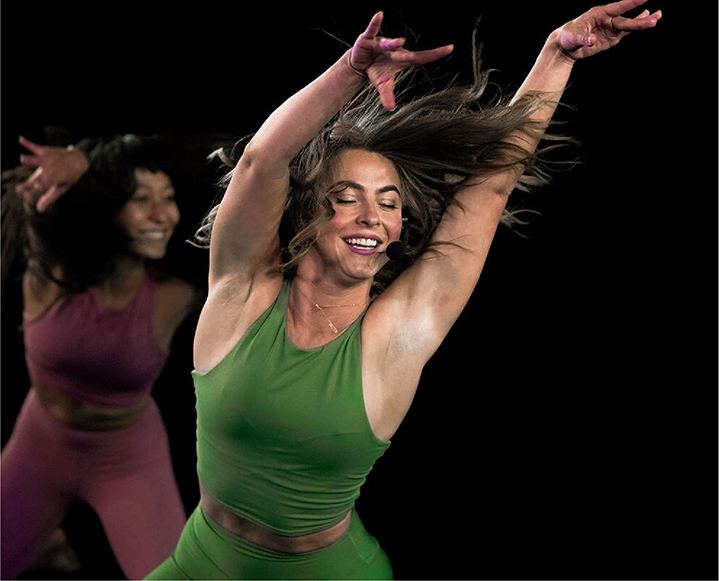 TCM: After years of performing, what inspired you to start the new brand?
JH: When I was on Dancing With The Stars, I had the opportunity to watch people transform. Yes, people became dancers, but they also learned to unlock their freedom of self-expression.
People would always ask me, "When are they going to do Dancing With The Stars for the regular people?" That inspired me to create KINRGY as a method to help people unlock their self-expression and freedom amidst an oftentimes stressful, suppressed, and perfectionistic world.
Because KINRGY is a physical workout, I also wanted to shift the way that we approach fitness. I's not about what you look like on the outside, but how you feel on the inside. We call our brand 'Expanded Fitness' because we're not just focusing on our physical health, but our mental, emotional and energetic health as well.
TCM: As a long-time dancer, were you already quite aware of  the strong connection between mental health and physical movement?
JH: I experienced a lot of anxiety and depression growing up. It wasn't until later in life that I realized dance was my superpower – it was my form of therapy that I didn't even know I had, and kept me sane through difficult times.
I'm grateful to offer people a space where they can move their bodies as a form of expression to release their own worries and anxieties and deepen their holistic wellness journey.
TCM: We love the sound of all of this. We're all about breathwork, releasing endorphins and self-empowerment. What would you say is the 'secret sauce' of KINRGY, for those who may not be familiar with some of this stuff?
JH: Our secret sauce is what we call the "KINRGY Trifecta": movement, breathwork and energetic expression. These are the 3 focus areas of every class that allow guests to get their physical workout in while clearing stagnant energy in the body.
The Trifecta also allows them to expand into what we call the "KINRGY State" – an optimal state for deep internal connection and freedom of expression. This state allows access to your truth and is a muscle that can be trained. The more you do it, the more you feel it.
TCM: Like a good yoga flow or spin class, I'm sure you hope that a KINRGY workout will be like an active meditation for people?
JH: Absolutely! Visualization techniques are often used in meditation practices, and within the context of KINRGY, we guide guests to visualize themselves moving through the natural elements – Earth, Fire, Water, Air and Aether – because at the end of the day, nature isn't just outside of us, it's within us as well. These visualization techniques help guests surrender the chatter in their minds to the wisdom of their bodies through an active meditation.
TCM: Any cool science you want to share with us about a workout like this and how it affects us emotionally and mentally?
JH: Yes! Many studies have shown that negative emotions experienced throughout our lives can become stored energy within the body if they are not given the space to be fully expressed.
These energetic blockages can cause us to feel stuck and resistant to the natural flow within ourselves and our day-to-day life. When this occurs, our belief systems become limited, thus making it difficult to believe that anything is possible.
KINRGY takes that stagnant energy and puts it back in motion through intentional movement, breathwork and energetic expression to help foster emotional release and provide a sense of mental clarity. This is where we can enter the realm of infinite possibilities, where we hold the expanded belief that anything is possible.
TCM: It's a strange time for many of us. Talk to us about how you hope people use KINRGY in this time.
JH: I hope people use KINRGY in whatever way they feel they need in their day-to-day life. That's what is so special about our platform – our offerings provide a daily dose of self-care, whether that's focusing on your physical strength, your mental and emotional health or just simply wanting a space to play and express.
TCM: Any other emotional or holistic health tips you've been relying on lately and would recommend?
JH: Just getting up and having a dance party whenever you feel lethargic, down or just need a pick me up in your day! Even 5 minutes can activate your energy and change your whole state.