Booking a workout is easy. Figuring out when to wash and dry your hair is not. Learning how to fake a shower between spin classes and friend dates is a total art.
Planning our sweat schedule has everything to do with how we manage our dinner plans, blowouts and work commitments. We can't recommend that you to slink straight from a treadmill class to date night without a shower, but when your schedule calls for it, here's how to fake a shower on the sly…
Playa Dry shampoo |
The MVP of team "fake a shower" is dry shampoo, but it can be hard to find one that works and is also non-toxic. This botanical-infused dry shampoo from Playa refreshes and revitalizes hair instantly. It absorbs excess oil, restores body and volume, and doesn't leave mounds of powdery buildup. Best of all, the ingredients are squeeky clean — just like your hair.  
CHECK OUT
ursa major skin wipes |
 If you're sprinting out of a studio or getting your fit on outdoors, be sure to stash one of these Ursa Major wipes in your bag. These bamboo wipes are paraben-free, fragrance-free, cruelty-free and don't contain any petrochemicals, sulfates, synthetic fragrance or color. They cleanse, tone and leave skin feeling post-shower fresh. Sometimes all you need to feel ready to go after a workout is a quick facial wipe down.
CHECK OUT
M-61 PowerGlow Peel | Leave the gym with more than just your typical post-cardio glow. These exfoliating wipes are loaded with glycolic and salicylic acids to help strip away dead skin while chamomile and lavender jump in to soothe. The result is a full-on facial effect that only took a minute to achieve – literally. CHECK OUT
jao hand Refresher |
 Whether you've been gripping kettle bells or crawling all over a yoga mat, your hands could probably use a clean little boost. We love this super-chic non-toxic sanitizer because it kills germs but won't turn your hands into a dry, cracked disaster. The botanical cleanser is formulated with antiseptic essential oils including lavender, tea tree and eucalyptus to nourish while it purifies. 
CHECK OUT
erbaviva deodorant |
We swear by this effective natural deodorant that's easy to spritz on, especially when you're sticky with sweat. It happens to be made with natural oils like sage and tea tree that smell amazing, which means you'll smell amazing too.  
CHECK OUT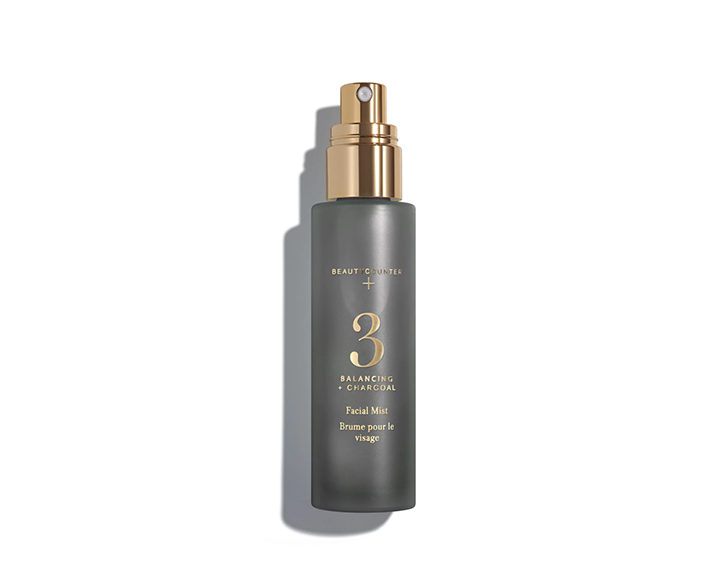 beautycounter charcoal facial mist |
This revitalizing and alcohol-free face mist is packed with charcoal powder and kaolin clay to instantly absorb excess oil and calm redness.
CHECK OUT
Skin Worship skin cleansing gel | This light, but deeply hydrating gel acts like a waterless cleanser. It penetrates deeply through the top layers of the skin to support its natural moisture barrier and reduce inflammation without clogging pores or feeling gross.   CHECK OUT
Donni silk scrunchie |
When all else fails, go with a scrunchie. This cute hair accessory has a little more style cred than just a regular hair tie. Throw your hair into a slick pony tail or chic french braid and add this for a pop of color that'll make you feel instantly more put together. 
CHECK OUT
ban.do gold hair pins |
 Can't handle those little flyaway hairs but don't have time for a blow out? Throw your strands into a sloppy bun and hold down any lose ends with these pretty gold pins. 
CHECK OUT