Hannah Bronfman radiates cool-girl vibes, but her journey to self-acceptance has been a long one. The DJ, HBFIT founder, fitness pro, and now author takes a balanced approach to holistic well being that we love — one that hyper-personal, disciplined, and yet fits real life. Her debut book, Do What Feels Good, puts her personal wellness philosophy into words and we're excited to share bits from its pages.
Watch for more in-depth features on Bronfman's new book soon, but first we wanted to celebrate this recent candid Instagram post from Hannah that encapsulates just why we love the wellness leader. Each wellness pro we've ever met through TCM has their own version of a personal health crisis that propelled them into taking their passion for wellness to the next level. Hannah shares about her own…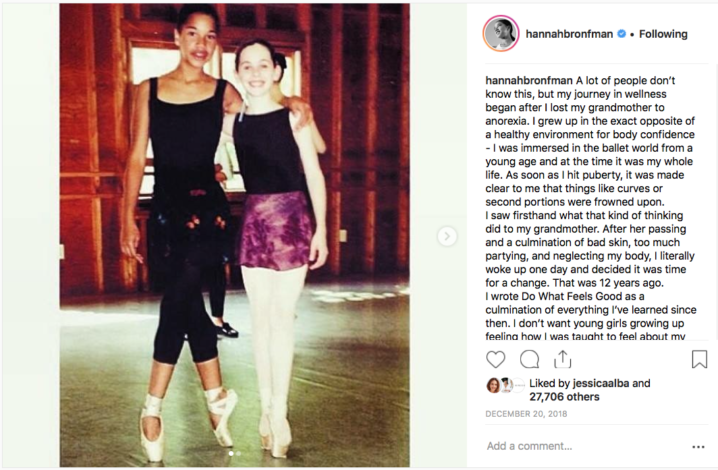 @Hannahbronfman | A lot of people don't know this, but my journey in wellness began after I lost my grandmother to anorexia. I grew up in the exact opposite of a healthy environment for body confidence — I was immersed in the ballet world from a young age and, at the time, it was my whole life. As soon as I hit puberty, it was made clear to me that things like curves or second portions were frowned upon.
I saw firsthand what that kind of thinking did to my grandmother. After her passing and a culmination of bad skin, too much partying and neglecting my body, I literally woke up one day and decided it was time for a change. That was twelve years ago.
I wrote Do What Feels Good as a culmination of everything I've learned since then. I don't want young girls growing up feeling how I was taught to feel about my body. I want to contribute to the conversation around learning how to nurture your body, that feeding yourself nutritious food and doing workouts that make you feel good is good for your body and your mind. And don't obsess about a big Christmas dinner or New Years resolutions! Doing what feels good everyday will lead to a healthy lifestyle and that is a day-by-day journey. Do What Feels Good is available for pre order now — I hope it inspires you to do just that.
Sometimes the personal dramas we suffer with most in life, end up evolving into serious equipment with which we're able to help others. What do you think of Bronfman's approach to wellness? Can you relate?
Discover more health and wellness insight from Hannah here.