Thanksgiving Dinner is a gift that keeps on giving, and giving and giving… leftovers are great, but  – let's be real – having the same plate of sides for a week can get a bit redundant. Certified holistic nutritionist and cooking instructor, Pamela Salzman, is showing us a few creative ways to use up leftovers with genius recipe remixes. Tap into the full culinary potential of Thanksgiving below!
One of the benefits of all that hard work prepping for an epic meal like Thanksgiving is the leftovers the next day.  There are really infinite ways to transform last night's stuffing and mashed potatoes. Although if you're already over it, you can certainly freeze almost anything, from turkey to cranberry sauce.
Cranberry sauce is, however, one of the easiest items to put to use, whether it is a topping for a warm porridge, French toast, in a smoothie, as a base for a salsa, and more. Cranberry sauce-avocado toast and overnight oats with cranberry sauce are two of my go-tos which require almost no effort – key the day after Thanksgiving when I can manage no more than ordering holiday gifts online.  Here are some other ideas for transforming your Thanksgiving leftovers…
Cranberry Avocado Toast: Top a slice of toasted bread with smashed avocado, cranberry sauce and Maldon sea salt.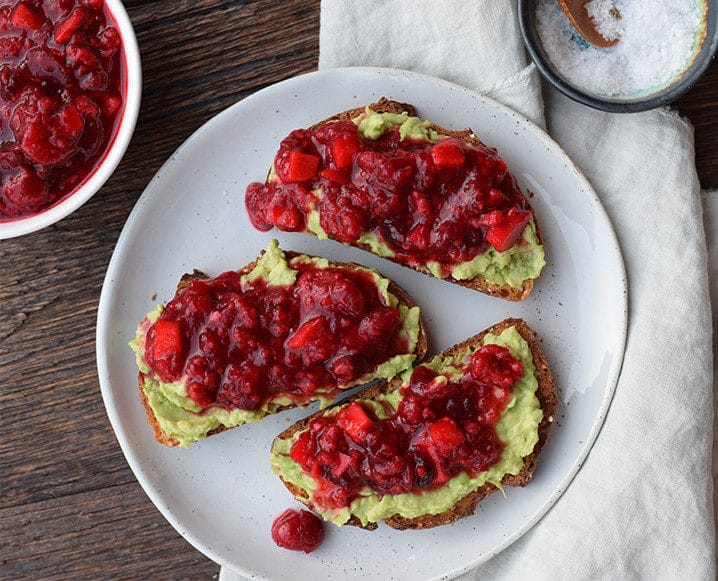 Cranberry Overnight Oats:  Combine 2 tablespoons of chia seeds, 1 cup rolled oats (look for certified gluten-free oats to make this a gluten-free recipe) and 2 cups almond milk (preferably homemade). Soak overnight in the refrigerator.  Swirl in leftover cranberry sauce before serving.
Stuffing Egg Bake: Combine 1 cup stuffing with 3 beaten eggs. Bake in 2 greased 4-inch ramekins at 375 for 45-50 minutes or until set and golden brown.
Curried Turkey Lettuce Cups: Anything you can do with cooked chicken, you can do with turkey. For this recipe, improvise a marinade with Greek yogurt, Vegenaise, curry powder, apricot preserves, white wine vinegar, salt and pepper. Toss with chopped celery and shredded turkey, and serve in butter lettuce leaves.
Pumpkin Pie Bread Pudding: Just sub half the bread in this recipe with an equal measurement of cubed pumpkin pie — this is to die for!
Pumpkin Pie Smoothie: Just scrape the pumpkin pie filling into a blender — freeze it if you have time — add your favorite protein powder and almond milk to get the desired consistency, add a drop of vanilla and a pinch of cinnamon to taste.
MASHED POTATO CROQUETTES: Take some grated cheddar cheese and mix it into mashed potatoes. Form the mixture into small patties, dip into egg, then Panko breadcrumbs. Sauté  in olive oil until golden brown and crispy.

Thanksgiving Shepherd's Pie: To an 8 x 8 casserole dish, add 2 cups leftover veggies, 2 cups of cubed turkey (or 2 cups more veggies), and 1 cup gravy mixed with 1 cup of stock. Top with mashed potatoes and grated cheese or a little melted butter, and bake at 350 until bubbly.
Turkey Quesadillas: On one side of a large whole wheat tortilla, create a layer of chopped turkey, shredded cheese and baby spinach. Heat, fold in half an continue cooking until the cheese is melted and the outside is golden brown. Insert a few slices of avocado and serve with a side of cranberry sauce (which can also be turned into a salsa with some lime, cilantro, green onion and ground cumin)
Stuffing Stuffed Mushrooms: Brush olive oil on mushrooms with the stem removed. Put a spoonful of stuffing in cavity and bake at 350 for 20-25 minutes until golden brown. Serve with cranberry sauce.
Love what you see above? Check out more of Pamela's recipes here!