Look, we don't care how crazy he is for you — if you're having a boy over for dinner on Valentine's Day and you make him kelp noodles, you could get dumped.
We kid, of course, but the struggle can be so real when your wellness food and  your dates appetite are at odds (trust us, we know). You don't have to sacrifice your healthy intentions, but you might have to adjust your menu to suit both tastes.
If you're hosting someone special for a romantic dinner, this fun yet healthy menu for date night is the ultimate romantic gesture. Make it together or surprise them with a batch of libido-boosting maca blondies and see where the night takes you…
The Good Sex Smoothie
| Pre-party while you cook? This aphrodisiac smoothie is designed to get things going. It's loaded up with powerful herbs to boost libido, stamina, and mood. It also helps to energetically unlock the root chakra — and light up your taste buds along the way.  
READ MORE
Fresh HERB RAVIOLI
| This sexy homemade pasta recipe is as delicious as it is gorgeous. The simple gluten-free dough is loaded with antioxidant-rich fresh herbs and filled with Kite Hill almond ricotta. The dish looks impressive — and it is! — but is actually deceptivly easy to prepare.
READ MORE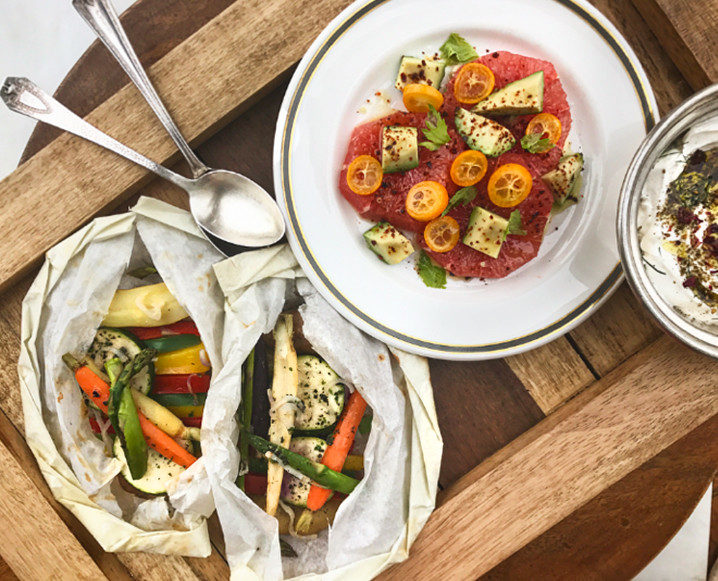 PARCHMENT LOVE LETTERS
| These parchment-wrapped fish and veggie packets are like a little gift. Pack them with your favorite seasonal veggies and favorite fish, pop them in the oven and you're good to go. 
READ MORE
ZUCCHINI RIBBON SALAD
| Sexy meets healthy in this fresh zucchini noodle dish. The long ribbons look elegant mixed in with fresh arugula and herbs, walnuts and a flavorful Dijon dressing. 
READ MORE
CAULIFLOWER, POMEGRANATE + PISTACHIO SALAD
| Entirely plant-based but still hearty and flavorful – does a date night dish get any better than this? We snagged this recipe from the latest Ottolenghi cookbook that zeroes in on quick yet sophisticated seasonal cooking.  
READ MORE
CHOCOLATE MACA TRUFFLES
| Make these cute chocolate hearts ahead of time and pop them out when the moment is right. 
READ MORE
RAW MACA BLONDIES
| Maca is famous for its ability to balance out hormones and boost sex drive and stamina. The powerful root is full of amino acids, essential vitamins and plant fiber galore. One of our favorite ways to get a dose is these raw blondies made with cashews, coconut butter and all kinds of delicious spice.
READ MORE