I present to you, dearest friends, my Harmonious Salad. Strengthen your sense of harmony, fulfillment and well-being within! Yeah, it's that powerful.
Ingredients:
Serves 6
3 avocados, pitted and chopped
5 tomatoes, washed and cut into fourths
1 head purple cauliflower washed and chopped  (Note: purple cauliflower is a specialty item, and I found mine at Whole Foods; you can definitely substitute with white cauliflower)
15 or so Brussels sprouts, washed and halved
1/2 head romaine lettuce, washed and chopped
2 tablespoons olive oil
1 tablespoon balsamic vinegar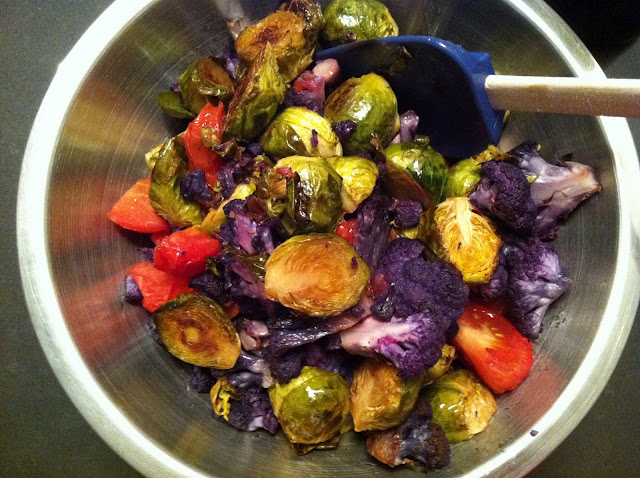 Directions:
1. Preheat oven to 350 degrees.
2. Place halved Brussels sprouts in oven dish. Distribute olive oil, and roast for 30 minutes, tossing every 10 minutes
3. Add in chopped cauliflower, toss, and roast for additional 15 minutes.
4. Turn heat up to 400. Add in chopped tomatoes, and continue roasting for 5 minutes. (Note: every oven varies slightly. Keep an eye on yours.)
5. Turn oven off, and refrigerate the roasted vegetables for 30 minutes.
6. Once cooled, toss with lettuce and avocado in a salad bowl.
7. Sprinkle with balsamic vinegar.
I promise this will become a household favorite. Give it a whirl, and you can decide! For more innovative recipes, check out Sasha's site, kalewithlove.com!