We've been paying attention to a new style of coffee roasting called "golden coffee". It's roasted less than a light or blonde coffee, but a but more than straight up green coffee beans. Golden Ratio claims that golden coffee is five times less acidic than regular coffee and — beyond the appeal of trying a new coffee trend — that caught our attention right away!
While many of us can drink a black cup of coffee without issue, there are quite a few people who find coffee too acidic to drink everyday. There are also quite a few people who love coffee so much that they drink it for the flavor and caffeine, despite the fact that it upsets their stomach. If that's you, you're probably the perfect contender for giving up cold brew and going full-on gold brew in the mornings…
On Coffee + A Sour Stomach

Listen, coffee's appeal is multi-faceted: we love the unmistakable scent, the A.M. ritual and the feeling of settling down for a good chat or work session with our cup of warm, cozy caffeine. That said, dark roasted coffee, while it has become the norm, can irritate many of those with sensitive digestion, including those with chronic reflux  or GERD (Gastroesophageal Reflux Disease). Coffee is on the short list of foods that can trigger GERD symptoms along with fatty foods, chocolate, spicy foods and carbonated drinks.
We may not have all the solutions to resolving your reflux altogether, but we do know that an extremely light roast of coffee could be just what you've been dreaming of if you've been forced to give up coffee with digestion issues or have simply been drinking it all along despite the upset (we've heard that this is common!).
What the Heck is "Gold" Roasted Coffee?

If you're dreaming of waking up to a great smelling cup of coffee again without all the acid, try a roast so light that it lands just one tick above green coffee beans themselves. Golden Ratio founder, Clark Nowlin of Austin, Texas, first tried gold coffee while traveling, but wasn't able to find this super-light "gold" roast anywhere in the States (even though it's already popular overseas), so he decided to make it more accessible himself.
Shared Nowlin, "I love coffee, but coffee didn't love me back. The 'burnt and bitter' taste didn't jive with my tastebuds. When I discovered gold roasted coffee, which is only now beginning to pop up in niche coffee circles around the US, my problem was solved. But there was nothing I could easily access at home. So I created my ideal version of gold coffee at home and for travel."
When we first learned about Golden Ratio's ultra-light roasting process, we had just one big concern: would it taste and smell as good as the coffee we knew and loved. The good news is that, especially when iced, Golden Ratio tastes and smells like great coffee — minus the heavy bitterness. 
Here's what else impressed us about Golden Ratio…
+ Like all TCM-approved brands, we wanted to know about Golden Ratio's sourcing and sustainability. Happily, we found that Golden Ratio sources from three distinct and ethically-run single origin bean producers in Nicaragua, Brazil, and Ethiopia.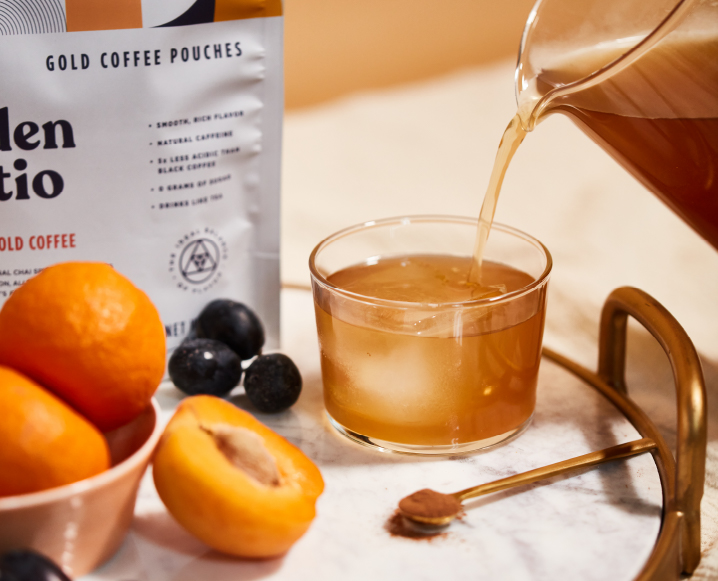 Another strange, but sustainable flex we've fallen in love with from the brand is their easy tea bag format. Each portion of their coffee comes in an undyed organic cotton pouch that can be brewed hot or cold. Want coffee for two or more? Just add one bag per person to your hot or cold pitcher.
+ Gold coffee doesn't stain your teeth! Another funky side-effect of conventionally-brewed coffee is that it can seriously infringe on your teeth-whitening schedule. If you're the type that meticulously cares for those pearly whites, Golden Ratio could be a godsend. You can drink 'gold brew' with significantly less concern about staining your teeth.
+ One thing that can be confusing about coffee is that a darker roast doesn't equate to more caffeine. In fact, Golden Ratio actually contains 50% more caffeine than regular coffee depending on how weak or strong you brew it (with the pouch format, it's easy to adjust the strength to your personal preference). So, gold coffee delivers the flavor without the bitterness and the caffeine without the acid. This is a game-changer for some! 
Because so many people are secretly suffering their way through their daily caffeine intake with coffee that's too acidic for them, we're expecting extremely light-roasted or "gold" coffee to be a big trend in coffee shops in the near future. (We can't wait to hang out in coffee shops again!) 
How To Drink Gold Coffee
You can brew gold coffee anyway you like: super-powered to full strength hot and black…well, gold. You can brew two pouches cold in a big pitcher full of ice and sip on iced coffee all afternoon. Or, our favorite , brewed hot, but made a little weak (just pull the pouch earlier than you normally would a bag of tea) and topped with a lot of almond or oat milk.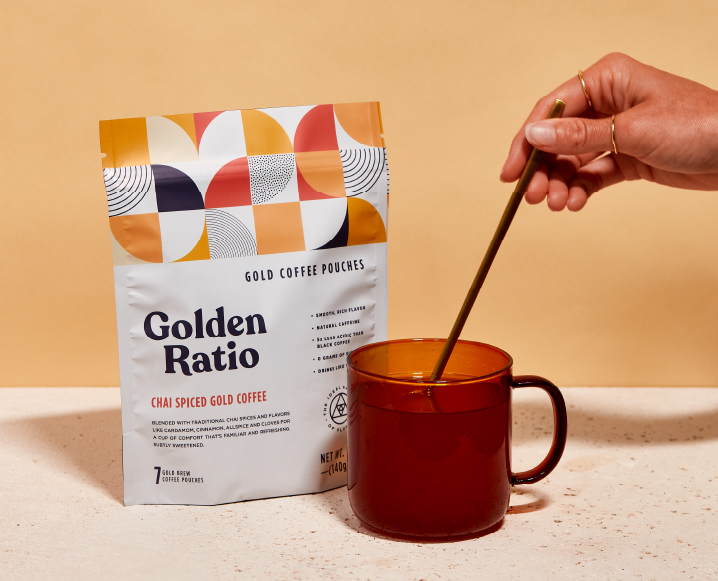 Golden Ratio also makes Chai Spiced Gold Coffee! If you're a dirty chai drinker (chai tea or syrup added to regular coffee or espresso) you're going to need to try this. Golden Ratio adds fair-trade cardamom, cinnamon, all-spice and cloves to their low-acid gold coffee — and nothing else. Consider this the smart girl's alternative to the pumpkin spiced latte. This combination of spices is more than just a fall flavor bomb, chai is also packed with ingredible nutritive benefits that upgrade your morning routine in a major way.
Finally, if you're weaning yourself off those sugary, highly-acidic coffee shop lattes, Golden Ratio also makes a Vanilla Flavored Coconut Gold Coffee that's totally natural (they decided on vanilla flavoring after realizing that whole vanilla beans were way too strong-tasting!) We love this blend with its hint of monkfruit steeped full strength and drank with plenty of warm almond milk!
Golden Ratio is offering 20% off, plus free shipping on all orders through October 2! Order just two flavors for yourself to start and see how it affects you (the brand offers a full satisfaction guarantee) or set up a subscription a subscription to enjoy to-your-doorstep convenience regularly. The Midas Membership (kinda cute) is their flexible subscription program that lets you decide your own frequency, provides an ongoing discount and also gets you exclusive access to new product samples before they hit the shelves. Note: Vanilla Flavored Coconut Gold Coffee is totally sold out and will be back in stock on October 10. You can still pre-order, but if you don't want to wait, order the Chai and drizzle in a little honey if you take it sweet!
This story is brought to you in partnership with Golden Ratio. From time to time, TCM editors choose to partner with brands we believe in to bring our readers special offers. The Chalkboard Mag and its materials are not intended to treat, diagnose, cure or prevent any disease. All material on The Chalkboard Mag is provided for educational purposes only. Always seek the advice of your physician or another qualified healthcare provider for any questions you have regarding a medical condition, and before undertaking any diet, exercise or other health-related programs.