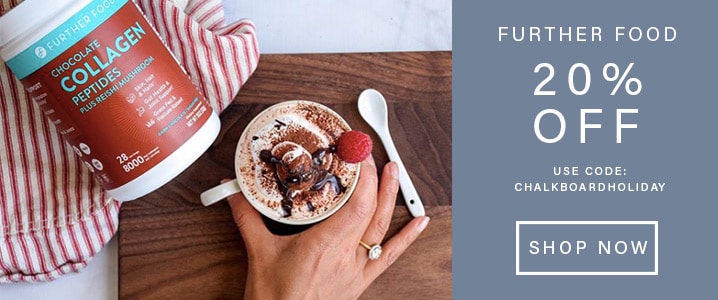 Enjoying healthy holiday cookies and bars becomes much easier when you focus on adding healthy ingredients, rather than simply taking the questionable ones These recipes from the women behind Further Food are almost too good to be true. We've come to love the brand and it's forward-thinking team lately for creating the highest quality whole-food supplements using real food ingredients.
One of the best holiday baking hacks ever is to simply add collagen peptides to whatever you're whipping up! These three recipes for cookie dough balls, pumpkin cheesecake bars and freezer fudge are clean and incredibly good. Each one is packed with high-quality nutrition and protein from Further Food's chocolate or vanilla collagen peptides. The fudge also contains their plain gelatin powder that melts right in and fluffs things up!
Benefits of Further Foods' Chocolate vs. Vanilla Collagen Peptides:
+ Further Food Chocolate Collagen Peptides: Each scoop contains 9 grams of protein, plus the immune-boosting benefits of reishi mushrooms, cocoa powder and monk fruit, a clean low-glycemic sweetener.
+ Further Food Vanilla Collagen Peptides: Each scoop contains 8 grams of protein, plus the skin-nourishing benefits of tremella mushrooms, skin-calming benefits of vanilla and monk fruit, a clean low-glycemic sweetener.
Grab your own stash of collagen peptides or gelatin this season by using our exclusive offer for 20% off your next purchase with code chalkboardholiday. Tag us in your baking creations with #thechalkoardeats and let us know what you end up making!
Chocolate Cookie Dough Balls – Paleo
Makes 15 small portions 
Ingredients
For the cookie dough:
1 cup coconut flour
2-4 scoops Further Food chocolate collagen peptides
1/3 cup cashew butter (or other nut/seed butter)
1/4 cup non-dairy milk
1/4 cup pure maple syrup
1/2 tsp vanilla extract
For the chocolate coating:
1/3 cup raw cacao powder
1/3 cup coconut oil
3 Tbsp pure maple syrup
pinch of Maldon sea salt
Directions
For the cookie dough:
Throw all ingredients in a bowl and stir to thoroughly combine. Roll into balls, place on a parchment paper lined baking dish, and store in the freezer or fridge to firm up while you prepare the chocolate coating
For the chocolate coating:
Melt coconut oil over low heat if it's not liquid. Remove from heat and add the cacao powder. Stir until smooth and no lumps remain. Add the maple syrup and stir to get an even chocolate mixture.
To assemble:
Take out the cookie dough balls from the freezer, dip them into the chocolate coating, sprinkle with sea salt, and place back on the parchment paper. The chocolate sets quickly since the balls are chilled. Repeat the process a second time, if desired, for a thicker chocolate coating. Return to the freezer or fridge for about 10 minutes for the chocolate to firm up. Store leftovers in the fridge for about a week or the freezer for months. Enjoy!
Nutrition
Per serving: Calories: 136; Total Fat: 9 g; Saturated Fat: 6 g; Monounsaturated Fat: 0 g; Polyunsaturated Fat: 0 g; Cholesterol: 0 mg; Sodium: 37 mg; Potassium: 34 mg; Carbohydrate: 12 g; Fiber: 3 g; Sugar: 7 g; Protein: 2 g; Vitamin C: 0%; Vitamin A: 0%; Iron: 7%; Calcium: 1%
Mint Chip Freezer Fudge – Dairy-Free, Keto
Makes 8 squares
Ingredients
2/3 cup coconut butter, melted
1/4 cup coconut oil, melted
1/2 cup warm water
2 Tbsp Further Food Premium Gelatin
6 Tbsp Further Food Collagen Peptides
3 Tbsp monk fruit sweetener (granules)
1 Tbsp peppermint extract
handful of dark chocolate chips
Directions
Melt the coconut butter and coconut oil, option to add the warm water here while melting, better if it all combines. Add to a medium bowl or stand mixer. Mix in collagen, peppermint extract and monk fruit next. Add gelatin and mix again, the mixture will "fluff" up. (Don't over-mix or it will get crumbly.)
Fold in chocolate chips and use a spatula to get mixture into a parchment lined 8×4 inch bread pan.
Put in freezer to harden. Cut into about 8 squares after about 30 minutes in the freezer. Store in the freezer or fridge.
Nutrition
Per serving: Calories: 151; Total Fat: 15 g; Saturated Fat: 12 g; Monounsaturated Fat: 1 g; Polyunsaturated Fat: 1 g; Cholesterol: 0 mg; Sodium: 6 mg; Potassium: 0 mg; Carbohydrate: 5 g; Fiber: 2 g; Sugar: 2 g; Protein: 2 g; Vitamin C: 0%; Vitamin A: 0%; Iron: 6%; Calcium: 0%
No-Bake Paleo Pumpkin Cheesecake Bars
Makes 16 small bars
Ingredients
For the filling:
1 cup raw cashews (soaked for at least 30 minutes)
1/2 cup pumpkin puree (canned)
3-4 Tbsp pure maple syrup
1/2 cup full fat coconut milk
1/2 scoop Further Food Vanilla Collagen or 1/2 tsp vanilla extract
1 tsp pumpkin spice
1/2 tsp ground cinnamon
For the crust:
1 cup Medjool dates (soaked for at least 30 min)
1/2 cup pecans
1/2 cup walnuts
1/4 cup coconut flakes
1/2 tsp cinnamon
dash of pink Himalayan salt
For the almond butter salted caramel:
1/4 cup almond butter
2 Tbsp pure maple syrup
1 Tbsp coconut oil
pinch of sea salt
Directions:
To make the crust: Add the pecans, walnuts and coconut flakes to a food processor and process until broken down and crumbly. Add in the dates, cinnamon and salt, and process until well mixed and the mixture begins to form a ball. Transfer to a parchment paper-lined 8×8 pan and press out evenly. Place in the freezer.
In a food processor or high powered blender, combine all filling ingredients and blend until texture is smooth. At this point, taste to see if you need to add more maple syrup for sweetness or spices for more pumpkin spice flavor. Take the crust out of the freezer and pour filling mixture over the crust. Spread evenly. Place cheesecake in the freezer for up to two hours to set.
Fifteen minutes before serving, prepare the caramel sauce by combining all ingredients into a small bowl and heating in the microwave for 30-second increments until fully combined or in a small saucepan on medium heat. Drizzle caramel sauce over the bars and sprinkle with coarse salt for a salted caramel flavor (highly recommended!). Serve immediately.
For storage, place in the fridge for up to a week or in the freezer and thaw naturally for 30 minutes or 15 seconds in the microwave.
Nutrition
Per serving: Calories: 277; Total Fat: 19 g; Saturated Fat: 7 g; Monounsaturated Fat: 3 g; Polyunsaturated Fat: 3 g; Cholesterol: 0 mg; Sodium: 24 mg; Potassium: 95 mg; Carbohydrate: 24 g; Fiber: 4 g; Sugar: 17 g; Protein: 5 g; Vitamin C: 1%; Vitamin A: 28%; Iron: 7%; Calcium: 11%