We're joining with Jamie oliver to celebrate Food Revolution Day 2013. Shop this limited edition Food Revolution Kit curated by the top chef and support his food-centric cause while enjoying our favorite Pressed Juicery flavors.
We've rounded up all of Jamie's favorite juices (his go-to is Apple Strawberry Coconut!) into one delicious package that you can order to your doorstep or have shipped anywhere in the U.S.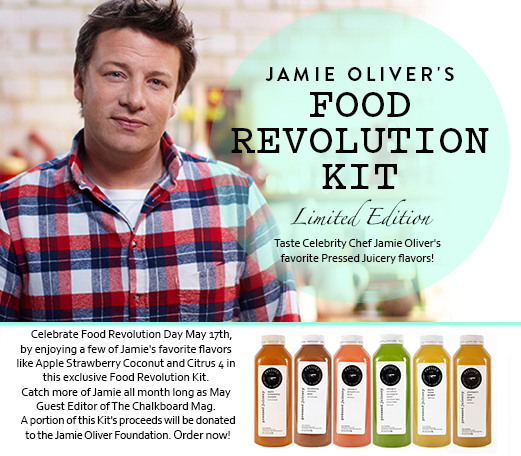 In Jamie's words, The Jamie Oliver Foundation "…aims to inspire people to reconnect with food. It's all about raising awareness and individual responsibility, resuscitating dying food culture around the world and, ultimately, keeping cooking skills alive."  The JO Foundation well reflects the values that Jamie represents and that so many of us here at The Chalkboard and Pressed Juicery resonate with. This is the kind of cause we are more than happy to get behind.
The Food Revolution Kit includes 12 Pressed Juicery juices that even the most produce-resistant taste buds will love. You can drink all 12 bottles to your heart's content knowing that you're supporting a worthy cause.
IN YOUR KIT:
2  Apple Strawberry Coconut – Jamie's fave!
2  Blueberry Coconut Pear
2  Citrus 3
2  Citrus 4
2  Apple Lemon Ginger
2  Pineapple Pear Ginger Mint
HOW TO ORDER:
The Food Revolution Kit can be ordered for local delivery in Los Angeles or shipped anywhere in the United States. Bring out the 'food revolutionary' in your friends and family and order a kit for everyone to enjoy! 10% of the Kit's proceeds will be donated to the Jamie Oliver Foundation. Available for a limited time only.