After being diagnosed with an autoimmune disease at twenty-two, New York Time's best-selling author, Danielle Walker knew she had to make a shift. Faced with the potential of major surgery and a lifetime of medication, Danielle began to address her diet and began a truly holistic healing journey.
Removing grains, lactose, and legumes from her diet, Danielle began blogging to help others suffering from autoimmunity issues to keep enjoying the experience of cooking and eating. Her collection of gut-friendly cookbooks are aimed to help those with food sensitivities — or just clean-eating ambitions –to eliminate triggering foods without feeling deprived. Her latest title, Eat What You Love is an ode to the fine line between comfort food and actual comfort, and we've been bookmarking it like crazy since it first landed on our desks.
Danielle's personal philosophy is rooted in Paleo principals, and her approach is both balanced and well-informed. Inspired by her story and delighted by her recipes, we asked Danielle to join our In My Fridge series. Here are the clean ingredients she lives for, the ones she steers clear of, and a simple weeknight taco recipe that'll leave you feeling satisfied on all levels…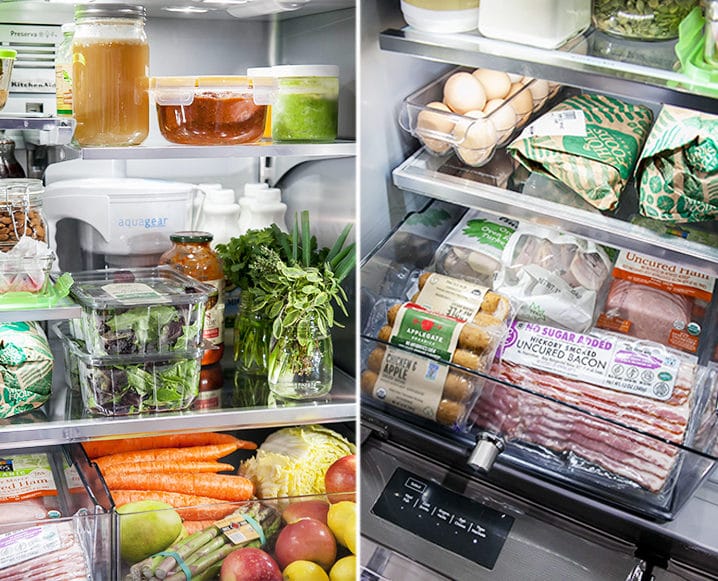 Food philosophy:
Eat what you love, and love what you eat without compromising your health or sacrificing tastes and textures.
Recipe staples always on hand:
Granny Sarella's spaghetti sauce, pesto power meatballs, chocolate zucchini muffins, breakfast sausages, chicken nuggets, coffee creamer and Moroccan chicken.
Ingredient that makes everything taste better:
Best bargain:
My 15-pound pail of raw honey from Tropical Traditions, when there's a sale plus free shipping!
Best label reading tip:
Skip the health claims on the front of the label and flip straight to the ingredients. Many times those bolded words or things in bright lettering on the front of packages are just marketing ploys. Know which ingredients you want to avoid, and what you'd like to focus on consuming more of (like healthy fats or grass-fed protein) and look for those in the list.
Favorite veggie + what you make with it:
Broccoli — I absolutely love roasted broccoli with some seasonings. I love when the edges get a little crispy. It's so easy and can be paired with most any protein!
Go-to indulgence:
My real deal chocolate chip cookies and cowboy cookies.
Skip labels that read:
I avoid anything that has grains in it and skip refined seed oils like canola, soybean or safflower seed oil. When it comes to non-dairy products, I'm really cautious not to buy anything with carrageenan or gums (guar, acacia, locust bean, etc.) in it. Both are tough on my digestion and cause bloating so I steer clear.
For last minute entertaining:
My go-to is the marinated tri-tip or flank steak from my Celebrations cookbook served with grilled artichokes and salad.
Favorite places to shop:
Whole Foods, Thrive Market, the farmer's market
Simple go-to recipe:
Instant-Pot Chicken Tacos in Lettuce Cups (I'll be sharing the recipe on The Chalkboard Mag soon!)
Best food memory:
My grandma used to have crab feeds at her house with all of our extended family. She would hand crack piles of crab and have it waiting on plates for all of the younger grandchildren who couldn't do it themselves. Now as an adult who loves crab, but hates cracking it, I realize what a labor of love that was!