You're on a 3-plus hour flight, and to say you're getting restless is an understatement. Your feet are asleep, ankles feel swollen, and you just can't find a comfortable position.
It's the middle of the workday…and you've already been on your feet for five hours. The backs of your knees ache and you feel light-headed. The clock is moving at a snail's pace.
If you can relate to either of these scenarios, you're not alone. Standing or sitting for long periods of time can be hard on our bodies and we feel it. But what if we told you there was one product that could drastically improve your well-being in both of these situations—and almost effortlessly?
Well, there is: compression socks.
Why Everyone Should Have (At Least One Pair Of) Compression Socks
We know, we know. At first glance, compression socks seem a little old school. (Yes, doesn't your grandpa wear them?) But recently compression therapy is seeing a wellness-focused comeback—thanks to its low-effort ability to increase energy, and reduce inflammation and swelling.
Compression therapy works by squeezing the leg tissues and the walls of the veins in your feet, which creates pressure that helps blood in those veins return to the heart more efficiently. Fresh, oxygenated blood benefits countless aspects of your health, regardless of age.
Ever feel like your ankles have gained five pounds after a flight? That's normal. When circulation gets hampered, fluid can start to pool in the feet and ankles, leading to uncomfortable swelling. Compression socks can help prevent this fluid buildup and also support the movement of lymphatic fluid, which means your cells get the attention they need to live their healthiest life—even when you're rushing around all day or stuck on a plane for hours on end.
Getting the blood in your feet and legs flowing will help decrease soreness and cramping, so athletes, doctors, and anyone on their feet for long periods of time can also benefit from the added support of compression socks.
Not All Compression Socks Are Created Equal
If the knowledge above was enough to convince you to take a pair of compression socks for a spin, there are a few things to know before you buy. First, not all compression socks are created equal. In fact, most compression socks on the market are expensive, too tight and unattractive.
Luckily, Comrad compression socks have been lovingly designed to support your feet just the right amount—and make sure you look good doing it. Comrad's daily essential knee-high compression socks come in styles like Indigo with White Stripes and colors like Muted Rose, giving you the look of a dress sock but also the moisture-wicking, antimicrobial support of an athletic sock, and the health benefits of a compression sock. Sounds like a win-win-win, doesn't it?
As an added bonus, each pair costs less than $30 dollars, making them the perfect wellness gift that won't break the bank.
Our Top Picks From Comrad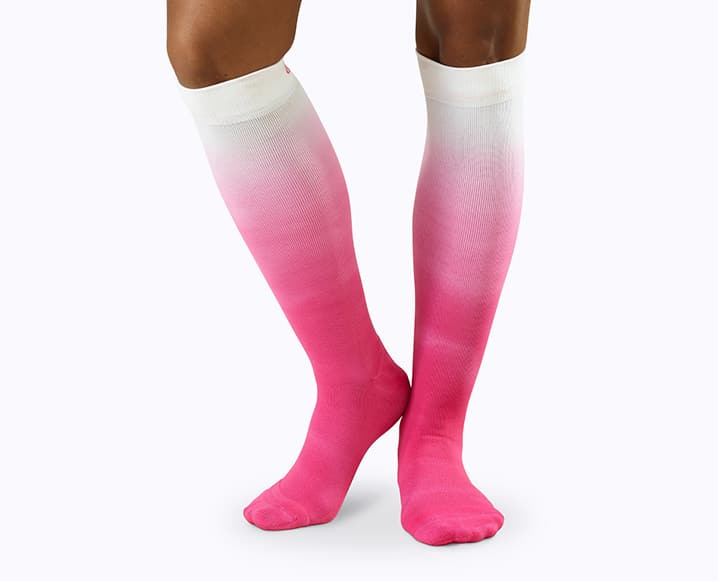 berry Dip Dye | The dip dye. Yes, compression socks are functional, but they might as well be a little fun too. Show off the ombre while you lounge at home or let them remain a mystery under long pants as you adult your way through the work day. Shop Now
Muted Rose with indigo stripes | Pink socks, yes — but modern pink socks. We love it when pink masquerades as a neutral and this stripey, yet functional sock pulls it off perfectly. Shop Now
Grey with Charcoal Stripe What is it with grey on grey stripes? If you're anything like us, this will match a half down sweater and T's already hanging in our closets. It's classic, timeless and – somehow – just a little bit comforting. Shop Now
Ready to experience that Comrad Compression Socks feeling?
Use our exclusive Chalkboard offer for 25% off your first purchase. Just use the code: CHALKBOARD25