It's no secret that we're big fans of easy, unfussy and nutritious family cooking, and mama-of-three Catherine McCord reigns supreme. Her latest cookbook, The Smoothie Project, The 28-Day Plan to Feel Happy and Healthy No Matter Your Age, is exactly that. It's chock full of easy tips, tricks and recipes to add a nutrient boost to everyday eating.
We've long admired Catherine's approach to eating locally and seasonally, while inviting even her youngest kids to help in the kitchen. As founder of weelicious and One Potato, we asked Catherine to let us into her kitchen and spill her daily secrets in our popular series, In My Fridge…
Food philosophy in one sentence: Fast, fresh and easy food for the entire family.
Always in my fridge: Oat and pea milk, eggs, fresh berries, a variety of yogurt, kombucha, kimchi, spicy chopped vegetables, miso dressing and fresh dates.
recipe staples always on hand: Avocado, chicken, good bread, eggs, olives, jarred tomatoes and sweet potatoes/yams.
Must-have munchies: Popcorn kernels, Navitas chocolate goji bites, homemade granola, seaweed snacks, dates, fresh figs and pretzels.
Fave condiments: Mustard, Cholula, homemade beet hummus and kimchi.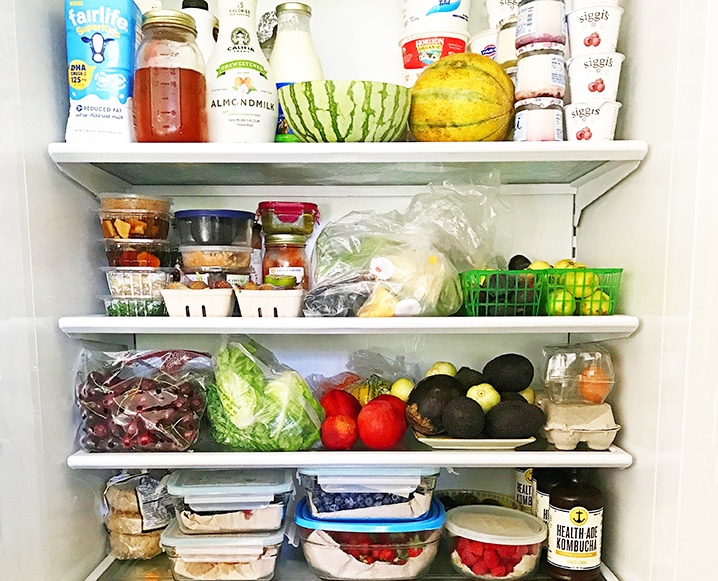 Ingredient that makes everything taste better: Miso and peanut butter.
Go-to proteins: Hemp seeds, chia seeds, bee pollen, salmon and chicken.
Best bargain: Anything grains, flours, nuts, seeds or dried fruit in the bulk bin section—I store all in glass mason jars.
Best label-reading tip: If you can't pronounce words in the first few ingredients, it most likely isn't good for your body.
Fave veggie + what you make with it: Butternut, Kabocha, acorn or Delicata squash. Maple roast vegetables and cinnamon roast squash are my weaknesses.
Must-have pantry staples: Every spice under the sun, chocolate protein powder, collagen peptides and coconut oil.
Craziest thing I buy: Blue Majik algae. It's not exactly a common food to buy, but it's so nutritious and amazing in smoothies for the nutrition and naturally vibrant blue color.
Go-to indulgence: Gelato, ice cream, frozen yogurt, repeat.
Dairy or non-dairy faves: My youngest daughter has major eczema and asthma, so she's totally dairy free. I use oat or pea milk, whipped vegan cream cheese, dairy free butter, homemade coconut whipped cream and vegan gelato for her so she can enjoy the same foods as other kids.
Favorite splurge: Any good salt. Maldon, fleur de sel or even truffle salt to finish dishes.
Favorite places to shop: The Hollywood farmers market every Sunday, Trader Joes, Gelson's and Lassen's for last minute food items.
Simple go-to recipe: Air-fried french fries. They're SO good.
For last minute entertaining: Broiled salmon with summer fruit. It's so gorgeous, beyond easy and always a crowd pleaser.
Best food memory: Sitting in my grandparents' kitchen sorting blueberries to freeze, taking the strings out of sugar snaps and watching my grandmother cook everything from scratch. She had a big jar of bacon grease above her stove that she cooked everything in. Definitely a different time!