Over the years, our emotional and mental health stories have grown to be a huge focus. Our space is rich with a wide variety of thinkers and practitioners on these topics and while we've already covered a lot of ground, we're excited to bring you so much more of it this year. So far, 2020 seems to demand it.
A few of the thoughtleaders we've featured on these topics in the past are included below, from Jessamyn Stanley who almost broke Instagram when we first featured her here to authors like Lalah Delia and Erica Chidi whose recent books have helped shape the current conversation on wellness.
It was a joy to gather this list of nine black wellness thoughtleaders whose messages are steeped in lessons of mind-body wellness and personal empowerment. Although we've never before curated a list of brands or individuals based solely on race, with all that's being exposed in our nation now, we're looking to amplify more black voices than ever before. Find a new follow below…
Andrea Ranae ( @andrearanaej) | We came across Andrea Ranae's writing just this week and were blown away by her grounded wisdom. Her messages of personal empowerment resonated with us so deeply from this post that reminds black follower to define and possibly enlarge their boundaries at this time to this post on "performative activism" that clarifies what it means to be a public advocate in authenticity.
Watch for more from Andrea soon. As a long-time teacher and facilitator of what she calls "Liberatory Leadership," we're soaking up her long and thoughtful participation in the public discourse right now and know she's got a lot more to say.
Erica Chidi (@ericachidi) | (Photo above right) First as a successful doula and health educator and now as co-founder of LOOM, Erica is a leading voice on body literacy and sex positivity. With a gift for unpacking traditionally uncomfortable or underserved topics with clarity and ease, Erica has quickly become a key figure in wellness through her book, Nurture: A Modern Guide to Pregnancy, Birth and Early Motherhood and LOOM's class offerings from period coaching to meditation for labor.
Lalah Delia (@lalahdelia) | (Photo above left) The name of Lalah's recent book says it all — Vibrate Higher Daily: Live Your Power is the kind of uplifting and empowering guidebook we all need now. In her own lyrical style, Lalah aims to support people on their journey "to live with more intuition, empowerment, purpose, confidence, high vibrations, and grace." During the recent protests, she has been a reminder to us to focus and allow for personal evolution
Morgan Harper Nichols (@morganharpernichols) | You may already be familiar with Morgan's work and not know it. Morgan also goes by her initials 'MHN' and signs them to her art — the digital mixed media and poetry we've fallen in love with a few times over. Wisdom, hope and grace ooze from her work and we've been grateful for what she's shared just recently including messages of resilience, belonging and surrendering perfectionism.
Koya Webb (@koyawebb) | Koya Webb's message of personal resiliency comes from straight from her own journey. After an athletic injury threatened her dream of becoming an Olympian, it was yoga that helped reshape Koya's mind-body breakthrough and eventually led her to write her recent new book, Let Your Fears Make You Fierce. Explore our many stories with Koya here and if you're needing support for your nervous system this week, we loved following along with her during this powerful sound healing.
Light Watkins (@lightwatkins) | Light is a Vedic meditation coach whose approach focuses on happiness and, dare we even say, bliss. His latest book, Bliss More: How to Succeed In Meditation without Really Trying is a brilliant reflection of what coveted one-on-one coaching with him is really like. This week on Instagram, Light shared a ton of enlightening video content on our current racial climate like this powerful message for white people wanting to act, as well as a slew of other videos tackling important conversations that need having now.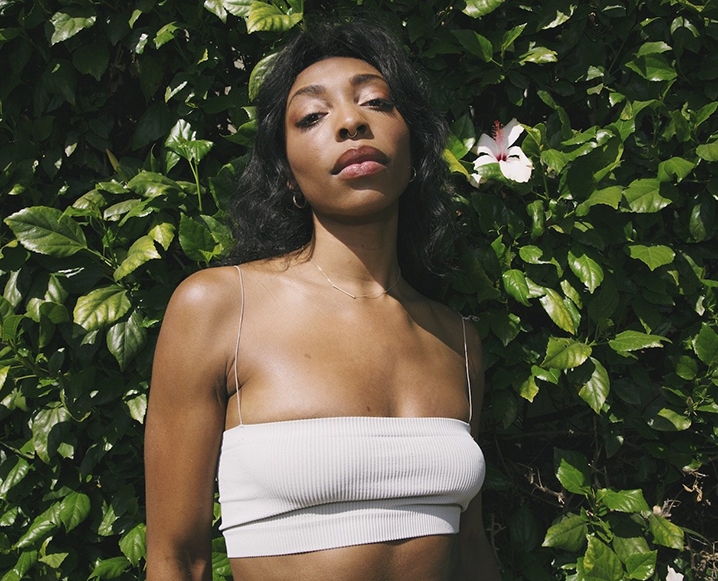 Photo By Alex Kenealy
Deun Ivory (@deunivory) | Deun is an artist and founder of The Body: A Home For Love, a non-profit founded in 2019 to shift culture around how black women heal from sexual trauma. What started as Deun's art-based project is now an organization with restorative programming and curated experiences that "impart healing rituals to women in need of self-love, community and safe spaces." This is important work and we look forward to watching this organization grow.
Jessamyn Stanley (@mynameisjessamyn) | Yogi Jessamyn Stanley was first featured in our body positivity story on influencers defying the rigid body type standards of the 'gram in 2015. She has since gone on to become a prominent advocate in the body positivity movement encouraging others to embrace yoga for it's emotional and mental benefits, as well as it's physical benefits. The name of her book, Every Body Yoga: Let Go of Fear, Get On the Mat, Love Your Body speaks for itself.
Photo By Pop Sugar Photography / Diggy Lloyd
Cleo Wade (@cleowade) | Cleo is a poet and community builder whose work you may recommend best in this handwritten form. Cleo's modern style is best captured in her best-selling book, Heart Talk: Poetic Wisdom for a Better Life and Where to Begin, however, she describes her new book, Where to Begin: A Small Book About Your Power to Create Big Change in Our Crazy World as "a collection of the ideas, mantras, and poems I turn to when I feel like I am losing it. I wrote this so that I could put them all in one place when I felt overwhelmed by worry, fear, anxiety, or helplessness." So, we're going to need to read that immediately. Her list of anti-racism tools is a thorough and original resource — check out the recommended reading for children listed from Coretta Scott King Book Award Winners.