As we emerge from an era of topknots and perma-ponytails, it's time to talk about haircare.  We published a round-up of incredible new clean hair treatments less than a year ago, but it seems our scalp health obsession is tracking along just as quickly as the booming clean beauty space, we've updated it with new products.
This list is packed with game-changers. Don't miss any of our notes and feel free to ask questions in the comments…
The 14 Best Clean Hair Treatments We've Tried Lately
Mflorens No.2 Scalp and Hair Serum We discovered MFLORENS during this dreamy beauty experience with Ricari Studios. The beautifully bottled hair serum is made with more than fifty nutrient-rich botanicals that work synergistically to reduce inflammation and boost circulation. They also smell incredible.
The founder of MFLORENS developed the oil serums after suffering from a dramatic case of alopecia. Since many of us are new to scalp oil and the like, we asked her what we could expect from the product. She told us that users should expect "increased new hair growth after 8-12 weeks, a soothed, nourished and moisturized scalp and hair that is shinier, silkier and more voluminous."
Work the oil into the scalp for an overnight treatment or before a long work session or movie night at home.
The founder tells us that "Biologically, anatomically, it is possible to increase the number and the depth of hair follicles. It requires three things: early, proactive scalp care on a level akin to skincare, formulations using the optimal active ingredients, and natural, rich ingredients with utmost integrity."
Hally Fluffy G | With Hally's playful branding and affordable price point, you wouldn't expect such clean formulas — and that's what we love about the brand. It's brands like Hally that make easy swaps for affordable at-home color products and reach consumers that may not 'care' about dangerous ingredients, but need to avoid them nonetheless. Hally's new Fluffy G treatment is a hydrating gloss and toning glaze to be used in the shower. It's 15 bucks and provides a polished look that's subtle, but real. Best part? No ammonia or sulfate and plenty of hair-healthy ingredients to boot.
crown affair Hair oil + brush No. 003 | Despite the hype around the launch of Crown Affair over the past couple of years, we didn't expect to be impressed when we first tried their products. Lo and behold, the very day this brush arrived, our editor swears her hair was transformed in an instant. Brush No. 003 designed for fine hair and intended to be used as a slow beauty ritual. According to someone on our team, it unleashed a level of balanced moisture and conditioned strands she hadn't experienced in years.
Crown Affair also deserves a special mention for their hair oil and brand new leave-in conditioner. If you're not accustomed to using an oil in your hair, start with just one drop and work it into the ends. If you find your strands can tolerate more, add a drop and gently work the oil in throughout. SHOP NOW
Olaplex No. 3 Hair Perfector | Olaplex has become a gold standard in clean haircare, especially for curly or color-treated hair that needs major attention. According to the brand, this particular product sells once every 5 seconds around the world! The Hair Perfector is an at-home treatment, not a conditioner. Use once a week for impressive, silky results — without any of the creepy ingredients that most of their competitors contain. SHOP NOW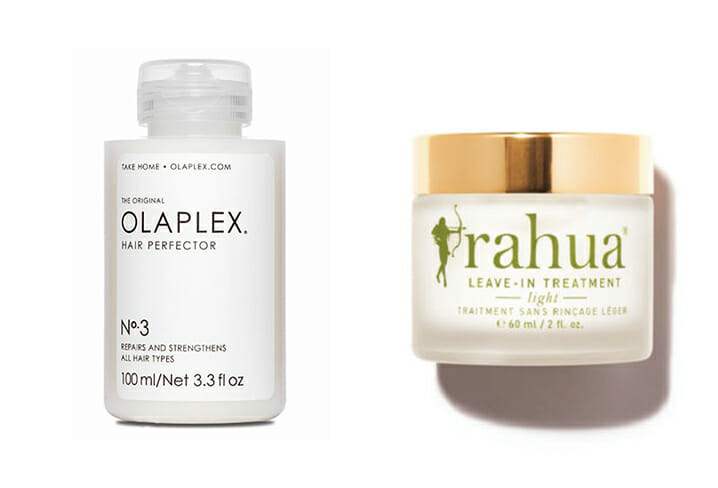 Rahua Leave-In Treatment LIGHT Rahua is one of our favorite luxe brands for clean haircare. Everything is made sustainably and smells heavenly thanks to the brand's signature Amazon-based scent. Rahua's Leave-In Treatment Light has a unique pudding light texture that seeks deep into hair strands for nourishment like no other without weighing it down. And the warm, green scent lasts all day. Try It 
La Tierra Sagrada Dry Shampoo | This definitely isn't an easy dry shampoo to carry in your day bag, however it's an indispensable product for your medicine cabinet. We love this formula for all it's herbal scalp and hair health benefits, but even more for the clever brush application that lets you set the powder into your roots without a fuss. This therapeutic brush lets you tap a bit of powder right where needed and blend to perfection. SHOP NOW 
BrioGeo Scalp Revival Micro-exfoliating Scalp Scrub Shampoo We consider Briogeo's scalp scrub to be the one that put the haircare category on the map! If you've never tried a scalp scrub, this one is the best for it's ease in application and texture. We've been raving about this product for years and swear that if you've never tried it before, you've got to give it a go.
If you use any hair styling products regularly — whether hair spray or dry shampoo — a good scalp scrub can help to deep clean build-up and leave both your scalp and hair squeaky clean. Try It 
Leonor Greyl PAris Régénérescence Naturelle | Leonor Greyl Paris has been making clean haircare products since the '60's and continue to innovate. Their rollerball scalp treatment is designed to stimulate and purify with essential oils, amino acids and proteins that nourish and encourage growth. Keep this rollerball at your WFH desk and apply it on days without video calls. We love the idea of treating our hair while we work — and the Jasmine scent.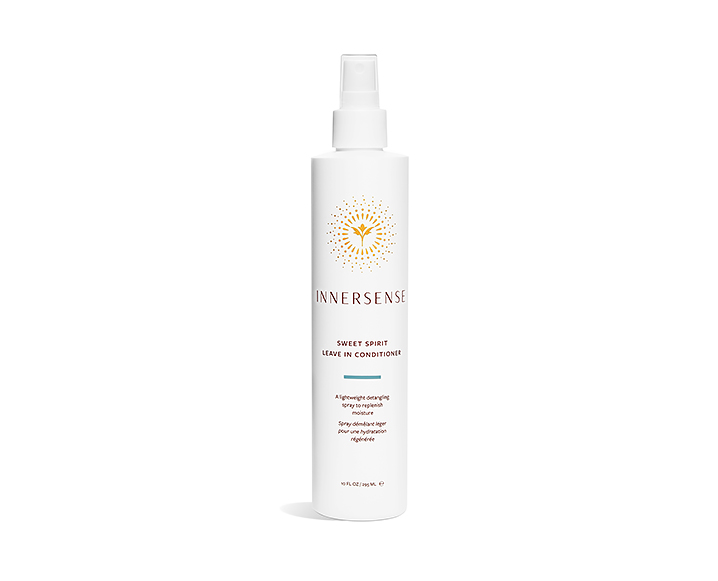 INNERSENSE Sweet Spirit Leave-In Conditioner It took us a while to try this conditioner, although it's been one of The Detox Market's best-sellers for years. The proof is in the pudding: this leave-in conditioner provides instant pay-off — the kind of product that makes you understand why products gain cult-status at all. Yes, there are a million conditioners on the market. It's a product like this one that helps you understand what your hair is supposed to feel like. Try It
Any favorite clean haircare products lately? Tell us what they are in the comments!