Luxury beauty has been all about oils, potions and elixirs for the last few years. And, while we've reserved a warm place in our hearts for a scented bar of soap for the guest bath, we left bar soap behind in our tweens – eschewing a bar of skin-drying soap right along with the rubber duckie.
Lately, however, a new crop of clean, luxurious bar soaps has been single-filing it into our beauty closet and we're finally giving them the chance they deserve to make their mark…
What's Up With Bar Soap?
We have some outdated assumptions about bar soap that we asked a few soap-makers to set us straight on. Dr. Sarah Villafranco, physician and founder of natural skincare brand Osmia had this to say…
"Face soap got a bad name when it became mass produced and commercialized. In order to save time and money, big soap companies started making bar soap much more chemically complicated than pure soap. The result was bar soap that stripped, dried and irritated the skin with synthetic fragrance, often contributing to redness."
We hear that loud and clear, so what's the difference with this new crop of wellnessy bar soaps? A return to traditional methods, of course.
"When done the old-school way, bar soap is a thing of beauty – made slowly by hand, cut into bars, and cured for weeks. We use organic, skin-nourishing plant oils – like avocado oil, shea butter, coconut milk and Dead Sea mud – and the cold-process method, in which we leave all the good stuff in the soap. A finished bar has only soap molecules, which help remove dirt and oil from the skin, and glycerin molecules, which draw moisture to the skin throughout the day. We add essential oils for scent and some clays and muds to help soothe the skin."
Osmia's black clay face soap actually made our short list of TCM-approved face soaps below. Clay and mud make a lot of sense as soap ingredients – think of them as a sudsing clay mask.
Lano founder, Kirsten Carriol shared this with us about bar soap's reputation for being too harsh…
"A cleansers #1 job is to truly, properly clean – and nothing does that better than an age old natural milk-soap formula done right.  You have to be careful with the acid mantle not to strip the skin, but to get the skin truly clean in one go – especially if you are taking off waterproof mascara etc – then your skin will definitely have that squeaky clean feeling afterwards, which I love. I added the egg white to our soap, for its pore refining heritage in Swedish skincare, and the lanolin to give it a soft creaminess and silky feel."
Do these skincare pros have you interested yet? Here are the four best bars we've tried…
The 4 Best Natural Bar Soaps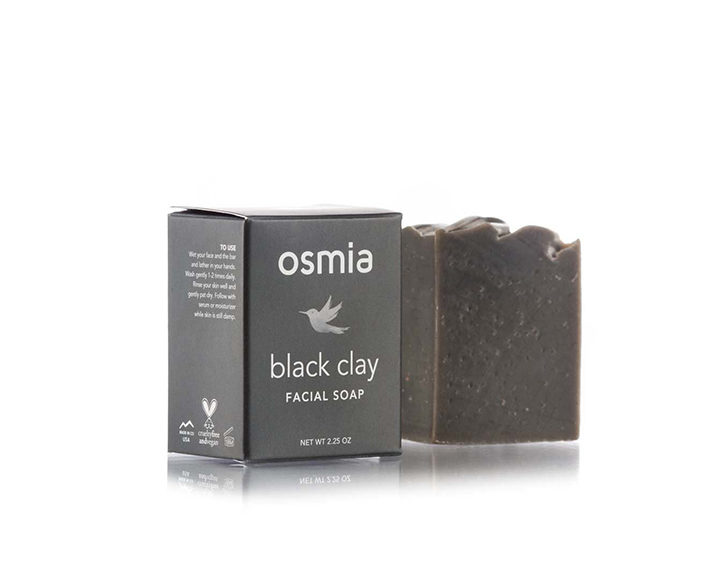 For A calming Cleanse : Osmia Organics Black Clay Facial Soap | Dead sea mud and Australian black clay are famously packed with detoxifying minerals; this bar soap includes both, along with soothing organic coconut milk and deeply-conditioning almond, avocado, and castor bean oils. Lather up for a serious clean that removes makeup, calms redness and won't leave skin dry – period. CHECK OUT
for Troubled Skin: Jenette Skincare Cacao Herbal Infusion Soap Bar | Celeb makeup artist Katey Denno swears this bar transformed her once troubled skin. Loaded with healing herbs, aloe and organic cold pressed coconut and grape seed oils, this detoxifying soap softens, tones and soothes skin, cleanses pores deeply, clears bacteria, and even  helps reduce acne without drying. CHECK OUT
For A deep Cleanse: Lano Lanolin & Egg White Gentle Cleansing Bar | Created by the daughter of a DNA Professor, Kirsten Carriol developed a passion for transforming natural ingredients into something greater. Her brand, Lano, produces bomb lip balm and other skincare products like this bar soap made of lanolin – a natural (and ethically sourced) substance taken from freshly shorn sheep's wool. Her completely natural, pure, medical-grade skincare delivers deep moisturization that nourishes and lasts. CHECK OUT
For Sensitive Skin: MV Skincare Gentle Cleansing Bar | Our skin is our biggest organ — feed it as well as you feed the others. This bar soap contains nourishing shea butter, olive, coconut and apricot oils. A lend of essential oils (lavender, geranium, sandalwood, patchouli and roman chamomile) give this natural cleanser a major power-up.CHECK OUT