Some of comedy's most celebrated figures swear that you cannot be both good-looking and funny, but we dare you to follow Arielle Vandenberg on Instagram and tell us that's really true.
If you're not already one of Arielle's million and a half followers on Instagram, visit her feed with caution — you may fall into hours of content before you're able to put down your phone. Light snorting, highly likely.
As the recent host of CBS' Love Island, Arielle's audience has only grown and a few months back, she launched her first brand, Rel Beauty. We asked her to send us Rel's first drop, a line of pigment-rich lip balms and the samples were as good as we'd hoped (special shout out to shades, For Sure and Totally.) They're made clean, packaged irresistibly and come in a range of flattering colors that just might change your life.
To celebrate the launch and welcome a new clean beauty founder into the space, we asked Arielle to join our Mornings With series. Check out her day and pop to Instagram for more goodness.
My Biz: Rel Beauty, we just dropped our first product, an essential lip balm!
Current mantra: My current and forever mantra is Go with the flow.
What most people know me for: I think most people would know me from the content I've created on social media, my comedic sketches — and also being the host of Love Island US on CBS.
A day in the life lately, includes…On the best days, horseback riding at some point! It brings me so much joy!
Coffee or matcha? I gave up drinking coffee on New Year's. So now I am a tea girl! I love a matcha latte with some simple syrup and coconut milk!
Go to workout:Dancing anywhere and everywhere that I can. That and Pilates.
Currently reading: Every day I read from a book called New Morning Mercies by Paul Tripp. It's a daily devotional that I love starting my day with.
Inspo behind Rel in a nutshell: I wanted to create a brand that was effortless, clean and not fussy! I love 70's surf culture and wanted it to have the feel of a clean product you might find in a surf shop!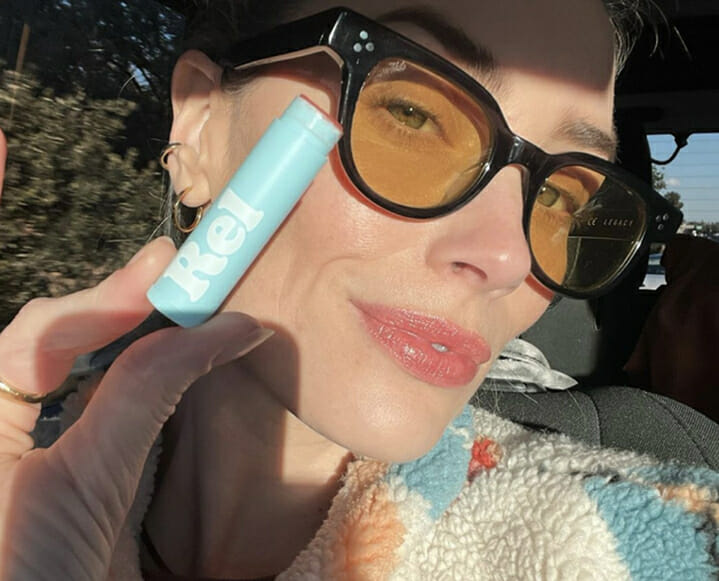 When I'm not working on Rel, I'm….usually trying to shoot a comedy sketch for my Instagram.
Go-to health meal at home: I love making soup! I love any type of soup, but recently I've been obsessed with white bean and kale.
3 clean beauty favorites lately:Angela Caglia: Soufflé Moisturizer, Necessaire Body Wash and Merit Brow 1980 Volumizing Eyebrow Pomade Gel. (All TCM Editor-approved!)
Fave Rel product: Our No Duh Essential Lip Balm in the shade 'Frick Yes'!
Best advice I ever received on wellness:Drink more water.
On women + body image… I'm happy to see women embracing their bodies and celebrating them, being grateful for their capabilities and learning to appreciate themselves inside and out.
When I'm stressed, I… go find and pet horses at the nearest barn.
What I've learned this year: I've learned to have more patience during this time. It's crazy that everything in the world slowed down, but was still so chaotic. Back to my daily 'mantra', learning to be patient and let things happen when they are meant to is very important to me.
Fave spots in L.A. lately:Broom General Store for a cute little coffee date, any barn that has horses, and The Magic Castle is my favorite place ever!
Other Online inspirations lately: Jimmy Darts and Isaiah Garza
Keep reading: Get more personal interviews with Kate Hudson, Tata Harper and more!